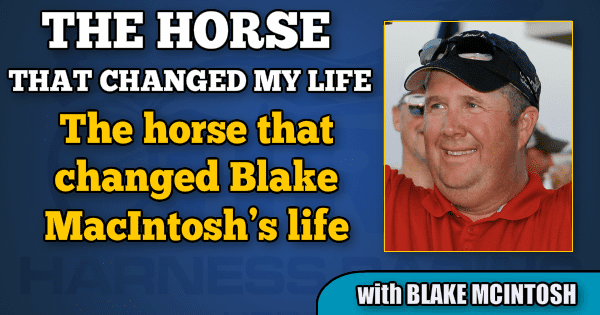 The Horse That Changed My Life: Blake McIntosh
by Dave Briggs
The morning of his epic victory in the 73rd Little Brown Jug with Courtly Choice, trainer Blake MacIntosh was sitting in the Jug Barn talking about the horse that got him there.
In November of 2008, MacIntosh paid just $1,500 at the Standardbred Horse Sale's Company's Harrisburg, PA sale for a McArdle filly out of Drawing Card named Bullet Point.
Over six racing seasons, Bullet Point turned that $1,500 investment into just shy of $600,000.
"I think Bullet Point was the first one that got me noticed," MacIntosh said.
"She was just a really good overnight horse. She wasn't a stake horse, but she got me rolling and she changed my life. We weren't really into babies before her… she was the first good horse that we broke and had go."
MacIntosh said he simply was at the right place at the right time.
"Anybody could have bought that horse and done the same thing. There's no doubt in my mind that she was just a good horse and I got lucky. You know, it's a lot of luck and hard work," he said. "When I bought her, she was a little smaller and shaggy, but she stood really correct. She was at the end of the sale at Harrisburg and I knew her sister… so I knew the pedigree."
Ten years later, MacIntosh can draw a line from that moment to the Little Brown Jug.
"She was just an iron tough mare and perfect for us. She's for sure one of the main reasons we're here today," he said.