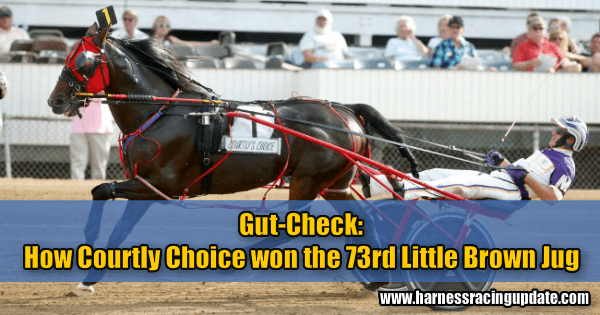 Courtly Choice won the 73rd Little Brown Jug on Thursday at the Delaware County Fairgrounds in Ohio with a performance as gutsy as the connections that wrote massive supplement checks to get him there.
by Dave Briggs
When Courtly Choice broke stride behind the starting gate Thursday afternoon in his Little Brown Jug heat, driver David Miller said his heart immediately plunged to the bottom of his stomach.
"I was so sick when he ran behind the gate. Coming here today I thought he could win and there he was running behind the gate," Miller said.
Courtly Choice's trainer and part-owner Blake MacIntosh was experiencing similar gut-rot, his anguish amplified by the fact he and his partners put up $45,000 to supplement Courtly Choice to the 73rd Jug.
"It was heartwrenching," MacIntosh said. "You've put $45,000 in and I'm thinking 'the poor owners,' not just myself, but the poor owners."
So, when Courtly Choice not only made a massive three-wide recovery to finish third-placed-second — more on that in a second — and qualify for the final, you can just imagine the relief in Camp Courtly.
"When he pulled him three-wide down the backside and made that move I was, like, 'He's a beast…' That was probably the biggest move I've seen a horse do. That doesn't happen here. He overcame me and he overcame the break, it's unreal," MacIntosh said.
Now imagine how big the smiles were after the colt won the final in thrilling fashion in the last strides after coming first up on impressive first heat winner Lather Up.
Arriving in the winner's circle on the back of a golf cart loaded down with excited connections, MacIntosh hopped off and yelled, "Un-f—ing real. Excuse the language, I'm going to swear, I don't care," he said, laughing, before bursting through the hedges at the back of the charmed circle and into the Jug limelight where Roger Huston was waiting.
Later, MacIntosh snuck behind Miller and gave him a big, sloppy kiss on the cheek as a way of telling the driver all was forgiven for the earlier miscue.
"That was a big weight off," Miller said of Courtly Choice's dramatic victory, not MacIntosh's kiss.
It wasn't easy. Lather Up (Montrell Teague) was in control of the $436,560 final from the start, blasting out of the two hole to the front and leading until the very last steps when he was overcome by both Courtly Choice and Dorsoduro Hanover, who finished a neck back in second. Lather Up held on for third. The mile was 1:49.4.
Miller said it wasn't until "the last 20 yards" that he knew he had won his record-tying fifth Little Brown Jug.
"I saw he was getting up and I couldn't be happier. I was pushing on him pretty hard and he was still digging. I was pretty excited when I hit the wire," Miller said.
MacIntosh said it wasn't ideal for Courtly Choice to come first up, "but I knew he would grind. I know he wouldn't give up. He's got the heart of a lion and he's just unreal." He added that he knew Courtly Choice got the job done "about two feet after the wire."
Then, fireworks exploded in his head. It is his first Jug victory.
"I was thinking, 'Wow, we won the Little Brown Jug.' It's just something that's unreal. You dream of winning… for me, it's three races, the North America Cup – that's my home track and I want to win that badly – the Meadowlands Pace and Little Brown Jug," MacIntosh said.
Considering Courtly Choice won the Meadowlands Pace earlier this year, it's two down and one to go for the trainer.
None of it would have been possible without a gutsy horse and even gutsier connections.
A mere $140,000, if you please
The Little Brown Jug was the third race Courtly Choice has been supplemented to this year by his mostly Canadian connections — Hutt Racing Stable (Joe and JoAnn Thomson of Pennsylvania of Winbak fame), Mac & Heim Stables (MacIntosh and Steve Heimbecker) of Ontario, Daniel Plouffe of Quebec and Touch Stone Farms (Barb & Joe Intine) of Ontario. First it was some $60,000 to supplement to the Meadowlands Pace, a gamble that clearly paid off. Then, they paid $35,000 to supplement to the Cane Pace where Courtly Choice was fourth to Stay Hungry. Finally, it was another $45,000 to supplement to the Jug, a move only made possible by winning the Meadowlands Pace. That's some $140,000 in supplement payments.
Asked why the group was willing to write so many big checks, MacIntosh was candid.
"Because I'm not going to have another one this good, so the owners are game for it and we wanted to try to increase his value as a stud," the trainer said. "He's bred well. He's got a millionaire brother and he's close to a million now, probably $900,000. His brother is Betterthancheddar and he's starting to show that he's a good stud so we wanted to make sure that people knew (Courtly Choice) was a good horse."
Plouffe, who won the 1999 Jug as owner of Blissfull Hall, said he had no problem making the investment because Courtly Choice is, "good. He's really good. And Blake does a really good job with him, taking good care of him and races him at just the right time."
As for Joe Thomson of Winbak Farms, who doubles as the breeder of Courtly Choice, he laughed when asked about being part of the decision to supplement.
"They generally don't even call me up, they just say 'he's in,'" Thomson said.
The Jug triumph improved Courtly Choice to 10-1-0 in 14 starts this year and earnings of $899,353. Lifetime, the Art Major colt out of Lady Ashlee Ann, is 12-2-0 in 26 starts and sports earnings of $952,704.
Tale of two wildly different heats
The two $102,720 Jug heats could not have been more different.
In the first heat, Lather Up went to the front out of the rail position and cruised to a gate-to-wire, one-and-a-half length victory in 1:49.3. The field finished in exact post position order 1 through 7.
In the second heat, chaos ensured. After favored Courtly Choice broke stride just before the gate opened, second choice Stay Hungry (Doug McNair) took command and paced first to the wire, but was disqualified for interference near the three-quarter pole. Dorsoduro Hanover (Matt Kakaley) finished three-quarters-of-a-length back in second and was subsequently elevated to first in a race. Judges also looked at whether Stay Hungry went inside pylons in the stretch — the video clearly shows he went inside at least two pylons — but chose to set the horse back to fourth for interference. Stay Hungry drew the eight hole, but was scratched, bringing an end to the Tony Alagna trainee's pacing Triple Crown bid.
Between Courtly Choice's heat and the final, MacIntosh made some equipment changes.
"We took the Murphy blind off him, because he was running out a little bit on Dave. Usually, he gets on the right line. Today, Dave said 'he was as sound as he's ever been for me.' Dave wanted the Murphy blind off, so I took it off," the trainer said.
It certainly helped in the final, the driver said.
Many Jug firsts
The result was the first Jug victory for MacIntosh, Steve Heimbecker, Barb and Joe Intine and Joe and JoAnn Thomson (as owners). It was the third Jug victory for the Thomsons as breeders. Winbak Farms also produced Jug winners Bettor's Delight and No Pan Intended.
"It's more fun to be an owner, but there's a lot of pride being the breeder," Joe Thomson said. "It also disproves the old mare theory. (Courtly Choice's dam, Lady Ashlee Ann was like 22 years old and died having him. (The dam) was named after my daughter, so all of that is good stuff," The Jug was the second for Plouffe, who owned Blissfull Hall.
"You know, I told my wife today, 'When you can win the Jug one time in your life, it's amazing, but the second win, I don't know.' Winning the Jug in 1999 and to be here today winning the Jug again… and Blissfull Hall being in the Hall of Fame, it's wonderful," Plouffe said.
For Miller, his fifth Jug victory ties him with Mike Lachance and Billy Haughton for most driving victories. Miller said the sensation never gets old.
"It feels just like the first time, baby," Miller said, grinning, while clutching a single yellow rose left over from the bucketful he handed out to some of the 46,126 in attendance at the Delaware County Fairgrounds.
Asked what he loves most about Courtly Choice, Blake MacIntosh didn't hesitate.
"His heart, his heart. He's just all heart. We'll go back (to the Jug Barn) now and he'll just be sitting there with his head out looking for his licorice," MacIntosh said.
Twenty minutes later, that prophecy came true. As happy connections milled around him, Courtly Choice munched licorice and posed for countless photos with a look that suggested he didn't know what all the fuss was all about.