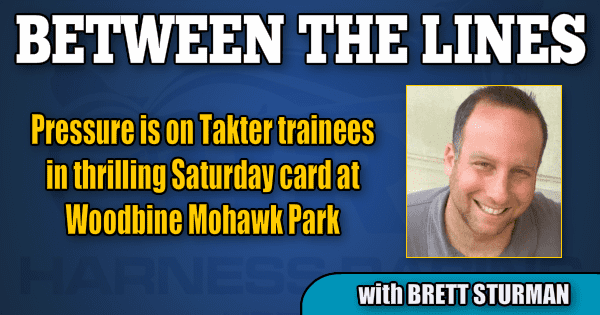 Pressure is on Takter trainees in thrilling Saturday card at Woodbine Mohawk Park
by Brett Sturman
If trainer Jimmy Takter isn't nervous heading into Saturday's monster card at Woodbine Mohawk Park, he certainly would have a right to be.
As is usually the case on these types of nights, Takter is well represented throughout the card that will offer nearly $1.8 million across four stakes finals. For a trainer that has made all the right moves this year, including a couple works of miracle, two new entrants to the barn are at an early crossroads.
The horse with seemingly the most to lose is Lazarus. By being entered in a $34,000 overnight preferred, Lazarus lands in the unenviable position of standing to lose far more than gain. In fact, the risk seems unnecessary. Why even take the chance? It's one thing to be second-best to McWicked from the Canadian Pacing Derby two weeks ago, but a loss in this race could have far more reaching implications.
Takter took to social media two days after the Canadian Pacing Derby announcing that Lazarus scoped with a high white blood cell count following the race. With that issue presumably behind him, Lazarus will open as the 3-5 programmed favorite in what will now be a must-win race.
To challenge him is last week's preferred winner American Wiggle who comes off a 1:49:4 win for the always dangerous connections of Moreau and Roy. Rockin In Heaven won this race five back when he closed in :25.1 and has since finished as runner-up in the Cup & Saucer along with a couple of game preferred tries this month. Te Kawau N lands the rail and won this race two back. It's actually not a bad field top to bottom, but none of these should be anywhere close to Lazarus' league if he races as advertised.
The latest big name to enter Takter's stable is Swandre The Giant (great name by the way for the Swan For All—Adagio colt), who made his debut for the new barn last week in a Wellwood Memorial elimination. Based on a six-for-six start to his career in Indiana-restricted competition, Swandre The Giant was sold to his new connections to the reported tune of approximately seven figures by coincidentally the same agent, Ernie Martinez, who brokered the Lazarus deal.
It's way too early to ring the alarm bells, but it just didn't seem like the young colt was his normal self last week. Every single charted line on view shows :27 type last quarters, and last week he could only trot home in :28:2 when he was passed by a big longshot while visibly tiring in his first start against open stakes competition.
He'll try to right the ship in the $400,000 William Wellwood Memorial, but he won't be the favorite this time around. That role is bound to go Green Manalishi S who comes off a career best of 1:54:4 in his dominating elimination win last week for one of the best trainers going right now, Marcus Melander. If he trots, it would take a career best effort from someone else in order to catch him. Give credit to Union Forces for sticking with Swandre The Giant and passing him when it counted at odds of 33-1. In retrospect, it's amazing he offered as high odds as he did and won't be anywhere near that in the final; although he still could offer double digit odds due to the presence of #3. Kings County is another in here from trainer Domenico Cecere to go along with the aforementioned Union Forces; put up a big mile two back in the Champlain. Like many in here, Hudson River was no match for the big favorite last week, but is talented. Takter drives tonight and Yannick goes expectedly to Swandre.
The $340,000 Elegantimage only drew 7 fillies and it makes sense. Who would possibly want to enter this race to go up against not only Manchego and Atlanta, but Phaetosive as well. The race is so dominated by the top three that the morning lines for these fillies is 6-5 (Manchego), 7-5 (Atlanta) and 8-5 (Phaetosive). I don't think there's ever been three horses between 1-1 and 2-1 in a morning line before! I've always liked Phaetosive, but she can never seem to get Manchego despite actually being favored over that rival in the Hambletonian Oaks. And now if you bet her, you'd be asking her to beat not only Manchego but Atlanta also and still offer something only around 2-1; it doesn't seem worth it. The Hambletonian champ seeks revenge on the Oaks champ Manchego from when they last met two weeks ago. In that race I'm not sure Zeron was happy getting away third and then was left with little chance after Manchego was allowed to stroll through slow fractions on the front. With the big money on the line now the race should be contended earlier now; slight edge to Gingras and Manchego starting inside of Atlanta.
In the richest race of the night, Met's Hall is back in career form and is poised to strike in the $665,000 Canadian Trotting Classic. He didn't even make his way back to the races this year until July but the Hambletonian was a real turning point for him and he hasn't looked back since. For Andy and Julie Miller, he was one of the best 2-year-olds last year and now could be the best 3-year-old in the second half of the year.
I forget that Crystal Fashion was favored in the Hambletonian final and he's a horse that seems to have been overshadowed some this year despite banking over $650,000. Likely to be taking an early shot from post 10; Tetrick could be in line for a good night if a couple of things go his way. You Know You Do has been a tough horse to figure this year. He hasn't raced bad and at times has raced quite fast, but has only been able to win just a single time. Fiftydallarbill rates an obvious shot as last year's Breeders Crown winner; only has that one recent blemish from last out on his record. Missile Hill continues to outrace his odds every race and now lands the rail; can Run Director be that good again?
In the $385,000 Peaceful Way for 2-year-old trotting fillies, Speed Titan is an interesting type for trainer Melander. One of two daughters of EL Titan in here, she hasn't yet put in a bad race when staying flat. She closed well last week from a tough spot and will offer a price. Evident Beauty was able to outkick The Ice Dutchess last out despite coming from well off a dawdling pace. That should count for something and she'll give the favorite a run for the connections of Nifty Norman and Dave Miller. Sister's Promise rebounded nicely last week to turn the tables on Susy who was five lengths the better in the Champlain. The Ice Dutchess is the one to beat for impeccable connections and is the most consistent of these. Teddys Littleangel and Tommi Canu Hearme couldn't match their Champlain surprises last week and are longshots now.