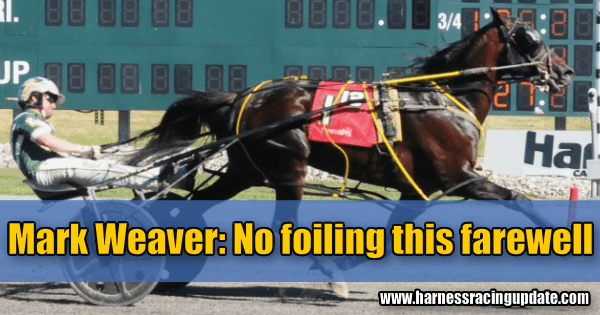 Part-owner Mark Weaver on sharing Foiled Again with the fans and why a farewell tour is the right thing to do.
by Dave Briggs
Owner Mark Weaver knew something was up the second he saw Ron Burke's face. The trainer had just come off the track after warming up Foiled Again at the Mercer County Fair in Ohio on Aug. 12 and was clearly not his normal stoic self.
"He was shook up," Weaver said. "I said, 'Are you alright?' He said, 'When I was going up the backstretch, I lost it. I just lost myself. This is maybe the second, or third last time I'm ever going to sit behind this horse.' It was kind of neat for me to see. You know, (Burke's) not the most emotional guy."
As Foiled Again's racing career is coming to a close with his mandatory retirement at the end of 2018, Weaver said he's emotional, too, about what the 14-year-old gelding has meant to him and the other partners — Burke, Mike Bruscemi and Joe and Kevin Koury — that have owned harness racing's richest horse (over $7.59 million earned) since 2008.
"We've owned him for over 10 years. I just look back to where I was in my life (in 2008), the age of my kids and the other partners. So much has happened in 10 years, it's crazy. He's been steady, there the whole time, and done a lot for all of us. He allowed us to grow as a stable."
As thanks for all Foiled Again has done for them, his connections are sharing the son of Dragon Again—In A Safe Place with as many harness fans as possible on a farewell of tracks across North America. Foiled Again has already hit two fairs in Ohio, traveled to Maine last weekend to race at the Windsor Fair and will take on Lucky Lime in a match race at Scioto Downs on Saturday. Then, the pacer will race in New Jersey (Freehold Raceway, Sept. 15), travel to Ohio to meet fans and lead the post parade at the Little Brown Jug (Sept. 19-20), race in upstate New York (Batavia, Sept. 21), Virginia (Shenandoah Downs, Sept. 29), and again in Ohio (Northfield Park, Oct. 13), lead the post parade at the Breeders Crown in Pennsylvania (Pocono, Oct. 27) and likely hit a few more locations, possibly including Ontario, before being officially retired at his home track, The Meadows on Dec. 31.
"I think it was just Ronnie trying to get him into as many places as possible, so we've kind of had an unofficial farewell tour planned out for a while. Wendy Ross, when she joined the USTA a couple months ago, she suggested an official thing that she could put out there for people to track where he's going to be, because a lot of people want to see him one last time," Weaver said.
"There's a lot of real harness racing fans at the fairs and we wanted to hit those. Actually, it's kind of been whoever has reached out to us."
Weaver said he estimates 98 per cent of the industry has been incredibly supportive of the farewell tour, but a very small, vocal, minority of detractors have accused the Foiled Again camp of milking more money out of the horse before he's retired. Weaver said nothing could be further from the truth. He said crisscrossing the eastern half of the United States, "costs a lot of money, but we're okay with that. Most of the purses, we're just donating to after-care programs.
"When we went to Maine for a day, we sent him a day early and there's a lot of expenses associated with it. And we've got no problem with it, but it strikes me funny when people say 'They are being greedy and milking every last penny out of him.' You know, to travel 15 hours for a $4,000 race, we're not even keeping the purse money anyway."
Weaver said what bothers him is the people that aren't properly informed about the farewell tour.
"I don't know anybody that has seen him in person or has seen him race that has had anything negative to say," Weaver said. "Most of the people are maybe looking for attention and just kind of spouting off without having any inside knowledge or idea of how the horse is… Ronnie wants to race him, not just stand there like a statue. The horse likes to race."
Clearly, Foiled Again isn't the same horse he was when he was younger, but Weaver points out that the gelding, who was bred by Barbara Matthews, is still an incredible athlete given his age.
"I was actually looking at a human chart (and how it equates to horse age) and he's like a 57-year-old human," Weaver said. "I don't care who you are at 56 or 57, you're not going to be (a dominant athlete)… The amazing part was that when he was 42 or 43 in human years, he was the best aged pacer going and was beating 18, 19, or 20 year olds."
Weaver said he doesn't argue with people who prefer not to see Foiled Again race past his prime any more than some people prefer not to see any professional athlete — Kobe Bryant, Joe Montana, for example — compete at anything below their very best.
"People that have an opinion that say, 'I don't like seeing him race because he's not what he once was.' I have no problem with that. There have been times when I have felt the same way. That part doesn't bother me," Weaver said.
Still, this is about the fans and letting Foiled Again go out the way the connections believe the horse wants to go out — racing.
Besides, the horse is helping to promote the sport, Weaver said.
"I don't know if you saw it, but he was on the morning show called 'The Morning Mashup', one of the largest syndicated national radio shows in the morning. They talked about him for 30 seconds when he was going for his 100th win. The night he got his 100th win, he was on Sportscenter… I don't know how it helped our industry, but when was the last time a standardbred has been on Sportscenter or a huge, nationally syndicated radio show? And those are good things. It's hard to knock that. He's getting people out to these tracks. It's hard to knock that. Even if people may disagree with some part of it, I don't see how anyone can say that he hasn't had a positive impact from a publicity standpoint and getting people to the track," Weaver said.
The major caveat to the farewell tour is the horse remaining healthy.
"All these things could be moot points if Ronnie all of a sudden feels (Foiled Again) shouldn't be racing. Then, he wouldn't be going to those places," Weaver said.
Foiled Again, who recorded his 100th career win on July 8 at Harrah's Philadelphia, now sports 102 wins in 319 lifetime starts (a gaudy win rate of 32 per cent over 12 racing seasons).
"Even though he's not racing in Breeders Crowns or Canadian Pacing Derbies and all that, it's about all that he's accomplished. Sometimes, just for fun, I pull up Track-It and look at his races… I know everyone knows all of his accomplishments, but it's really amazing to just go back and look at what he did… it's amazing just the longevity of how long he stayed on top."
That Foiled Again is under-sized just adds to his appeal, Weaver said.
"He's just a grinder and (the way) he races…. he battles and just keeps grinding, keeps finishing all the way to the wire," Weaver said. "Maybe not as much now as before, but let him get in a dog fight and he'll come out on top."
For Weaver, the last four months of the horse's racing career are about building memories — for the connections and the fans.
"We went to Celina, Ohio (the Mercer County Fair) and I took my son. Ronnie went with his son. It's hard to get teenage boys to do anything with their dads, especially overnight, so we went to Northfield to watch the Milstein on Saturday night, then we drove three hours to that fair. Ronnie warmed him up. He didn't win that day… but it was fine, it was awesome. I could see the appreciation and the vibe. I could overhear the older gentlemen explaining to their grandkids that this was like Babe Ruth coming to their home track and that was pretty neat."