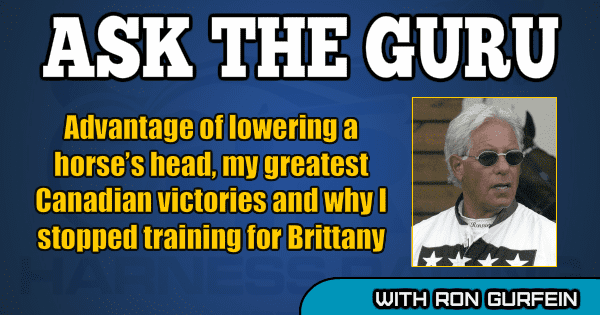 Entering fillies in the Hambletonian, the advantage of lowering a horse's head, my greatest Canadian victories and why I stopped training for Brittany Farms
by Ron Gurfein
Tidbits: I am admittedly a big Manchego fan, not just because I trained and loved her dam, but because she shows up every week and gives her all. That said, I was more than anxious to see the showdown with Atlanta Friday night. The result was what I had anticipated. However, the race itself was a disappointment.
It reminded me of a bitter loss I suffered with Continentalvictory in the Beacon Course, now called the Stanley Dancer. Due to the fact the Hambletonian was a week away, Mike Lachance decided to race the filly that had won many races on the front end from behind to save her for the big dance. It didn't work well.
The Hambletonian was weeks ago, and the Canadian Trotting Classic is weeks away, why would Scotty Zeron put Atlanta in a hole? Whymesswithsuccess was a horse I trained and the name says it all.
All things being equal, I envisioned Atlanta cutting the mile and Manchego nailing her on the wire by a small nose. With Yannick Gingras walking to a pedestrian half, the race was essentially over. Hopefully, they will meet three more times at least — the Canadian Trotting Classic, the Kentucky Futurity and the Crown. Not only does it make for fabulous racing, but it gives me something I love to write about. This is the kind of rivalry that creates a fan base, sort of harness racing's version of Affirmed and Alydar.
I realize that money is important, but Greenshoe is, by far, the most talented 2-year-old trotter I have seen in my life and I beg Marcus Melander to school the colt till he is ready to trot behind the gait. These recovery starts will kill him eventually. I wouldn't care if it took a year, it will be well worth it. The performance on Saturday night was a travesty. He was at least an 1⁄8 of a mile behind at the start. Why not let him just finish at a slow clip?
I hope someone out there was listening to me last week when I said to jump on the Domenico Cecere bandwagon. He won three of four sires stakes at the Red Mile including a $50 winner in Lindys Pearl, a beautifully-gaited Muscle Hill lass.
On the pacing side, I am not sure who is hotter, The Captain or Tony Alagna. With the debut of qualifiers the first week of June I asked what Tony was going to do with all those great-looking babies. He has given me the perfect answer. Win races all over the place. Great stable management, my congratulations.
The myth that the track at Sunshine Meadows is a training deterrent is a joke. Last time I looked Lindy Farms, Casie Coleman Herlihy, Tony Alagna, Rick Zeron, and Paul Kelley all winter there.
Congratulations to Adriano Sorella, the gamest owner in the business with his continued supplement success with Jimmy Freight at Yonkers Saturday night. Unfortunately the draw for the Messenger final was not kind to you.
Richard Wade asks: The hoses that you trained always carried their heads lower than any other trainer. What was your reasoning for rigging your colts in that manner?
To begin with, I was not the only one. Bob Macintosh also had all his colts with long checks.
The reason I did it was purely a matter of physics. Picture the difference between the path of the airflow with the horses head high or low. With a loose check a horse tends to balance himself and point his nose forward as opposed to pointing his nose down with a high check. Therefore the air goes straight from the nostrils to the lungs with a high head the air must go up and then turn down. "The shortest distance between two points is a straight line" To quote Archimedes. There are times that due to interference or balance (especially on tight turns) that you must bring the head up, but on a big track most horses are better with a very loose check. Note I hardly ever have a check bit in a horses mouth. Ninety nine per cent of my colts wore a plain leather chinstrap. Simple is always better.
Stephen Smith asks: When thinking of entering a filly in the Hambletonian open division what are the things you consider before reaching a decision?
Competition is the first of many factors to concern yourself with. If both seem rather equal to me the smart move is go where the money is. The winner of the open is $250;000 better off than the Oaks champion. But there are other factors. If you are training for a breeder with a great filly, the price of the foals of a Hambletonian-winning mare to me have bordered on ridiculous. I remember Continentalvictory's first foal, a Malabar Man that was too small and crooked in front brought $425,000. She never had a good foal, after numerous opportunities, but not because she was raced out like many say, but because she had a less-than-spectacular pedigree. When buying a yearling, speed is important, but pedigree must be a major ingredient. That's a subject for a later date.
There are many other factors, but I have given the most relevant. Others would include the amounts of entries you expect in each, driver availability and possible conflicts as well as other horses that you intend to enter from your stable.
My advice, if you love your filly like I did and like Rick Zeron did GO FOR IT.
You only live once and you may be in for the thrill of a lifetime.
Dave Briggs asks: What was your greatest victory in Canada and why?
To be perfectly honest I didn't have many conquests north of the border.
However there were two that I will always cherish and they came almost 20 years apart.
The first was in 1987 with my good trotting mare and world champion Franconia.
Driven to perfection by John Campbell she beat the boys in the Maple Leaf Trot at Greenwood tying the stakes record previously held by Bridger and Grades Singing.
It was a wonderful moment in the winner's circle because my partner and dear friend Fred Mathes had recently passed away and his daughter Roberta accompanied us to Toronto for the event. A lot of tears and a lot of happiness all at the same time.
The other victory came in 2006 in the 2-year-old Breeders Crown at Woodbine Racetrack. The race pitted the formidable Takter trainee Pampered Princess against my good Brittany Farm filly Possess The Magic. My filly went into the elimination in the best condition of her career and when I made the entry there was no question in my mind she had a good chance to win. Well, she didn't, but that's not the end of the story. Mike Lachance her driver, and as astute a horseman as ever drew a line over a horse, came back and told me "she could have won easily if I could have let her trot but she was hitting the bike and I had to hold on to her." It was times like this I wish I had been a gambler.
During the following week I called my buddy Art Zubrod and explained the troubles the filly had in the elimination. He has been known to venture to a window on occasion. I will not reveal the particulars, but the following Saturday as we stood side by side in the winner's circle after Possess the Magic drew off from Pampered Princess he had the biggest smile on his face I have ever seen.
Richard Johnson asks: How come you gave up training for Brittany Farm?
I had a 20-year contract and it expired. No, just kidding. Basically as I got older they cut way back on the horses I was given to train. Basically, they did the right thing for themselves because those horses I would have gotten went to Jimmy Takter and when I got into my 70's I could no longer compete with that machine. When you train between 70 and 100 horses and have the amazing work ethic that Jimmy has, plus great help, your own track, you own vet and your own blacksmith and the best stock money can buy who's going to beat you? The answer is no one. To be on top for a long time you need money and breeders behind you. Chuck Sylvester did it for a while, I did it for more than a decade and we had small barns. Jimmy just had too many guns.
Remember, I had my day. I feel badly for the young guys that have had to fight that machine. There are some very good horsemen out there that hopefully they will share in the top flight horses when Sir James retires.
I really believe that Jimmy's system somehow teaches his colts to withstand more than most. Years ago, he told me something I will never forget, "they will never race well till you teach them they can endure pain."
Believe it or not there was a period he couldn't beat me. In the 1990's, I had his number. He chased Victory Dream with Mr Lavec, Continentalvictory with Kramer Boy and Self Possessed with Enjoy Lavec.
The bottom line is that Jimmy is in a league of his own. I have trained horses for almost 60 years and been up close and personal with the greatest horseman of the 20th century and none including Dancer and Haughton have accomplished the dominance that Jimmy has. Just the numbers alone are astounding. Ronnie Burke, who runs a hugely-successful outfit, has a barn that year after year averages $3,500 per start, Takter's barn year after year averages $10,000. The exact numbers as of today are $3,700 vs. $11,700, amazing when you stop and think about it.
To my readers, thanks again for the kind words. Please keep the questions coming in. I am sorry that I had to omit a handicapping segment, but as of this writing there are no proofs available for Canada or Yonkers. From the overnight sheets I like a bunch of favorites, but one that will most likely be a non-favorite is Ariana G who was overwhelming last week and I like her to repeat Saturday in the final of the Maple Leaf Trot. Have a wonderful week.
Have a question for The Guru?
Email him at GurfTrot@aol.com.