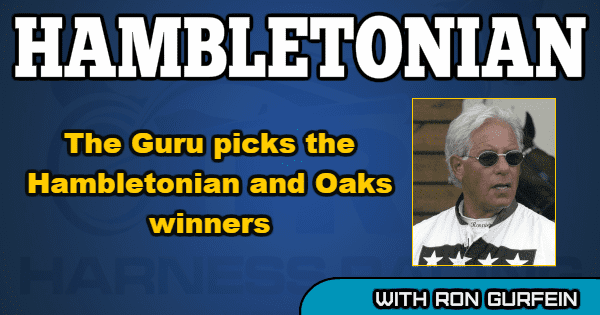 The Guru's fearless Hambletonian picks
by Ron Gurfein
When I first perused the Hambletonian entries, I thought that some people wanted to be in the big dance and don't care a bit about money. However, after careful study, there are many things in your favor entering the Hambletonian in 2018 that weren't in place in my day.
Actually the top 10 finishers are 100 per cent guaranteed to get their money back and eight of the 10 will make a profit. The facts are, that to get to the final you must finish first through fifth. Fifth money is $5,000. All finalists receive money sixth through 10th – one per cent equal to $10,000. So there's the simple answer. In my era, the entry fee was not $15,000 but $25,000 and that paints a totally different picture. All in all, it's a great investment and far better with today's system than ever before. At $15,000, I may have been a lot gamer at the entry box than I was. Remember you can get lucky, it's a horse race and often strange things happen. Look at the previous winners, plenty of long shots were in the winner's circle since $1 million at the end of the rainbow results in many mistakes along the road.
Of the 12 trainers in the Hambletonian, only three were born in the United States and the shortest price on the three entries is 10-1.
Of the top 10 winning trainers on the USTA list, only one has a horse in the big dance and by the way he just bought the colt a few weeks ago.
Half of the entries in the Hambletonian have raced in a non winners event on the program, which is very unusual, and surprisingly some have a chance to win.
The entire card is difficult to handicap, especially since the draw was not kind to many of the main contenders. For example J L Cruze and Hannelore Hanover are both in the second tier. It would be sad if they never saw the light of day.
THE GURU'S SELECTIONS
HAMBLETONIAN HEAT ONE (Race 8)
SHOSHIE DEO — Owner, trainer, driver all close friends, but why is he here? I hope they know more than I do. Couldn't beat NW. Cannot recommend.
EVALUATE — Very hot barn, very capable driver. Needs to be at his very best to make the final.
MET'S HALL — Andy and Julie Miller's barn is always relevant. Colt is just not fast enough.
LAMAKER — Won last in NW impressively first time Miller and has been good for Andrew Harris. Can get some money with a good trip.
WOLFGANG — To me, the big winner. Crushed the competition in the Goodtimes and then the Dancer. This lightly-raced colt comes from the finest connections. I think he is ready for a 1:50 performance that will be hard to beat in this field.
CRYSTAL FASHION — Definitely on a tear for Tetrick and Campbell. I don't think he can beat my top two picks but will surely be in the final.
ATLANTA — The lone filly looking to copy the feat of Continentalvictory in 1996. A few have tried. Mission Brief came closest of all. I think she will fare better than most have, but will have to settle for minor spoils over all, but should be second to my choice in here. I believe it's not how fast you go but whom you beat and she has never beaten a top horse. Plunge Blue Chip was in the right place at the right time to get her great record but Atlanta drew away from her as did Manchego last week.
HAT TRICK HABIT — A colt I was never fond of. Tries hard, but poorly gaited. Picks up Sears about the only good thing I can say. With the outside has major trouble to make the final.
ZEPHYR KRONOS — Would have made the final from a better post, little chance from here
HAMBLETONIAN HEAT TWO (Race 9)
FASHIONWOODCHOPPER — Nice sort. Last was his best. Looking for a check.
PATENT LEATHER — Like his stablemate, both with good posts to get money but not enough go to beat these.
CLASSICHAP — Last two amazing form reversal. Trond has found the key to this one. No surprise to see him hit the board here.
ALARM DETECTOR — Simply put, not the same colt he was last year. Can't finish at all. Cannot recommend.
FORTH DIMENSION — Like Alarm Detector, not the same colt he was at two. Something missing. Truly looking for a miracle.
SOUTHWIND CHROME — Great respect for Paula Wellwood but if you can't beat NW 2 how can you win here?
TACTICAL LANDING — Toughest call of the day. I loved this colt at two and still do, but the project is incomplete. Not sure if there is an answer, but if there is one, Takter will find it. To my eyes, the colt still doesn't seem safe, but is he ever fast. He is capable of a 1:50 mile for sure if he doesn't tip over. Look for him to be better when we reach the Red Mile. Tough betting proposition.
YOU KNOW YOU DO — Card is terrific. Last two fabulous, but won't overtake Six Pack till the final heat. Chance for a top three finish here.
SIX PACK — Every race on his card was exceptional but his last one was unreal. Ake Svanstedt has colt in top form for the big dance. Post is awful but didn't hurt under the worst of circumstances last week. Unless the Dancer took its toll, he will jog here.
HAMBLETONIAN FINAL (Race13)
WOLFGANG
YOU KNOW YOU DO
ATLANTA
SIX PACK
CLASSICHAP
HAMBLETONIAN OAKS (Race12)
PLUNGE BLUE CHIP — Please forget the 149.4 it was a perfect storm much like Beat The Wheel in 1:51 more that 20 years ago. She is a very nice filly that, with the exception of Atlanta, was the best on the New York circuit. Not winning here.
WHAT A KNOCKOUT — Picks up Sears the only plus.
SEVIYORUM — Nice filly, great connections can get only minor spoils.
MANCHEGO — Reigning Queen will remain so after sundown. Just too much talent. Only lost two races lifetime she was innocent on both occasions. The first when Takter pulled her shoes on a bad racetrack to attempt it and the second was too many :27 quarters that were unnecessary on a loose lead. Another Oaks for team Takter.
PHAETOSIVE — Fabulously talented filly. Awesome in her elimination. Trond has her at her best at the perfect time. Will test Manchego to the limit.
HEY BLONDIE — Another good Sylvester trotter, peaking at the perfect time. Nothing would make me happier than to see my friends David and Chuck and their partners in the winner's circle. Without a ridiculous first three quarters I don't think it will happen, but with a trip she will be passing horses at the wire.
LIVE LAUGH LOVE — Another very talented lass. Like many in here, just born in the wrong year. There are a few that in many years would have been odds on in the Oaks and are to be also rans this year. She can get a prize but not a big one.
LILLY STRIDE — Mark loved this filly last year and she hasn't been as good at three. I think she prefers the big track and think she will be better today. Can definitely get money.
BLONDE MAGIC — Magic is what she will need. Came to the race of two losing efforts in NW events. Was 66-1 in the elimination from the rail. Cannot recommend.
NIXIE VOLO — A nice filly from great connections. Both trainer and driver are on the rise but from the 10 post we will have to wait to see them grab the gold ring.
When a racing card looks as chalky as this one does, there are usually some major surprises. I have studied the program for about two hours now and came up with the following. Two favorites that are in amazingly top form are KISSIN IN THE SAND (Race 2) and MCWICKED (Race 11). One favorite that is very vulnerable is GREENSHOE (Race 4). He has as much talent as any 2-year-old I have ever seen and he is faster than this group but has had all kinds of trouble behind the gate. It isn't on the program but he was wild again at the gate in his last qualifier and if it wasn't for the great hands of the white knight he would have been dancing at the start. My advice: be cautious. If he gets away okay, you will witness an amazing performance.
My two long shots of the day seem like a reach and they probably are. They are both good horses that for some reason have not performed up to their ability and what better day to reverse form than today. PERFECT SUMMER K (Race 3) is a quick little filly that was well overmatched in her last 2 but shows she can trot faster that these. INTERNATIONAL MONI (Race 6) is a mystery to me. I watched him all winter and thought with his pedigree, looks and gait he would be a sub-1:50 horse. He has never been put in a race early. Maybe new hands will change the mix.
I wish all my readers a fabulous Hambletonian day and hope my selections don't put anyone on the bread line. Have a wonderful week, and please keep the questions coming in.