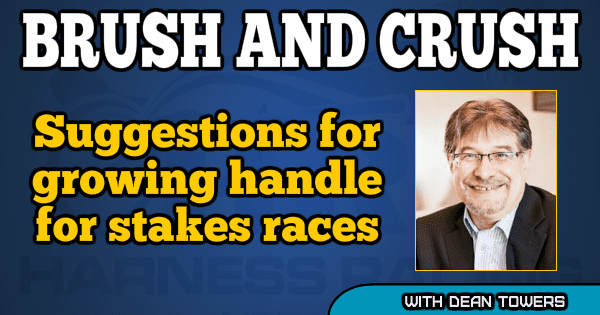 Stakes race handle needs to grow
Harness racing is not thoroughbred racing and shouldn't try to be, but changes and focus are needed.
by Dean Towers
Stakes racing is a big part of harness racing, and has been for as long as any of us can remember. We, as fans and participants, long to see the best horses, trainers, drivers and pedigrees duke it out for the highest purses. It's in our blood.
Stakes races do seem to attract casual fans, too. There were upwards of 10,000 people at the North America Cup this year; 40,000 or more attend the Delaware County Fair for the Jug; the Hambletonian in a short month will be packed, like it usually is.
But, if I may ask, where's the handle?
This year's $532,000 Levy Final was a battle between the who's who of the older division at Yonkers. The handle on the race – with a pretty stout post drag — was around $140,000.
Meanwhile, near the same time at Woodbine, a middle conditioned event brought in about the same handle, and at the Meadowlands, a short eight-horse field in the $6,500 last event of the night drew over $240,000.
If you think I'm picking on Yonkers, we'll switch gears.
There was less than $50,000 in the win pool of the Little Brown Jug final — with the entire harness racing world watching.
The win pool for the North America Cup was about $110,000, which is fine. However, the race was for $1 million – the richest pacing race in the world – and had fans packed to the rafters in a beautiful setting. It was shown on national television in Canada, as well.
Thoroughbred racing, in contrast, drives people to their big events just like harness racing does. But the sport also drives huge handle from these events.
According to Chris Rossi, a racing data analyst, about 10% of yearly thoroughbred handle comes from the top 1 per cent of races, and this number has been growing for some time. Meanwhile, about a third of the handle comes from claiming races, which make up close to 50 per cent of all races.
Why do they do so much better with these events? I believe it's because they are true events, and the racing represents some of the most contentious betting a punter can find. Graded races usually have horses coming from everywhere – different geographies, different barns, from different surfaces, trying different distances – and most horses have never even met before. The races are compelling and a true puzzle, for both bettors and fans.
In harness, the horses race so often against each other, at the same standard distance, there simply isn't much mystery. The races themselves are very easy to handicap and generate a lot of low prices. A 10-horse $30,000 claimer at the Meadowlands or Woodbine can be incredibly contentious, and blow away the handle on a stakes race with a 3-5 shot who looks like a slam dunk.
It wasn't like this before, for the most part. In the 1980s, for example, the Driscoll or Canadian Pacing Derby or Meadowlands Pace elimination horses did come from everywhere. There were Midwest invaders, New York horses, Ontario-owned horses and so on. Ten entries with 10 different trainers created a lot of interest, and go back and look at some of the handles – the money was there.
Today, though, it's simply not the case.
Living with current reality, harness racing cannot be thoroughbred racing, and in my view, it should not even try to be. Spending piles of money to "bring in a crowd" could very well be wasted marketing spend, and the money could be used more wisely.
Here are a few potential strategies (some outside the box) to hopefully raise handle and interest in signature events:
i) Experiment – Charge admission, use a portion of it to offer free programs or free bets on big races. Track the handle; track the per capita handle and adjust the strategy based on results.
ii) Horse owners want to get involved to make these races better. Charge another $50 or $100 via a stakes payment, and use the cash to promote the betting of the event through a carryover if a signature bet, or other handle driven strategies.
iii) Make the races themselves better betting races. If Hannelore Hanover is 1-9, why flirt with a free square in a Pick 4, killing the value in many cases; why make the race unbettable? Bar her. It'll probably save some money because there will be no minus pool, too.
iv) More open draws to make the races more contentious. People talk about rewarding winners, and that's okay. But what about the horse who drew the eight in the elimination, was parked every step and came third? What did he or she do wrong to not to draw a good post for all the chocolates? If an owner pays his or her money through stakes payments and starting fees, they should have a 1 in 9 or 10 chance to draw the rail just like everyone else.
I'm sure you can think of a few ideas, too.
For harness racing to draw money and eyeballs to big events, in my view it needs to be open minded and willing to experiment. These events are important, and the sport should do everything in their power to make them more and more popular.