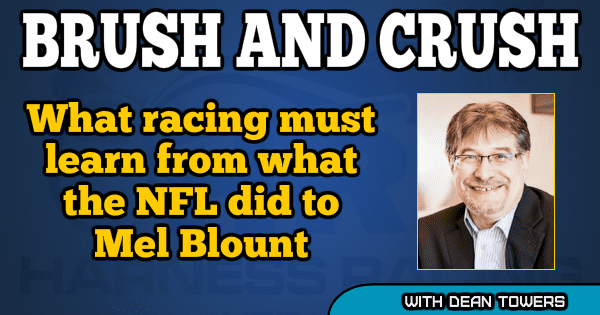 The Mel Blounts of harness racing
What does a 1970's Steelers cornerback have to do with this sport? In my view, quite a bit
If you're a pro football fan, you've likely heard of Mel Blount. The Pittsburgh Steelers defensive back was the first of the big physical corners to play the game. He made it to five Pro Bowls and was inducted into the Hall of Fame in 1989.
Mel Blount was known for something else, too. According to the authors of Newton's Football, he changed the game forever.
Back in the late 1970's, cornerbacks could pretty much mug a receiver off the ball, and Mel Blount was the best at it. He'd bump and he'd hand check; he'd keep pushing the envelope waiting for a call, but no calls came. He was, as it turns out, working his craft within the rules.
At the NFL rules committee meetings in 1979, the NFL saw the writing on the wall. Scoring was down, pass offenses were anemic and television ratings were not going overly well either. People were complaining about a boring product. In response, the NFL proposed the "Mel Blount Rule".
This rule, in a nutshell, would not allow Mel Blount to be Mel Blount. It was proposed that corners be allowed to only chuck a receiver within five yards of the line of scrimmage, and hand checking was to be frowned upon.
Make no mistake, this rule was radical – not only would current players have to change everything they learned, so would coaches; all the way down from the NFL, to college, to Pop Warner leagues, football would be different.
In the words of Charlottetown Driving Park's legendary announcer Vance Cameron, "Boom, just like that!" this was a game changer.
Not only did the passing game open up, it thrived. In 1978, Terry Bradshaw led the league in touchdown passes with 28. In 2013, Peyton Manning threw for a record 55. The game that evolved into the high-octane, multi-billion dollar entertainment spectacle that we see today was in no small part thanks to Mel Blount.
The NFL wasn't the first sport who had a Mel Blount, and it won't be the last. In fact, I think harness racing has a few metaphorical Mel Blounts of their own.
A complaint we often hear is that harness racing is now a speed game, with little flow. The thinking goes this makes for a bad betting product.
To help cure this ill, Bob Pandolfo has long written eloquently about doing away with speed bikes. Sure it's radical, but not even remotely more radical than changing the way a defensive backfield covers a receiver. Will it work? Who knows, it's not like it has ever been tried.
Lack of pace in harness races with its slot-infused "wait until next week" way of racing horses has been prevalent for a long time. Often, sundial-like second quarters occur because drivers of the backfield horses are unwilling to inject pace into the race, especially if the leader is a good horse with a good driver.
We hear about fining the driver on the front-end for going :27.1, :57.4, but what about changing a rule (yes, a radical change) where every other driver in the race is fined if that happens? I suspect, through moral suasion (or a lighter wallet), fans and bettors would have a better product to watch and wager on as right lines are pulled.
We often hear complaints about some barns having way too many horses. It makes for not only a poor overnight product — with short prices and barns avoiding some tracks like the plague — it also makes for bad stakes racing. For evidence of that, all we have to do is look at the (lack of) paid up eligibles to some events. "Oh, I get to race four Takter horses and three Burkes? I'll stay home."
The Hong Kong Jockey Club does something radical to combat this phenomenon – they limit the size of barns. Does it work? I don't know, but yearly handle in Hong Kong has about doubled since 2008, and more is bet on their abbreviated season than is wagered in all of North American thoroughbred and harness racing combined.
When we examine numerous sports leagues over the years, one thing we notice is a willingness to embrace even the most radical of change. They implement these new policies because sometimes one rule and a leap of faith can be worth billions in revenue.
Mel Blount changed a league because a league had to respond to him to make their product better. I've touched on a few harness racing Mel Blounts, and I'm sure you have a few of your own. Does this sport have a response to them like the NFL? So far, the answer is no.