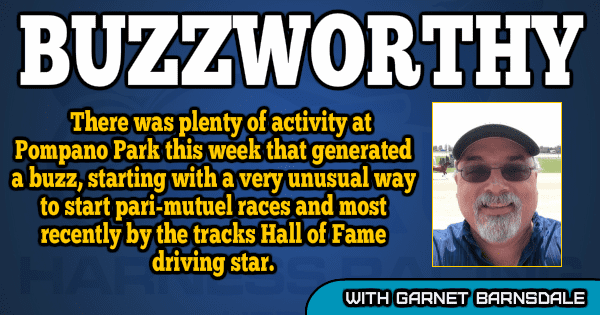 The bad and the good at Pompano Park
by Garnet Barnsdale
There was plenty of activity at Pompano Park this week that generated a buzz, starting with a very unusual way to start pari-mutuel races and most recently by the track's Hall of Fame driving star.
First, Sunday night was eventful when both starting gates broke down, but a decision was made for the show to go on with horses beginning the mile from a "gentlemen's start." That meant that the drivers were on an honor system to start behind the car and in as close proximity to each other as possible, considering. This ignited several tweets and a Facebook post in the 27,000-member Harness Racing History group.
The starts without wings lasted three races, some of which had uneven starts, as might be expected. Moira Fanning of the Hambletonian Society chimed in on both Twitter and Facebook on behalf of punters. "How on Earth is this a fair start or fair to the bettors?" she asked on Facebook. "If the drivers came to the gate like that with the wings opened they'd be fined senseless." On Twitter, she was a bit more animated, tweeting: "Just unacceptable. There's $$$ at stake… a gentleman's start historically NEVER included pari-mutuel wagering. Apocalypse."
Regular tweeter @InsideThePylons was a bit more reserved, but got his point across with this wry tweet: "A minor inconvenience to bettors."
The gentlemen's starts mercifully lasted only three races before track announcer Gabe Prewitt signaled that normalcy was about to return to the racetrack with this tweet: "I am told the Silver Bullet just came out of surgery, and we may have a functioning starting gate for remainder of Sunday night card at Pompano." And the show went on; with a fully functioning gate.
Wednesday night Pompano was Wally's World. Hall of Fame leading driver Wally Hennessey put on a show, winning six of the eight races on the card while finishing third with his only other drive of the night. He won the last five races on the card in succession. Hennessey – who is only 24 wins shy of the 10,000 victories milestone – has won with 17 of his last 36 drives at the Florida track and at age 61, he shows no signs of slowing down, no matter what kind of starting gate he lines up behind.