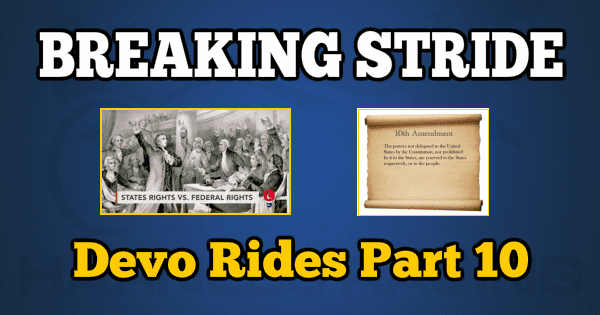 If / Then / Where / When – Devo Rides (Part 10)
by Trey Nosrac
Part 1 | Part 2 | Part 3 | Part 4 | Part 5 | 
Part 6 | Part 7 | Part 8 | Part 9
Droplets of rain splattered against my windshield when my friend from Silicon Valley jogged from the airport terminal to my Prius. He opened the passenger door, tossed his rucksack into the back, and slipped into the front seat. We gave each other a fist bump.
He pointed his index finger at my nose and said, "You're responsible for a wild evening. Three of us got into a gabfest about horse racing, the PAPSA ruling, and the future of gambling in a cloud-based universe. Plenty of good NAPA Valley wine flowed late into the evening. You should have been there."
"Sounds like nerdfest."
"Trey, the future of sports gambling is fascinating. A hole is about to be poked into a dam that was built on shaky grounds. The flood will change many things. A desperate horse racetrack in New Jersey pushed the envelope."
I merged onto the highway, twisted my wipers to a higher speed, and said, "Back up a bit. Let's review. Remember, rules, laws, and regulations have never been a strong point for me. I have two simple questions, I held up fingers to count them down, "Why are the laws changing and how will it affect horse racing?"
"The gambling situation in America has always been complicated. The question in front of the Supreme Court boils down to who makes and enforces the rules for gambling. Is it individual states, or is it the Federal government?"
"Well, who is it?"
He tugged at his ear and said, "The 10th Amendment to the Constitution says the power of Congress is limited to a list of powers, anything not on that list falls to the individual states. Gambling is not on the list of Federal powers."
I said, "So, if it's not on the list, then each state should control their own gambling."
He waffled his hand, "Not so simple. The 10th amendment was ratified in 1791 and since then, the Federal power has expanded because they have the power to regulate interstate commerce. The Federal government made regulations for many businesses, railroads, airlines, communications, trucking, etc. However, they did not create a framework for sports betting. The Federal government didn't set up a regulatory system for gambling. PASPA just told states where gambling on sports was not already legal, that they could not add it to the menu."
I said, "So now New Jersey is suing to say that Congress can't tell them what to do."
"Yep." Theodore Olson, the lawyer who represented New Jersey in the Supreme Court argument, said, "Congress can regulate interstate commerce but they can't make states do the work of Congress. Congress can't say to the states, 'You should regulate this, you should do that, and you should pass laws in these areas.'"
I was getting a little lost, so I tried to rein him in, "Focus on horse racing. What are the states doing and how is the PAPSA decision going to play out for me and my little world of harness racing?"
"At least 20 states are crafting legislation. Some have already passed what is called "IF/THEN" legislation that is ready to go into effect. IF the Supreme Court ruling goes as most predict and kicks the gambling ball back to the states, THEN these states can quickly get up and running."
"Up and running as in horses? I did not hear the word horse in your talk."
"States that have horse racing are active, and they should be. For example, in Kentucky, state Sen. Julian Carroll introduced a bill to "authorize the state's Horse Racing Commission to oversee sports betting operations at its facilities."
"Hmm, a Horse Racing Commission in on the ground floor. To me that sounds good, maybe a gambling shop in the Red Mile with money earmarked for racing."
He shrugged and said, "States are treading lightly. They have qualifiers that say things like, 'To take effect only if the federal Professional and Amateur Sports Protection Act is repealed by Congress or is rendered void by the United States Supreme Court.'"
I said, "So basically, the smart states are trying to get a good start when the sports gambling race is on."
"Exactly. There's a lot of money at stake and nobody wants to miss possible new revenue. Indiana is another state that seems to be on their toes. Representative Alan Morrison wrote legislation and was careful to say, 'We're not trying to buck existing federal law, we just think we should be able to offer additional options at our facilities if it should become legal after the state gaming commission determines that current federal prohibitions on sports wagering are no longer applicable.' Morrison's bill authorizes sports wagering at casinos, racetracks, riverboats, racinos and satellite facilities, like state-sanctioned Off-track Betting operations."
"Racetracks and racinos? is Morrison a horse racing guy and will this help horse racing?"
"That I don't know. You have to think it is very important for states that already have horseracing to be deeply involved in writing legislation. But whatever Morrison's thoughts on horses and racing, his legislation goes deeper than some, licensing and regulation for mobile sports wagering — placing bets on sporting events through phone apps — and provides guidance for legal monitoring, consumer protections, and taxation."
"What about horseracing integrity? Will every state have their own sherrif, will the takeout change, and will horseracing get any favored status?"
"Trey, I don't know how it will work, nobody does at this point. There is a lot of jockeying around, Last year, Pennsylvania and Connecticut enacted narrower measures contingent on legalized sports betting. States where lotteries or casinos and racing are legal, like Ohio, have proposed extending the authority of the commissions that they already have to oversee those activities to include sports betting so they can move quickly after the PAPSA ruling."
I sighed, "As usual, the regular guy like me is in the dark. I hope horseracing people are in the mix, I hope farms and racetracks land on their feet."
He nodded, and then spoke quietly as the rain slowed. "Trey, keep this to yourself. In a matter of days, when the court declares PASPA unconstitutional, the next year or so will see change. Lurking are powerful players that don't see a 50 state solution as the answer. In my opinion, these people will pick up the pieces and win the sports gambling war. The fate of your favorite sport will be in their hands."
We were quiet for a few moments.
He said, "Next ride, I am going to ask you, a gambler and a horseplayer, a question. Your answer will be of interest to me and my friends from nerdfest."