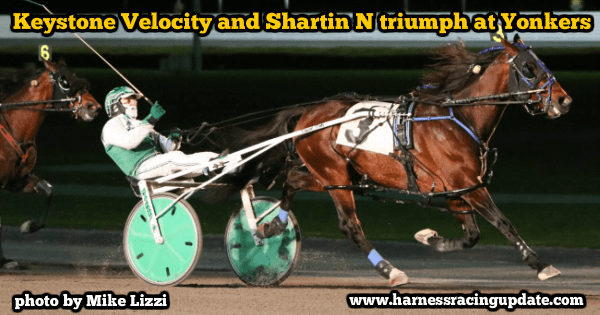 Keystone Velocity wins Levy; Shartin N takes Matchmaker
It was back-to-back Levy victories for 10-year-old Keystone Velocity, while Shartin N recovered from a break-filled outing last week to regain her Matchmaker form.
by Dave Briggs
Keystone Velocity won the $532,000 George Morton Levy final for the second straight year and Down Under wonder Shartin N took the $373,000 Blue Chip Matchmaker Final on Saturday night at Yonkers Raceway.
In the Levy, Daniel Dube sat third in the early going with Keystone Velocity, but made his winning move up the backstretch the first time and ended up wining by one length over Bit Of A Legend N (Jordan Stratton) in 1:52 at odds of 5-2.
Off the gate Western Fame (Mark MacDonald) took advantage of the rail to blast to the lead with Dr J Hanover (Brett Miller) on his heels through the :26.4 quarter. But Dube was quickly out and rolling from third spot and took command, never to look back through remaining fractions of :56.2 and 1:23.4. Somewhere In L A (Jason Bartlett) finished behind Bit Of A Legend N in third, followed by Mach It So (David Miller) and Dr J Hanover.
"(Keystone Velocity is) a very nice horse," Dube told Yonkers' Frank Drucker. "For sure he's better with cover from behind, but you can do whatever you want with him."
The 10-year-old son of Western Hanover out of Venus Killean is owned by Allard Racing Inc. of Saint-Esprit, QC, Kapildeo Singh of Yorktown Heights, NY, Earl Hill, Jr. of Ohsweken, ON and VIP Internet Stable LLC of Piscataway, NJ.
Keystone Velocity is trained by Rene Allard, who was ecstatic in the winner's circle, thanked many of his staffers by name and gushed about it being his 2-month-old son Leo's first Levy.
Allard said Keystone Velocity may be the oldest horse in the Levy field, but, "he's just an awesome horse. He had two years off… so he doesn't know he's 10, I think."
Allard said Keystone Velocity has "a heavy schedule this year… but he will tell us where we're going."
"His next race will probably be at Chester if we get an invite."
Keystone Velocity sports a record of 2-2-0 in six starts this year with earnings of $320,000. Lifetime, Keystone Velocity has earned $1,644,413 with a record of 28-21-8 in 116 starts.
"He's just an incredible horse and we're trying to keep the dream going… I think I enjoy this even more this year," Allard said.
In the 10th edition of the Blue Chip Matchmaker, favorite and three-time leg winner Shartin N overcame two breaks in last week's leg to post a four-and-a-half-length victory over Sell A Bit N in 1:52.
Tim Tetrick drove the 5-year-old daughter of Tintin In America—Bagdarin to victory for trainer Jim King, Jr. who told Yonkers' Drucker that he worked all week on the filly to get her ready for the Matchmaker.
"It took right up until tonight to get it done. We worked on her a lot at home to make some changes," King said of the equipment they tried to make Shartin N right. "We did so many different things. The biggest thing was just adding the Murphy Blind to her to get her to go straight and stop her from being so fussy."
Tetrick said he Shartin N was just "having a really bad day" last week and the addition of the Murphy Blind straightened her up for the final.
Though Shartin N started from the rail, Tetrick said he was careful not to hit the gas too much off the gate.
"I just wanted to get away clean," he said. "If we make a break, we don't get any money."
Sell A Bit N (Stratton) led the field through a :27.2 quarter and :57 half with Medusa (Yannick Gingras) and a fast-off-the-wings Lakeisha Hall (George Brennan) in that order before Shartin N in fourth.
Tetrick made his move just past the half and was in command through the 1:24 three-quarter station before opening up in the stretch. Motu Moonbeam N (Brent Holland) was third, followed by Dudesalady (Scott Zeron) and Lady Shadow (Bartlett).
Tetrick said Shartin N, "has every attribute to be a good horse, you just have to keep her calm." He said she also has to learn the American style of racing. Down Under, her said, the filly was the best in her class.
"Here it's stop and go and a little bit more speed," Tetrick said.
Shartin N is owned by Richard Poillucci of North Easton, MA and Jo Ann Looney-King of Harrington, DE.
The victory improved Shartin N to 8-1-0 in 10 starts in 2018 and upped her seasonal earnings to $292,875.
Earlier in the card, Mackenzie A (Stratton) won the $75,000 Blue Chip Matchmaker Consolation by a neck over Call Me Queen Be (Zeron) in 1:53.1.
Always At My Place (Brennan) won the $100,000 Levy consolation by a nose over Killer Martini (Gingras) in 1:53.1.