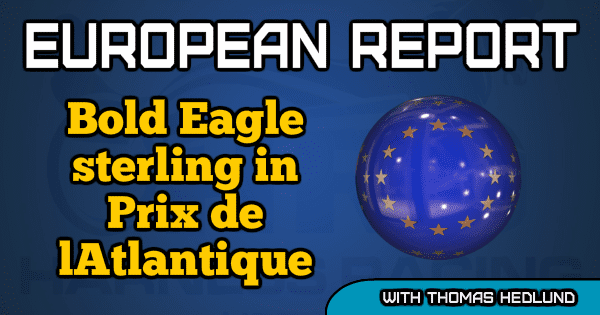 Bold Eagle wins Prix de l'Atlantique with sparkling finish
by Thomas Hedlund
Bold Eagle has dominated a big part of the European harness racing during the past three years and after a winter meeting in Paris, where he collected second places in all big races, the 7-year-old son of Ready Cash is now running on a winning path.
In the $246,000 Prix de l'Atlantique at Enghien in Paris on Saturday afternoon, Bold Eagle had to face six opponents and driver Franck Nivard was urgent to get Bold Eagle to the front early in the race. Stablemate Billie de Montfort left quickly for the lead, as usual, but Bold Eagle, without a struggle took command a quarter into the race.
Prix de France winner Belina Josselyn seriously challenged Bold Eagle in the last turn and even got her head in front of Bold Eagle in the middle of the home stretch. But Nivard is a clever driver and he still had an ace in his hand. The last 150 meters became a quick story where Bold Eagle countered Belina Josselyn and won in a mile rate of 1:58.2 over 1.3 miles.
Bird Parker finished strongly for the third place. Bold Eagle will now aim for the Elitlopp at Solvalla in May.
Bold Eagle replay:
Diamanten wins Johansson Memorial
Berth Johansson was a great horseman and trainer who produced several top trotters from his location in northern Sweden. In his memory, the Berth Johansson Memorial for the 5-year-olds is scheduled at Umåker racetrack, Sweden, every year in April and this year's edition had a special touch of tension although only six horses were called to fight for $47,000.
One of the best horses in the crop, Diamanten (Adrian Chip), moved from Robert Bergh's stable and came to Stig H Johansson's farm at the end of last season. In the Berth Johansson Memorial, Bergh had Muscle Mass son Muscle Hustle from post six behind the gate.
Diamanten was quick from the start and much of the race's outcome was settled when Erik Adielsson managed to keep Muscle Hustle on the outside the first quarter. After a modest first 5/8th of a mile, Diamanten had a lot of power saved for the end and he came home in mile rate 1:58.2 over 1.3 miles.
Beau Mec takes last Olympiatravet spot
The last chance to qualify for the Olympiatravet (final at Åby next Saturday) was held at Umåker on Saturday afternoon and the Swedish Derby winner from 2011, 11-year-old Beau Mec (Jag de Bellouet) showed no signs of obsolescence when he beat Cruzado dela Noche via a powerful last half, three wide. Beau Mec won in mile rate 1:55.1 over 1.3 miles and earned $23,000.
Call Me Keeper wins Seinäjoki
A tough opening — three wide in 600 meters before position outside leader Midnight Hour — didn't stop Call Me Keeper (Pine Chip) from bringing the gold in the Seinäjoki Race to Daniel Redén's stable. The 8-year-old Pine Chip son has been very successful in Paris the past seasons. Now back in Sweden, Call Me Keeper warmed up for the summer meeting with a trip overseas to Finland where he was more or less superior to his opponents.
Örjan Kihlström had tried his luck with Call Me Keeper five times without winning before the Saturday race and the Swedish top driver had a lot of nice words to say after the strong performance in mile rate 1:57 over 1.3 miles.
"Call Me Keeper was very sound today and I never really pushed him at any time. The opening was quite tough, but I never had any thoughts of letting him stay behind horses and he was very strong in the home stretch. As I felt him today, Call Me Keeper will face a great summer, especially over 1.3 miles and longer. He's still a little bit too slow from the start to be the best sprinter," Kihlström said after the race which added $86,000 to Call Me Keeper's bank account.
Ferrari B.R. wins in Norway
At Forus racetrack in Norway, one of the most interesting Norwegian 5-year-olds made his second performance in 2018. Ferrari B.R. (Muscles Yankee) shocked the harness racing fans in Europe when he won in spectacular 1:52.2 (mile rate) over 1.3 miles last season in May. Trainer and driver Per Oleg Midtfjeld got a great acknowledgment that he has the horse in nice shape at Forus on Saturday afternoon. A battle with Donatomite ended with easy victory in 1:53.3 over the mile and it was pretty cold and windy conditions when Ferrari B.R. made this performance.
"Ferrari B.R. still impresses me. If everything looks great, we will aim for the Copenhagen Cup in Copenhagen next time and if we would get an invitation for the Elitlopp, we'll see what happens," Midtfjeld said.