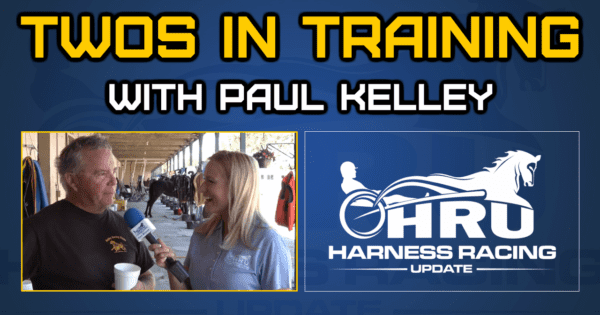 New HRU Twos in Training video starring Paul Kelley
Heather Vitale interviews trainer Paul Kelley in Florida in the latest in HRU's Twos in Training video series available on our YouTube channel.
by Dave Briggs
Paul Kelley is the latest trainer in the spotlight in HRU's Twos in Training video series now posted on our YouTube channel: www.harnessracingupdate.com/youtube.
Kelley was interviewed by Heather Vitale at Sunshine Meadows in Delray Beach, FL about the 10 2-year-olds he has in training, including $300,000 yearling Seaside Bliss (Cantab Hall—You Want Me).
Special thanks to both Omega Alpha and the Lexington Selected Yearling Sale for sponsoring the Kelley video.
Since last April 1, eight new Twos in Training videos have been posted on HRU's YouTube channel — Frank M. Antonacci of Lindy Farms, Blake MacIntosh, Tony Alagna, Dave Menary, Anthony MacDonald, Scott McEneny, John Butenschoen and now Kelley. Twelve videos have been posted in all.
HRU debuted its broadcast division March 23 with the first of some 20 videos chronicling 2-year-olds in training at stables based in Florida and Ontario for the winter. Many more to come in days and weeks ahead.
Subscribe to our channel, for free, and never miss a video.
Every time a new video is posted HRU will send out notifications through our Facebook, Twitter and Instagram accounts.