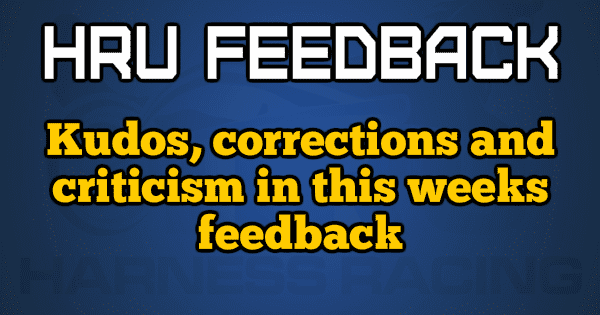 HRU Feedback (2018-04-15)
TV had nothing to do with Hambletonian heats
I'd like to address something stated in a recent "Ask The Guru" column (full column here) in regard to heat racing in the Hambletonian. There are many areas I will concede to the "Guru", but TV coverage of the Hambletonian is one I know better.
Live television frequently gets the blame for heat racing being eliminated, and unfairly so. Just last year (same day heats), CBS Sports Network stayed live during a double inquiry and historic disqualification to get the entire story televised. In 1984 (same day heats & a race-off), ESPN went to three and a half hours to cover the entire race — those are just a few examples of TV's ability to be flexible with this event. By 1991, the Society had written race-offs out of the conditions.
The format change to eliminations the week before had to be done in the race conditions well in advance of taking any payments on the race, and must be published two years in advance. That had already been done by January 15, 1995, long before the 1996 Hambletonian won by the legendary Continentalvictory.
The request for eliminations the week prior to the Hambletonian was made by NJSEA's Meadowlands management at the time, in order to create a week-long festival starting with Breeders Crown open events, and most importantly to MAXIMIZE wagering. In the mid-90s as simulcasting and off-track wagering flourished, the same-day heat format curtailed betting on a final with participants/comeback sheets available only an hour before the final. This is still true today. The Hambletonian Society agreed and in 1997 the shift to eliminations kicking off a Hambletonian Festival got underway. Wagering soared and the result was a still-record North American harness racing handle of $9 million on Hambo day. Within three years, the NJSEA was able to begin incorporating foreign simulcast of the Hambletonian as well and felt their decision was more than justified.
So, like heats or hate them, television had nothing to do with heats in the Hambletonian being eliminated or reinstated, let alone being the sole culprit.
– Moira Fanning / director of operations and publicity Hambletonian Society
Kudos to The Guru, HRU videos, Barnsdale and Sturman
HRU has been greatly enhanced this year with two additions. The first is Ron Gurfein and the only thing better than his weekly Friday column has been the addition of his Sunday reporting on training at Sunshine Meadows. The range of his topics on Friday is impressive and broadening and so many owners live the hopes and dreams behind the training reports. We are indeed fortunate to have a Hall of Fame trainer with worldly interests and an engaging writing style. The second is the addition of the Twos in Training videos. Again, they remind us of the most anticipated time of the year and the range of stables covered has added interest and personality to the product. All of them have been well done but I think the candour displayed by Ron Burke made his the most interesting.
The work of Garnet Barnsdale and Brett Sturman is also consistently strong, particularly when they look at issues which provoke different perspectives. In addition to looking at debatable judging decisions, it would be terrific to get them to expand to driver efforts, both good and questionable and similarly candid comments on trainer performance.
As you look forward, it would be terrific to add one or more "young" voices to the writing roster. Jay Hochstetler is a young trainer who writes well and has a broad perspective on industry issues. There are more and we need to hear their views, concerns and suggested industry change. Regular updates through the season from Brett Pelling on his perspective on his return to North America and Jimmy Takter in his year of winding down would add the voices of opinionated leaders. One final suggestion would be a regular perspective from engaged owners and trainers. In my consultations on the revised staking rules earlier this year, I heard from so many owners and trainers with ideas, great stories and suggestions to make racing better. You could fill pages with thoughts from both perspectives on bills and communication.
I'll return to my motivating purpose for this letter; the special pleasure that the Guru has added to HRU. I think it can get even better with a further broadening of the contributor base and an expansion in the subject matter of existing strong voices.
— Clay Horner/chairman Woodbine Entertainment Group
RE: Renaming Mohawk and year-round racing
First, I find the name change (from Mohawk Racetrack to Woodbine Mohawk Park) is ridiculous. Gulfstream Park West ring a bell?
Second, year-round racing is awful, awful. awful. I always thought WEG should have taken a two-month break in the winter. Let the Ontario half-mile tracks have the winter to themselves. There is nothing special about year-round racing. It will eventually have the same feel and passion as a factory. Woodbine wasn't perfect, shorten the season. Going from Toronto to a Cow Town full-time will just push the entire sport further down.
— Mike Sprague / Bedminster, NJ