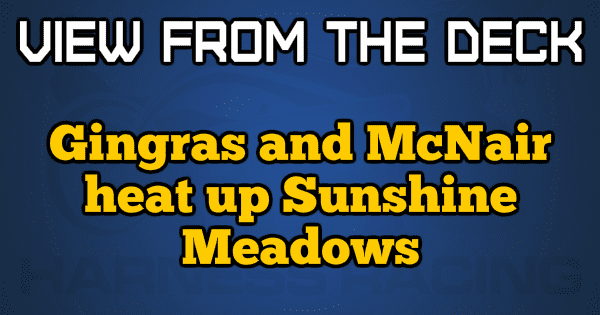 Gingras, McNair scorch Sunshine Meadows with record miles
by Ron Gurfein
The weather was magnificent, the attendance small but select and the action was fast and furious.
With the arrival of guest drivers Yannick Gingras and Doug McNair, the fastest 2-year-old performances in the 35-year history of Sunshine Meadows were observed.
After a discussion of heat racing in the Hambletonian with Marvin Katz — who as one of the larger owners in the sport as well as a prominent breeder — I was surprised at his backing the single-heat theory. He cares more for the gaming aspect than for my position of having all the entrants there on the big day. I told him that I thought the lack of betting on the second heat in the entire scheme of things didn't amount to a hill of beans. I was just guessing. When I got home I had received an email from Jeff Gural agreeing with my position and I immediately responded by asking him for the actual figures that I will post in my column ASAP.
Before detailing the training action, I would like to thank Tony Alagna, Stephanie and Myron Bell, Paul Kelley, Rick Zeron, Lindy Farm, the Herlihys, Murray Brown, Peter Wrenn, Bob Marks and David Reid for their hospitality and assistance in making this column work. I wish all of you a wonderful racing season.
The morning began with a quick mile (in jog carts) from the Casie Coleman-Herlihy barn with her husband, Mark, and Steve Condren driving. Soft Wind Hanover a Sportswriter filly from Summer Thriller and Blank Canvas, a gelded son of Art Major out of Let's Imagine, hit the wire together in 2:15 / 1:06 / :32.
The remainder of the morning was the Alagna show. It was worth the price of admission.
Note: All the miles I am listing were in race bikes.
Odds On Lucy a Sweet Lou filly out of Shes Some Treasure driven by Gingras bested Molly Dooker, Keywest, and Midnight Romance easily.
"She was loaded," Gingras said. "I told Tony to add a mini bit she was a little anxious, I was toying with them." The mile was a sparkling 2:07 / 1:02 / :29.2.
Shipshape a Captaintreacherous colt from Fresh Idea with McNair in the bike, won in a photo from US Captain, Major Deception and Captain Ahab. The fractions were :33 / 1:06 / 1:36 / 2:06.3.
"I touched him with the whip on the last turn and he almost pulled me out of the bike," McNair said.
I think the visitors let the boss win the next heat as Alagna went to the front with Odds On Boca Raton a Captaintreacherous colt from Captiva Island and was allowed to reach three quarters in a pedestrian 1:38 and coasted home followed by Reign Of Thrones, Bronson and Military Secret. The exact fractions were :33 / 1:06.3 / 1:38 / 2:07.3, a quick last quarter on that track for a colt. Wicked N Wonderful a Captaintreacherous filly out of Sakura Hanover edged Captains Play, Passion Struck, and Captains Scandal. With Gingras driving, the mile went :33 / 1:05 / 1:37 / 2:07.4.
The final mile I saw was called a dead heat at the wire by Katz. Entwined, an American Ideal filly from How Bout A Smooch with Alagna crossed the wire together with Stick That Lip Out a filly by Roll with Joe out of Knockout Pout (a sister to Betting Line) with Gingras driving. The fractions were :33.3 / 1:04.2 / 1:05.2 / 2:07.1.
Road to the Kentucky Derby
Once again, the last two Derby preps come after my deadline. There are however, some interesting colts to talk about.
The Arkansas Derby features Magnum Moon, the Todd Pletcher trainee who on paper reminds me a lot of Justify. He is undefeated and shows three bullet works in a row. Although they are not as fancy as Justify's were, they are quite good.
Bob Baffert has Solomini entered but unless he tunes it up a bit I really don't think he belongs. The colt has been beaten badly by Good Magic, Bolt d'Oro, and the favorite in this race Magnum Moon. Baffert is a genius. What am I doing questioning his colt?
Interesting to note that Tony Quartarolo the former standardbred trainer, has entered Machismo, a colt that was bumped at the start in the Bluegrass at Lexington only a week ago. Maybe those "fragile" horses can race every week.
The other "prep" is the Stonestreet Lexington at Keeneland that really has little to offer, with the exception of My Boy Jack from the Keith Desormeaux barn and ridden by brother Kent. The colt has won $500,000 and shows some good miles against Mendelssohn and Noble Indy. Greyvitos has a nice card but hasn't raced since December. These are the only graded stakes winners in the entire field.
The great trainer, restauranteur and good friend Carlo Vaccarezza and I had a major debate on the best horses on the road to the Derby that I will discuss next week. However, he gave me some inside scoop that I found surprising. Johnny V will ride Vino Rosso and Castellano will be aboard Audible. I loved Audible's performance in the Florida Derby even though it was a dream trip and really found this news to be a major surprise.
To all my readers, thanks for you support and kind words. Please keep the questions coming to Ask the Guru and have a wonderful week.
Have a question for The Guru? Email him at GurfTrot@aol.com.