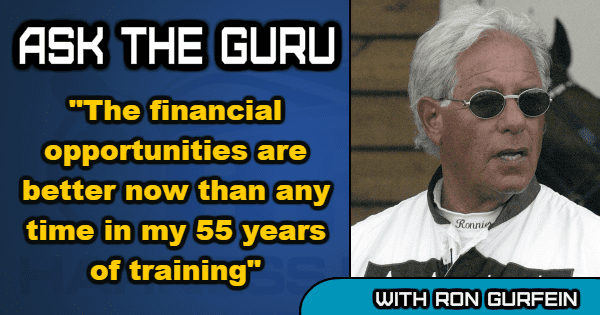 My most precious racing memento, training thoroughbreds, claimers and the best meal near Pocono
by Ron Gurfein
For all of you lucky enough to still be in south Florida and to those that reside here all year I have discovered a new culinary delight. If you are a sushi addict, as I am, read on. If you are not, skip to the questions. The Sea, is a restaurant on Jog road in Delray Beach. The family also owns Lemongrass. The best sushi chef in south Florida creates miracles in the kitchen. His name is Gabriel. He made a Kiori Roll, which has all plain fish with Japanese Snapper added to the recipe. It is by far the best roll I have ever had. I went back last night to have it a second time before I raved about it in my column and it was bigger and better than the first time. If you have a chance, try it. I don't advise sitting at the sushi bar. It is in a bad spot and really uncomfortable. However, to get it right, go to the bar and tell him personally as it is not on the menu and the waitress will mess it up for sure.
Congratulations to my other Wildcats for destroying the competition and making Philadelphia the first city to win a Super Bowl and a NCAA Basketball championship in the same year.
David Briggs asks: What racing memento (trophy, photo, piece of equipment, etc) do you own that means the most to you and why?
At first thought you would think I would say three Hambletonian trophies. That would be the logical answer. However, I really don't find them as aesthetically attractive as the Yonkers Trot trophy and I was far more tortured in obtaining that than any other prize.
Tuesday, July 2, 1996 was a scorching hot day and I shipped Continentalvictory to Stanley Dancer's farm in New Egypt, New Jersey to train on the half-mile track in preparation for the upcoming Yonkers Trot. There were newsmen, photographers and other inquisitive onlookers all around the racetrack. I think every newspaper from Philadelphia to Bergen County to New York and Middletown was present. It was a zoo. The filly, who never found crowds or strange places appealing, was looking at everything and everyone. The first trip was uneventful and I was happy we got around the track without incidence. The second however was a totally different story. Going much faster and experiencing the tight turns and the new surroundings I couldn't keep her trotting in one turn, forget about four. To say I was upset and embarrassed would be an understatement.
I couldn't train her again as the race was four days away. I went to the drawing board and made some minor changes and didn't sleep well for the entire week. I had to tell Mike Lachance because I was sure he would hear it through the grapevine or read about it in the morning paper. He was not a happy camper.
On the evening of the race there were no words to describe how nervous I was. Once again, the first trip was fine. Thinking that my 185-pound body and big hands may have had something to do with the problem, I deferred going the final trip to Mike and nervously walked up the steps to the viewing area one step at a time. He jogged her a half-mile and turned to go. Instead of running around the track as she had done in New Egypt she glided around the oval like a cat. It was a major step forward but 2:20 is a long way from 1:56.
Mike said, "She was great. Don't worry, we will be fine." That did not make me feel better.
On paper it looked like an easy race if you didn't know what went on behind the scenes. The only horse that could threaten was Kramer Boy with John Campbell and he had the 7 post, not great at the hilltop oval.
With my heart in my mouth I watched as the man said go and Continentalvictory eased to the top in a pedestrian :29.2. Campbell couldn't find a hole and was parked with Kramer Boy. Mike took full advantage going another :29.2 quarter reaching the half in :58.4 . I knew then she was an easy winner as John had enough horse off cheap fractions to clog up the outer flow. She won by two in 1:56.2 and although happy and relieved I think it took a couple of years off my life. The trophy is a beautiful piece in Irish crystal (see photo) and it is rumored to be the most expensive prize in harness racing.
Russell Crawford asks: In recent years there have been a number of standardbred trainers who have who have brought thoroughbreds into the barn to train. Is this a trend you think will continue? Increase? There must be some benefits to both breeds. Can you comment if you think there are any negatives to this trend?
To begin with, it is impossible to train both breeds on the same track. Therefore if you wanted to, you would have to split your time between a thoroughbred training track and a standardbred training track. It is something like having two jobs. It is quite taxing and doesn't work.
We as harness horse trainers are spoiled. We can race every week, our horses are calm and easy to deal with. They are stronger and less fragile and they are significantly less expensive. The only benefit to the thoroughbred, in my opinion, is that if you hit a home run like a Derby winner you may have a $50 million dollar stallion. If you hit a home run in our sport you may have a $9 million dollar stallion.
I personally have been exposed to both worlds and to even think about racing thoroughbreds you have to have millions of dollars behind you to compete. There are a lot more Wiggle It Jiggleits and Hannelore Hanover's than there are California Chromes.
On the other hand, pinhooking thoroughbreds is a far better proposition than in our sport. I have friends that make good money doing this. The Keeneland September sale has about 5,000 yearlings selling in one sale. There are bound to be horses at the $20,000 to $60,000 range that fall through the cracks. It takes a lot of work in a small time frame but it can be done.
Remember, it is much easier and less work to train a thoroughbred, but way harder to achieve good results.
Dave Edmunds asks: Do you bet on horses? Is it worth my while getting into the game in the Midwest? Should I buy a couple of cheap claimers to get my feet wet?
What are the financial obligations in owning a cheap claimer?
Lots of good questions that will be of importance to many readers, not just yourself.
First of all, NO I am not a gambler, nor have I ever been. To be perfectly honest, I have many friends that were good trainers and are no longer in the sport because they got crushed at the windows.
I think the financial opportunities in harness racing are better now than any time in my 55 years of training. The Midwest is a great place to start considering the enhanced purses due to gaming and, more importantly, it's close to home for you. Cheap should not be a word in your vocabulary when it comes to horses because cheap always turns out to be more expensive. I would start out with one decent horse and not two cheap ones. Claiming horses are fine because you get a return on your investment in seven days as opposed to the eight-month wait or longer with a yearling. The upside is not great but the fun is there, as well as the chance to make some money. I hate to repeat myself in my column but I warn you what you claim is less important than whom you claim from. As a gambler you know the trainers you bet on and the trainers you wouldn't consider. Claim from the trainers you would not wager upon.
Of primary importance is the trainer you select. Start with a guy that is doing well and has a smaller stable, 15 or fewer horses. You will find him more available and you will learn more. The expenses are fairly reasonable in the Midwest compared to the eastern grand circuit guys because they are just getting into the big money but that will change.
However, the cost of feed and labor is less in the central states. It will cost you around $50 per day for training that will include the feed, bedding and the groom. Blacksmith $230 per month and vet $125 should round out the overhead. Add to that tack, stall rent, shipping and paddocks (caretakers fee for race night) it's safe to say you are looking at around $3,000 per month per horse. With claiming horses there are no stakes payments or entry fees.
Best of luck in your endeavors. If you get rich claiming horses and you want to try the yearling game I am available for advice.
Joe Spadaro, my good friend asks: Do you have a restaurant recommendation for the Wilkes-Barre Area?
Amazing as it might seem, there are many good restaurants in the area.
My favorites are Pazzo and Isabella's. Pazzo offers Tonno Pazzo a Pine nut encrusted Ahi Tuna that's very good. The Lisa salad of orange, walnuts and Gorgonzola is great, there are plenty of wonderful pasta dishes and to me the best steak in Pennsylvania, better than Ruth Chris. The owners are a local family that have been in the area for many years and are very accommodating.
Bob Tamburs' Isabella's is another good choice. Bob is a horse owner and a truly wonderful guy. You will find him at the restaurant most of the time. I suggest the beef carpaccio and the amazing selection of meats and cheeses that are available all the time. They have specials and wonderful pasta dishes.
Cafe Toscana is downtown on the square, but has some fabulous Italian offerings.
PEI muscles or Stracciatella soup (Italy's answer to egg drop soup) are both good starters. I love the angel hair pasta with mushrooms.
Joe if these suggestions don't suit your tastes, go to Ruth Chris at Pocono Downs and have a steak or fresh lobster.
Thanks to all my readers for the kind words. Please keep the questions coming.
I would really appreciate some non-horse related ones. Next week I will answer a question David McDuffee asked me two months ago that I found difficult to answer but will do my best. "What can a small breeder like myself do to compete with the big farms at the highest levels?" Have a wonderful week.
Have a question for The Guru? Email him at GurfTrot@aol.com.