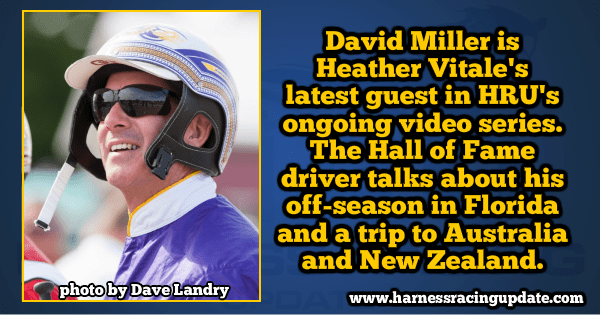 David Miller and The Deck featured in HRU's latest videos
In a series of special reports, HRU's Heather Vitale talks with Hall of Famer David Miller and profiles the allure of The Deck at Sunshine Meadows.
by Dave Briggs
A Florida interview with Hall of Fame driver David Miller and a special report on the magic of The Deck at Sunshine Meadows are the two latest Harness Racing Update videos now available on the HRU YouTube channel.
Miller documents his trip to Australia and New Zealand and how he keeps busy in Florida during the winter.
The special report on The Deck goes particularly well with April Fool's Day.
HRU debuted its broadcast division Friday (March 23) with the first of some 20 videos chronicling 2-year-olds in training at stables based in Florida and Ontario for the winter.
The first video of Trainer of the Year and Good Guy winner Brian Brown is available here.
The video of Ron Burke is available here.
The video of Casie Coleman posted Friday is available here.
All five videos were produced by videographer and editor Aaron Re of Hanover Multimedia of Hanover, PA.
The first of the Ontario videos was to have debuted today, but a heavy rain forced the postponement of a video shoot host Jaimi Fellows had scheduled with Scott McEneny.
A new video will be posted on HRU's YouTube channel every 2-3 days. You can subscribe today, for free, to our YouTube channel.
Every time a new video is posted, HRU will send out notifications through our Facebook, Twitter and Instagram accounts.
Special thanks to the Tattersalls Spring Mixed Sale for sponsoring the Coleman video.
Other sponsors to be announced, but some sponsorship opportunities remain for the videos. To place your video message at the start of a video please contact advertising at: sales@harnessracingupdate.com.