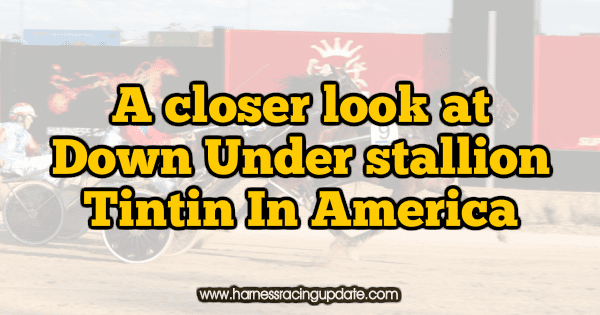 A brief history of the Down Under sire of Matchmaker performer Shartin N.
by Bee Pears
The tough and fast Down Under mare Shartin N is getting fine reviews in her own right, but those who look at her breeding may be a bit puzzled. Who is this sire Tintin In America? The breeder of Tintin In America is yours truly based in Cambridge, New Zealand. Here are some insights into why Shartin N is outstanding, but no fluke.
Tintin In America is a young sire, standing originally in New Zealand but now based at Yirribee Pacing Stud in Australia where he will get many more mares (last season he served over 90 mares) from breeders looking for a local equivalent of Bettors Delight – a compact package of speed. He tips just 15 hands himself, however like Bettor's Delight his top foals seem to be good sized horses – and Shartin N is no exception.
Tintin In America likely is more familiar to you than you might realise. He's the result of a breeding by McArdle from an In The Pocket (Direct Scooter) mare, so that's a lot of quality American breeding close up. In The Pocket was a speed machine and as a sire had a dramatic influence on our pacing breeding. Tintin In America's pedigree includes local maternal lines that will be foreign to you but proven and well-known Down Under. I know his family is, because I am breeding from it with a lot of success.
Tintin In America was educated early by Kym Kearns and sold as a yearling to the Auckland Trotting Club Syndicate, a great programme to get more people involved in harness racing ownership.
He was an "x-factor" horse, the ones that people can recall a moment of awe watching them race. In Tintin In America's case, it was his outstanding sprint over the last 400 meters that could get him out and gone before the rest of the field knew what had happened. He ended up with 16 wins from 35 starts and NZ$934,305 in lifetime earnings, but more importantly he won five times at Group 1 level and established three New Zealand Records from 1609 to 2700 metres. Remember that Down Under we race at many distances, so a horse learns to settle and sprint or to stay and fight on from an early age.
His competitive nature was harnessed by his trainer Geoffrey Small and driver David Butcher. He was known for his almost meditative composure out on the track prior to a start, a credit to their work with a feisty young colt. As a 3-year-old, he won the Australasian Breeders Crown, and as a 4-year-old several top age group races in New Zealand as well as a strong second in the Auckland Cup behind the phenomenal Monkey King, before being retired with an ongoing foot injury.
Even from his first small crops Tintin In America has produced a good proportion of offspring that go as fast as your North American counterparts on our tracks – including Zee Dana (1:54.6 a world record for 2400m), who won six races before his untimely death, Divine State (1:51.6), and Dior Mia More (1.53.2) which happens to be Tintin In America's personal best too. New Zealand records show to date 34 starters for 24 winners, while in Australia his record is 13 winners from only 19 starters.
You may well see more "Tintins" up your way in future, probably with an A rather than an N after their name as his Australian crops come on stream.