by Ron Gurfein
With four leaf clovers abounding, and the Hambletonian Society meeting scheduled for Sunday in Florida, the turnout on The Deck at Sunshine Meadows training centre Saturday morning was tremendous. The newcomers were treated to some wonderful breakfast food thanks to HRU and David Reid supplied the champagne, which was certainly a new and pleasant addition to the morning.
The usual suspects were there with the addition of Hambletonian Society president John Campbell, who looks as fit as he was 10 years ago and a lot sounder than I have seen him in years. It's amazing what resting a body can do.
Heather Vitale and Aaron Re were filming a red carpet show that was very entertaining. Among the newbies were the De Van Brothers, HRU editor Dave Briggs, with whom my girlfriend Sandy and I had a the pleasure of dining with the previous evening at Trattoria Romano. Moira Fanning was accompanied by the departing president of the Hambletonian Society Tom Charters, as well as Charles Keller of Yankeeland Farm and the great lady trainer of harness racing Linda Toscano, who along with Tom Grossman of Blue Chip farm is a fellow graduate of P.S. 6. They will end my list so you are not bored to death.
On the track were some interesting prospects. From the Paul Kelley stable came two fast Cantab Hall fillies Evie Hanover from Epona Bluechip and Seaside Bliss out of You Want Me in 2:25/1:10/:34, followed by Crowned Eagle a Cantab Hall Colt from Red Hot Spicy, Have A Habit a Conway Hall colt from Habits Best and Hat Trick Marleau a Crazed from Catch Some Z's in 2:24/1:09/:34 all looked sound and good.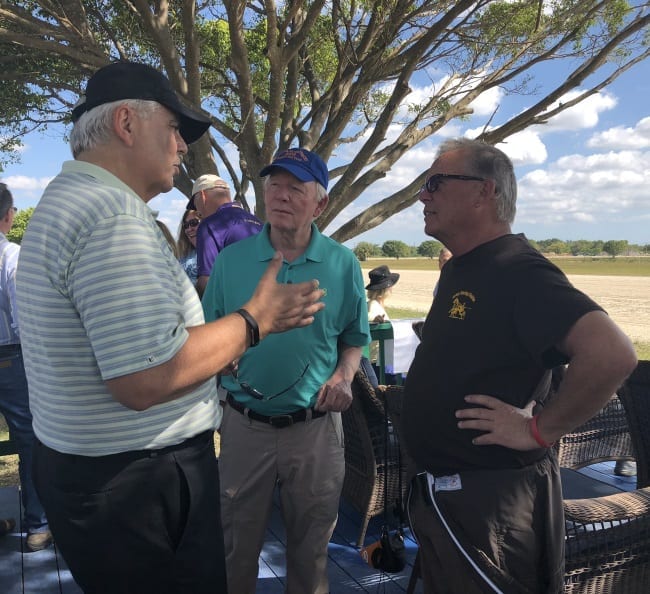 On display from the Peter Wrenn barn was Chin Chin Hall a Cash Hall brother to Cantab Hall and one of my favorites with Swanstotalpackage a Swan For All Colt out of Showpiece — in 2:23/:33.
From Lindy Farms the pacing colt Magic Joe Lindy, American Ideal from Lindys Bandita beat up on two nice trotters — Mischief Managed a Muscle Hill Colt from Susies Magic and Hall of a Dream a Cantab Hall filly from Luna Dream Om in 2:27/1:10/:34. They all were eye catching.
Also from Lindy was the unnamed Father Patrick from Highscore Kemp and unnamed Trixton from True Diva in 2:30/:34 — two outstanding fillies.
Some impressive three-year-olds were on display from Casie Coleman-Herlihy with David Miller and Steve Condren aboard. Summer Travel, Wanna Hall and Western Passage looked sharp in 2:07.3 and Play The Bell and Alexis Faith were very strong in 2:08.
Kelley showed off a group of talented three-year-olds. Russian Spy, Byway, and Keystone Tenacious all looked great going a mile in 2:08. They are by Credit Winner, Muscle Mass and So Surreal, in that order. Keystone Tenacious earned over $100,000 and finished fourth in the Breeders Crown.
A fabulously-gaited Chapter Seven filly Quiss Me Bluechip out of Makeit Bluechip reeled off a mile in 2:25, but blazed the last quarter in 33 seconds, very good for a baby on this track. It was definitely equivalent to 29 seconds at the Meadowlands. She is owned in part by Grossman.