In part 1, we'll take a look at the bull case for horse racing.
by Dean Towers
The past several months have been a whirlwind for those following the path for legal sports betting in the U.S. Within perhaps weeks, the Supreme Court is expected to rule on New Jersey's bid to offer sports betting and many seem to think it's a slam dunk, evidenced by the 20 states that have already enacted legislation to take advantage of the change.
As we all know, betting sports is as old as the day is long. It's estimated that legal and illegal wagering on this year's NCAA tournament will total $10 billion. Legal sports betting in Vegas has doubled the last 10 years. This is a market with tremendous upside.
What's that upside mean for horse racing? What does such a strong, new competitor do to the wagering landscape?
We'll explore potential positives below.
Sports betting and racing (seems to) coexist happily overseas
Early this century, the sports betting markets opened up in Australia. Turnover grew in rapid fashion – from almost nothing to over $6 billion (AUS) in 2015 — as chart I (courtesy the Australian Racing Factbook) illustrates.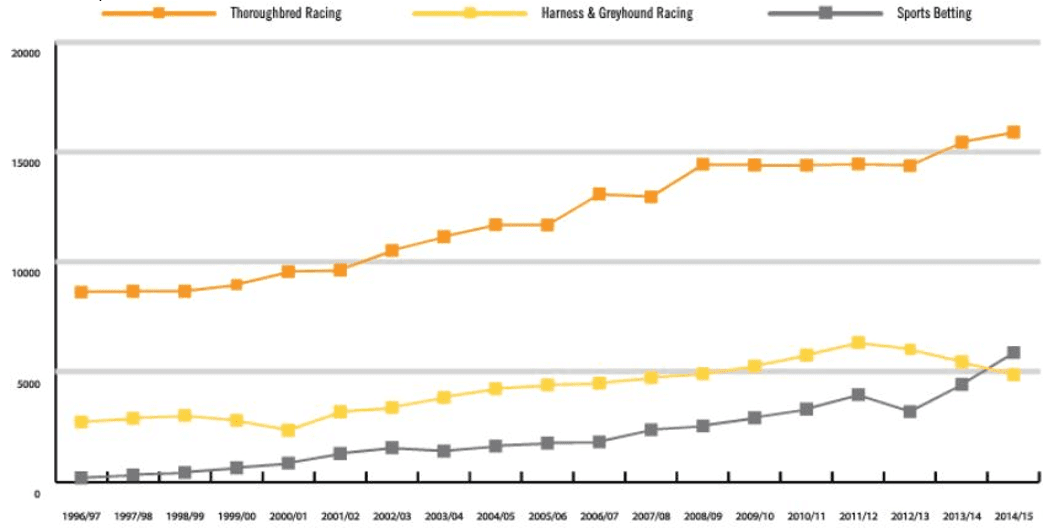 What's especially interesting about the chart, is that horse racing handles did not falter as sports betting handles grew; in fact, they mirrored them. Clearly, we have to be careful making concrete conclusions (we don't know what horse racing handles would've been if sports betting was not made legal), but with all types of betting handle increasing, it's tough to say it was a death-knell for racing.
Moving to Hong Kong, where both soccer betting and lotteries are now direct competition to the Hong Kong Jockey Club, we see similar numbers (chart courtesy Bloomberg).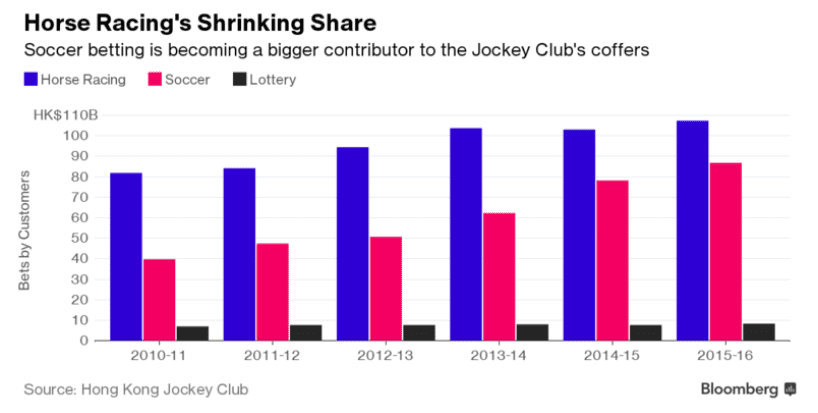 In the halls of the HKJC they are wary of the new make up of revenue; however, horse racing handles keep motoring. Hong Kong racing barely garnered $8 billion (U.S.) turnover in 2007 and the trend was poor. Today, patrons wager over $13 billion (U.S.) a season, and although leveling off somewhat, handles are strong.
When slots were introduced in North America as competition, the only major study concluded that pari-mutuel wagering (on site) decreased 21 per cent as the machines poached horse race bettors' pocketbooks. It appears the same thing has not happened overseas with the introduction and proliferation of sports betting.
Theoretically, as betting became more mainstream it created a culture of wagering as a pastime with the general public, and these synergies allowed horse racing to benefit in at least some way.
Will the same thing happen in North America? Can these two competitors coexist, or even thrive?
Offer good bets, attract new money
A friend of mine wagers on sports (mainly soccer) at UK-based Betfair and he's a fairly large bettor, playing five figures per match. As he continued to generate ROI, he started to branch out, looking at what else he could model and play profitably via the exchange.
He began looking at racing and discovered a situation where he thought the betting bots were not working efficiently. He dove in and played millions, some of it going right into horse racing bottom lines via their share of takeout.
This is not uncommon. When profit driven bettors are offered something new to play – whether it be Daily Fantasy, sports betting, or racing – they often dabble in these new games.
Horse racing has an edge on one bet here in North American which encourages the dabblers: The carryover.
Garett Skiba was on the final table at the NHC in Vegas last month and plays Daily Fantasy Sports, but I don't see him play harness racing too often; unless there's an edge. When the mandatory payout at Hawthorne harness was announced last month he noticed it and, well, there he was, spending money on the positive expected value bet.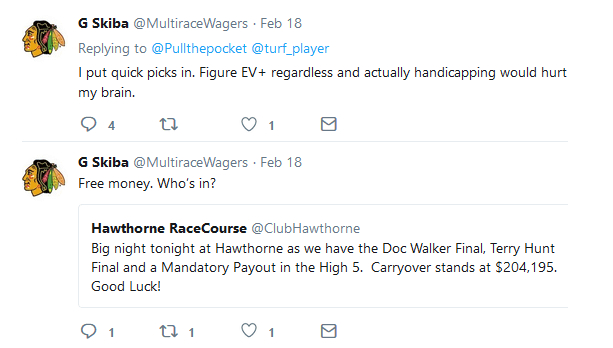 Woodbridge Ontario native Rob Pizzola is a professional sports bettor who might not know a lot about horse racing, but he knows a good wager when he sees one. Recently, he tweeted about a trip to Woodbine where he, like Garett at Hawthorne, was investing money in a super high five mandatory pay. With the pool larger than the takeout, any bettor worth their salt will fire.
Rob spent a few hundred dollars on the bet and his betting partner (his dad) spent about double that.
That's added money into a pool that horse racing would never normally see; from a sports bettor, not a seasoned horseplayer. It's all due to a good bet, with good value.
Making the tent bigger – how, and what's it all mean?
Let's imagine for a minute that TVG, DRF or Twinspires get into the sports betting business, and with their infrastructure already in place they use that advantage to attract myriad sports betting customers to their platforms. These new customers are not only exposed to the sports bets they're looking for, but they can bet racing in the same shop. In effect, the bettor bankrolls controlled by TVG et al, grows, as do the number of players. This increases horse racing's exposure to people with bullets in their accounts.
Players who have the characteristics of a Rob Pizzola can be marketed to for such things, like carryovers. A portion of their bankrolls could – in fact, if they're true value seekers – will enter the horse racing landscape. The sport which has found it incredibly difficult (impossible?) to find new markets suddenly has a new market to sell to, without a lot of the hard work. The U.S. Supreme Court is doing most of it for them.
Is this phenomenon why horse racing and sports has worked in tandem in places like Australia? Maybe, maybe not, but in my view broadening the tent and allowing new markets a conduit to bet horse racing makes some sense as a positive.
Conclusion and part 2
I hope in part 1 we've established the potential positives for wagering with the legalization of sports betting. And, of course, we didn't even examine it in a potential new revenue context, like Monmouth Park is expecting once legalized.
In part 2 we'll switch gears and look at the bear case. Namely, racing can offer their product to a new skill game gambling market under the same roof; one in which they've been trying to reach for a generation with no success. However, what's good for the goose is good for the gander. While sports bettors are exposed to horse racing, existing horseplayers who possibly rarely bet sports are now offered an easy, legal way to play, perhaps right from their ADW. I'll share my thoughts on just how worried horse racing should be about that next time.