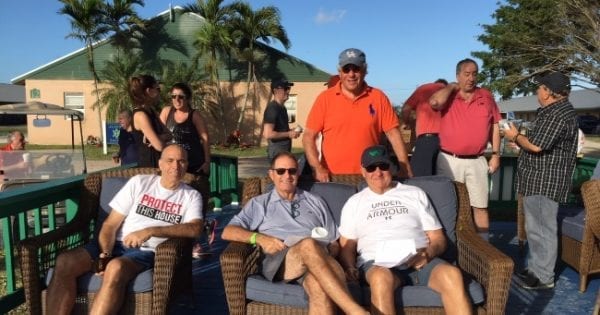 Babies shine at Sunshine Meadows
An exquisite Saturday on The Deck was the perfect place to view some precocious babies.
by Ron Gurfein
It was an exquisite morning at Sunshine Meadows in Florida, not a cloud in the sky and temperatures approaching the mid-80s. I am not sure if it was the beautiful weather or the publicity of Murray Brown catering the morning brunch sponsored by Hanover Shoe Farm, and promising the best spread of the season via Facebook. The usual suspects were all present, however the crowd expanded with some fresh new faces. Mary Ellen McDuffee was present with her famous husband David, and had some wonderful things to say about my column that were greatly appreciated. Anthony Bonomo stopped by from Saratoga a thoroughbred owner on his way to buy a fine pair of binoculars. Chris Antonacci and his beautiful wife Liv, Pat Walker and her daughter from Walker Standardbreds in Sherman, IL, a place of many Tony Alagna sightings, and, last but not least, the owner of the 2018 2-year-old pacing filly of the year Bill Donovan.
Some very nice training miles were also on tap for the morning. Crowned Eagle a Cantab Hall colt from Red Hot Spicy looked exceptional in 2:35, for Paul Kelley. Lindy Farms had a nice set of Quarterbackbluechip (Cantab Hall out of Southwind Caitlin), Throw Out The Tab (Cantab Hall—Victory Treasure) and an unnamed colt by Muscle Hill out of Kinda Crazy Lindy that were all mowed down in the final strides by Kings County a Muscle Hill Colt out of Brooklyn in 2:32/:34. Great set. Lindy Farm also had some nice fillies on display. I loved Unbelindyable a Lucky Chucky from Lindys Leadinglady and an unnamed Trixton filly by French stallion Love You out of True Diva, going their mile in 2:38/:36.
On the pacing side, Stick That Lip Out might turn out a major bargain for Henderson, Alagna and Riverview Racing. The Roll With Joe filly out of Knockout Pout was only an $18,000 yearling. I caught her mile in 2:37/:34 well within herself.
I have included a list of most of the 2-year-olds at Sunshine Meadows. It will be completed shortly. Sometimes it can be like torture getting a trainer to send you something. I will try my best to review some of the other stables ASAP.
Tony Alagna
Captains Play f Captaintreacherous—Full Picture
Key West f Captaintreacherous—Bodacious Hanover
Odds On Boca Raton c Captaintreacherous—Captiva Island
US Captain c Captaintreacherous—American Jewel
Major Deception c Captaintreacherous—Loving Caroline
Shipshape c Captaintreacherous—Fresh Idea
Wicked N Wonderful f Captaintreacherous—Sakura Hanover
Captains Scandal f Captaintreacherous—Scandalous Hanover
Escapetothebeach c Somebeachsomewhere—Shelliscape
Odds On St Lucie f Sweet Lou—She's Some Treasure
Captain Cash c Captaintreacherous—Authorize
Captain Ahab c Captaintreacherous—Acquavella
Bronson c Captaintreacherous—Ideal News
American Love f American Ideal—Perfect Touch
Military Secret c Captaintreacherous –Turnoffthelights
Passion Struck f Western Ideal—Stonebridge Beauty
American Admiral c American Ideal—Good Stuff
Cliffhanger c Vintage Master—Mystery Game
Stick That Lip Out f Roll With Joe—Knockout Pout
Midnight Romance f Captaintreacherous—Romantic Moment
Molly Dooker f Great Vintage—Fox Valley Zena
Reign of Thrones c American Ideal—Love Canal
Rivera Seelster f Sunshine Beach—Rockapulco
Odds On Clearwater f Captaintreacherous—Apogee Hanover
Waterway c Captaintreacherous—Capri Hanover
Intent Hanover c Captaintreacherous—It Was Facination
Samudio Hanover c Captaintreacherous—Social Scene
Tall Drink Hanover f Captaintreacherous—Take Into Account
Entwined f American Ideal—How Bout A Smooch
Archie Hill c Muscle Hill—India Hall
Pilot Discretion c Muscle Hill—Self Indulgent
High Into The Sky c Trixton—Kite Flyer
Memo c Trixton—Easy Agenda
Zeus P V c Trixton—Massive Drama
Ross Croghan
Admiral Ballsy c Captaintreacherous—Drop the Ball
Flowers N Dreams f RC Royalty—Lavender Fields
Just A Shout Away c Father Patrick—Scream And Shout
Just Wave Goodbye c Somebeachsomewhere—A Votre Pante
Mensa Man c Badlands Hanover—Mind Boggling
Midnight Fantasy f Muscle Hill—Flirtin Miss
Dance With Danger f Captaintreacherous—Kutekatie
Gained Hanover f Captaintreacherous—Get Lucky
Primadonna f Somebeachsomewhere—Donna Lee
Prince Of Tides c Somebeachsomewhere—Tug River Princess
Quatro Blue Chip c Roll With Joe—Cantors Daughter
Say My Name f Cantab Hall—Hey Mister
Stood Up f Somebeachsomewhere—Lonesome Day
Sweet Tart f Sweet Lou—Honky Tonk Woman
Take A Knee c Donato Hanover—Time To Kill
Transatlantic c American Ideal—French Panicure
Wing Suit c Muscle Hill—Spicy Wings
Fred Grant
Abbastanza f Cantab Hall—Widdershins
Aliza f Andover Hall—Nicole Isabelle
Jubilarian f Donato Hanover—Décolletage
Meegan Hall f Cantab Hall—Ma Chere Hall
Reverse Ferret f Donato Hanover – Transgressive
Three Potato Four f Explosive Matter – Ginevre
Unseen f Bettors Delight—Sight To See
Bosch c Explosive Matter—Perfect Chance
Explosivebreakaway c Explosive Matter—Phaeton
Casie Coleman Herlihy
Soft Wind Hanover f Sportswriter—Summer Thriller
Mcsportster c. Sportswriter—Magical Bestem
Cafe Society f Betterthanchedder—Bunkhouse Babe
Betterthenbad f Betterthanchedder—Fit N Bad
Better Earl c Betterthanchedder—Bad Sister
American Marilyn f American Ideal – Sportsmistress
Quatrain Bluechip c Somebeachsomewhere –Frontierepan
Blank Canvas c Art Major—Let's Imagine
Machlikeanegyptian c Mach Three—Dance Until Dawn
Keystone Prestige c Bettors Delight—Pending Approval
Cassius c Bettors Delight—Armbro Tussle
Stag Party c Bettors Delight—My Lady Day
Bettor Up c Bettors Delight—R Reva Rae
Tymal Royalty f Royalty For Life – Nelly
Ageisanumber f Vintage Master—I'm All In
Jake Huff
Music Matters f Art Major—Music Row
Deo Picasso c A trainer Major—Show The World
Never Catch Me c Roll With Joe—Hat Dance Hanover
Art In The Sand f Art Major—Glass In The Sand
Jan Johnson
Lady Allaire f Father Patrick—Southwind Allaire
Secret Serenity f Muscle Hill – Getinonthesecret
Rare Glide c Yankee Glide—Rarely Wrong
Paul Kelley
Have A Habit c Conway Hall—Habits Best
Macallan c Credit Winner—Margarita Hall
Knight Of Valor c Muscle Mass—Smooth And Sassy
Crowned Eagle c Cantab Hall -Red Hot Spicy
Hat Trick Marleau c Crazed -Catch Some Zs
Big Bank Hall c Always A Virgin—Real Lady Katie
Seaside Bliss f Cantab Hall—You Want Me
Royal Lady f Credit Winner—Royal Assets
Heaven On Credit f Credit Winner—Holier Than Thou
Evie Hanover f Cantab Hall—Epona Blue Chip
Lindy Farms
Quarterbackbluechip c Cantab Hall—Southwind Caitlin
Mischief Managed c Muscle Hill—Susie's Magic
Throw Out The Tab c Cantab Hall—Victory Treasure
Gobi Bandit c Chapter Seven—Blazing Musclegirl
Chris Come First c Chapter Seven—Mary Lou Hall
Kings County c Muscle Hill—Brooklyn
Magic Joe Lindy c American Ideal—Lindys Bandita
Beach Meadow c Somebeachsomewhere—DB Blue Chip
Unnamed c Muscle Hill—Kinda Crazy Lindy
Lindys Crazy Hall c Cantab Hall—Lindys Gone Crazy
Unbelindyble f Lucky Chucky—Lindys Leadinglady
Foot Loose Lindy f Crazed—Teachmehowtolindy
Lindy Pearl f Muscle Hill—Possessed By Lindy
Hall Of A Dream f Cantab Hall—Luna Dream OM
Unnamed f Father Patrick—Highscore Kemp
Unnamed f Trixton—True Diva
Unnamed f Muscle Hill—Can't Have My Moni
Don Swick
Truck Or Treat c Trixton—Stage Fright
Sweet Lucy Lou f Sweet Lou- Ultimate Bet
Vodka On The Beach c Somebeachsomewhere—Just Add Vodka
Skip To My Lou f Sweet Lou–Notreadytobenice
Peter Wrenn
Petra f Uncle Peter—Incredible Fortuna
Odds On Olentangy f McCardle—You Thrill Me
Princess Layla f Sportswriter—Jann's Bid
Odds On Ohio c Dragon Again—Three Kilo
Odds On Columbus c Yankee Cruiser—Princess Character
Shamma Lamma c McCardle—Shabalabadingdong
Chin Chin Hall c Cash Hall—Canland Hall
Swanstotalpackage c Swan For All—Showpiece
Twin B Peter c Uncle Peter—Affair Hall
Team Zeron Racing
Colorfast f Western Ideal—The Art Museum
Listen Lilly f Western Ideal—Lush Limbaugh
Rhyme N Roll f A Rocknroll Dance—My Perfect Rhyme
Carousel f Somebeachsomewhere—Emily Car
Heisman Player c Sportswriter – Simplyirrestable
Ballparkfrank c Sportswriter—Tipsy Taters
Forever Fav c Bettors Delight—Forever Cam
Lindy Gaga f Cantab Hall—Pearle Axe It
Qiss Me Bluechip f Chapter Seven—Make It Bluechip
Beautiful Brenda f Credit Winner – Yankeedoodledandy
Briarwood Belle f Archangel—Winbak Lola
Galway Girl f Credit Winner—Hot Off The Press
A Ray Of Sunshine f Cantab Hall – Sunshinenlolipops
General Jackson c Cantab Hall—Nicolette It
Tennessee Whiskey c Cantab Hall—Rustic Rosie
Allthefixins c Justice Hall—Lady I Am