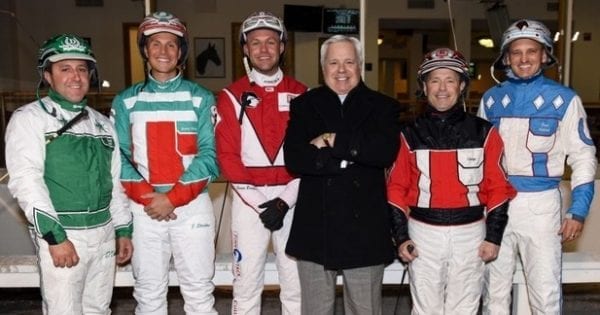 Immediate returns at Yonkers
Just a few weeks after Cammie Haughton took over as the director of racing at Yonkers, handle is up significantly thanks to the elimination of the passing lane, an earlier evening post time and management's insistence that drivers mix it up more.
by Tom Pedulla
The elimination of the passing lane, an earlier evening post time, and the introduction of guarantees that will accompany Pick 5 carryovers are among changes that appear to be breathing new life into a Yonkers Raceway product accused of being stale.
"It's a whole new different level of racing," said Cammie Haughton, in his first year as director of racing at Yonkers. "I call it back to basics."
Initial returns may have owner Tim Rooney wondering why he did not move sooner to hire the son of late Hall of Famer Billy Haughton.
The first two Sunday cards of the new year, bolstered by trotting races simulcast in France, produced total handles in excess of $2 million, a gaudy total for the tradition-rich half-mile oval. According to Haughton, the first five cards generated a 73 per cent increase in handle compared to 2017.
There is widespread agreement that the decision to drop the passing lane is resulting in far more entertaining competition. With the lane, drivers were criticized for being rather passive in the early stages of some races that tended to offer little beyond a late flurry of activity.
"For the money we're going for, these drivers have an obligation to get the most out of their horses for the owner, for the trainer, with expending the least amount of energy," said Joe Faraldo, president of the Standardbred Owners Association of New York. "So they haven't been pulling on the right line with that passing lane because they can get third money, fourth money, or even win the race by just sitting. But it made the racing very boring."
No one would make that accusation any longer. There is widespread approval of an adjustment that some would argue was long overdue.
"I don't think there is any argument from anybody. It's definitely changed racing and made it more exciting," said Jordan Stratton, who drives regularly at Yonkers. "There might be one or two cases where the favorite gets buried on the inside and has no place to go, but for the most part there is a lot more movement.
"You have to do something. I'm just glad my home track was the one to step up and take the initiative and try to be better for the future."
According to Haughton, there is more pressure on drivers to engage their horses early without the comfort level that the passing lane provided.
"They know two things," he said. "Either they've got to pull or they get trapped in."
More pressure up front will likely be more taxing on favorites that were sometimes afforded a comfortable lead in the past as drivers bided their time, confident the passing lane would provide an opening for a late bid. Haughton said there were 14 winning favorites in 58 races during the first week of racing. In comparison, the top choice delivered 24 times in 53 races in the first week last year.
"That's good," Haughton said of the increased unpredictability. "That means people who are betting on these races are getting prices."
The decision to advance the evening post time 20 minutes to 6:50 p.m. ET is helping Yonkers to avoid having races run at the same time as other simulcast tracks. In addition, Haughton is insisting that drivers and horses be on track for at least seven minutes before they go to the starting gate to give fans a longer look at horses before they wager.
"Our guys were just going out there and going right to the gate. There is no way a gambler wants to see that," Haughton said. "How can they even look at their horse and bet on it? It was terrible."
Clearly, Haughton is not afraid to speak his mind. During a mandatory meeting for drivers before the season began, the new director of racing said he told them, "The party's over. We are dangerously low with our handle. We have to get the handle up."
Faraldo hailed the earlier first post for night racing.
"You have to stagger your starts," he said. "You need at least five to seven minutes between the conclusion of the last race, wherever that last race is, and your race because gamblers say, 'Our best race is the next race coming up.' You can't go head to head with other tracks."
In another twist designed to spur handle, Yonkers announced on Friday that guarantees will accompany Pick 5 carryovers, effective immediately. Guarantees will range from $10,000 for Pick 5 carryovers less than $3,500 to $35,000 when the Pick 5 carryover is between $12,001 and $15,000.
Haughton expressed gratitude for the widespread cooperation he is receiving. He emphasized that more changes are ahead.
"I'm just getting started," he said.