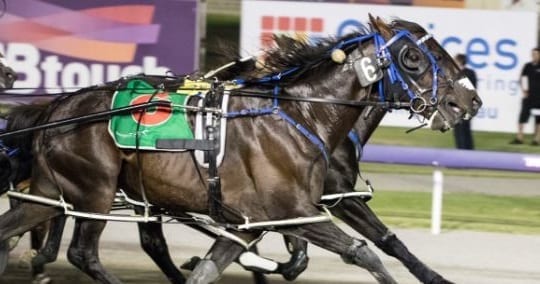 My Hard Copy wins incredible Freemantle Cup
But favored Lazarus won hearts after being parked three-wide the entire distance and barely missing the victory. The replay is a must see.
by Alan Parker
Dual WA Pacing Cup winner and renowned sit-sprinter My Hard Copy took out his third Group One race with a last stride win in the $300,000 (AUD) Fremantle Cup on Friday night at Gloucester Park in Perth, Australia.
Reined by Clinton Hall for his father Gary, My Hard Copy scored his 24th win in his 80th start and lifted his earnings to $1,203,550 (AUD).
It was Gary Hall's sixth Fremantle Cup in the past nine years and third in succession following wins by Beaudiene Boaz and Chicago Bull in 2016 and 2017.
My Hard Copy started at $53.80 and was superbly driven by Clinton who moved the son of American Ideal three wide with 1,200 metres remaining to follow Lazarus, before pulling four wide turning for home and grabbing the favourite Lazarus in the shadows of the post. Chicago Bull held on for third place just ahead of Lazarus's stablemate Ultimate Machete.
After being forced to race three-wide throughout, Lazarus had the temerity to run past Chicago Bull inside the final 100 metres before My Hard Copy claimed him.
"When I felt a horse get on my back with 1,200 metres to go I was just hoping it wasn't My Hard Copy," Lazarus' trainer/driver Mark Purdon said. "He was the only horse I thought capable of giving me trouble in a sprint home."
While the connections of My Hard Copy were receiving congratulations and celebrating, those at the track to witness one of the most amazing races in the 87-year history of Gloucester Park were shaking their heads in amazement at the performance of the runner-up.
Lazarus was trapped three-wide for the entire 2,536 metre trip (1 5/8 miles), which was covered in a race record mile rate of 1:55.4.
Those with access to a computer program have calculated that a horse travelling three-wide for a lap of the half-mile Gloucester Park track covers an additional 17.6 metres.
Lazarus travelled three-wide for three laps and therefore covered an additional 52.8 metres to the horses on the rail, or an extra 26.4 metres to Chicago Bull which raced on the outside of the leader.
Lazarus's gross time for the 2588.8 metres he actually covered equates to a mile rate of 1:53, which is some 1.5 seconds inside the Gloucester Park Track Record of 1:54.5 for a 2,536 metre race, which was set by Lazarus in a heat of the Inter Dominion last month.
Harness fans in Western Australia are notoriously parochial and just love to see visiting horses get beaten – except for this time.
Lazarus has been taken into the hearts of local fans that were devastated that after such a courageous performance he should go under in the last stride.
Those fans will get one further chance to witness Lazarus in action when he starts in the $450,000 WA Pacing Cup next Friday night, although his stablemate Ultimate Machete pulled up with an injury and is highly unlikely to start.
Post-race social media was awash with praise for the performance and admiration for a remarkable horse who, despite being beaten, gained even more fans than he had previously and further strengthened his claims as the world's best pacer.
Old-timers compared the performance to that of Pure Steel in the 1980 Inter Dominion Final held on the half-mile Harold Park track.
Pure Steel, who is still regarded as the toughest stayer to have raced in Australia, was trapped three-wide throughout that night over 2,700 metres before the two sit-sprinters Koala King and Locarno got over him in the straight.
The 2018 Fremantle Cup was probably best summed up by the hardened punter leaning over the outside fence – "Now that is what I call a race and we will never see another quite like it."
Do yourself a favour and watch something pretty special.