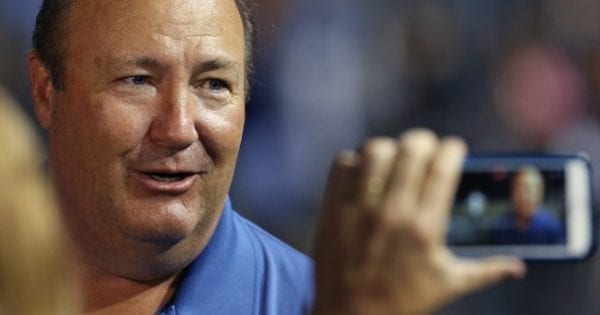 Diary of a Career Year, Part 1 of 2
Trainer Brian Brown recounts his fantastic – and sometimes trying – year campaigning top pacers Downbytheseaside, Fear The Dragon and Blazin Britches.
by Jay Wolf
This has been a year of dreams for Delaware, OH-based trainer Brian Brown. He was the conditioner of trio of top the sport's best pacers — Downbytheseaside (1:48.3f; $2,179,558), Fear The Dragon (1:48.4s; $1,578,547) and Blazin Britches (1:48.4; $540,424). Brown is a finalist for the Dan Patch Award for Trainer of the Year and should make the banquet stage with at least one divisional honoree.
The following is part one of a two-part look back at a memorable, yet rollercoaster year for Brown and his three top trainees. Part two will be published on Sunday, Dec. 17.
Tuesday, March 21 – Spring Garden Ranch
Brian Brown sends out 21 horses during the seven race qualifying session at the DeLeon Springs, FL training center. Blazin Britches wins the first race with Shane Bowermaster in the bike. Fear The Dragon won the 4th race with Hall of Famer, David Miller in the sulky. Both sophomores are timed in 1:57.1.
"(Dragon) was very good. Britches qualified that day and I don't think she went real fast, but she was so impressive. Even back then, we were saying we weren't sure she couldn't beat Dragon and Seaside at that point."
Wednesday, April 19 – Miami Valley Raceway
Downbytheseaside makes his first three-year-old qualifying start, his first on Lasix. Chris Page steered the son of Somebeachsomewhere to a 7 ¾ length win in 1:53.1.
"We raced him clear up into mid-November. Dragon quit right after Lexington. (Downbytheseaside) was turned out over a month longer than Dragon. So (Fear The Dragon) got a later start. No physical problems, just raced him a lot longer. As a two-year-old, right before the Governor's Cup, we qualified (Downbytheseaside) at Dayton (Raceway) and he showed a little bit of blood… I didn't want to come out in his three-year-old year knowing that they were going to have to go in (1):48 several times. There is going to be tough trips… We wanted to make sure, so we went to Lasix."
Friday, April 21 – Hoosier Park
Fear The Dragon wins his first start of the season in conditioned (NW4/5) event with Trace Tetrick driving. The son of Dragon Again wins in 1:51, last quarter in :26.
"It was muddy that day. When we first came home from Florida, he popped a gravel and it actually turned into a quarter-crack. Our blacksmith, Dave Thomas, did a great job of patching that. He went right to Hoosier Park. I was worried to death because the track was really hard. That horse raced like nothing was ever wrong with him. Trace gave him a nice easy trip."
Saturday, May 6 – The Meadows
Downbytheseaside makes his sophomore season debut in one of four divisions of the Pennsylvania Sire Stakes during the Kentucky Derby Day matinee card. Chris Page was able to use an off-the-pace trip to score in 1:52.1. Fear The Dragon (Trace Tetrick) wins the first $37,820 division by an identical 1¼ lengths in the same time.
"It was just (Downbytheseaside's) first race on the schedule. We had a great qualifier the week before and we felt he was ready to go and Chris did a great job. It was terribly muddy that day, the track was awful. Chris gave him a nice easy trip, let him settle off the gate, moved him at the 3/8's and he cleared down the backstretch. I don't even think Chris pulled the (ear) plugs that day. He was really in hand. It was a great race for his first start. It was a good chance for us to pay Chris back for all the things he does for me. He qualified that horse, he shows up and helps me train if I ever need him to. It was a good time for Chris to drive that horse. As you can tell later down the road, it was great for all of us that he got to drive him a couple of times."
Saturday, May 27 – Yonkers Racetrack
David Miller guides Downbytheseaside to a 3¼ length win in the $300,000 Art Rooney Final in 1:52.
"We went into the Rooney, we kind of planned this a little bit at stakes (payment) time. The horse is great on a half. He set a world record as a two-year-old on a half. The money was great and the race had not been as tough as it had been years ago. We planned this going in. This way it got us away from Dragon and Huntsville for a while. We planned later to go the Messenger and we thought if we could do well in these two races we won't need to worry about the sire stakes championship. The money was better and we got away from Huntsville and Dragon at the time."
Saturday, June 10 – Mohawk Raceway
Twenty five sophomore colts entered the 34th edition of the North America Cup forcing three eliminations. Downbytheseaside (David Miller) took the first elimination in easy fashion in a final time of 1:50.4. Fear The Dragon also enjoyed an easy trip, cruising down the lane until the shadow of the wire, when he jumped a discarded head number laying in the middle of the track. David Miller was able to gather Fear The Dragon back together and won by 1 ½ lengths in 1:50.
"That night Seaside didn't finish as well as he should, he wasn't strong, but he was doing that in the Rooney. He would go just enough to get away from them, then he would cruise home. He did the same thing that night. David was probably a lot more worried about it than I was. I thought he was just waiting on horses. Dragon was really sharp at the time. Even though he jumped the head number coming down the stretch that night, he was drawing off. He was going to win in under (1):50 that night. It really wasn't Dragon's kind of race. He made the front early and he was always much better from behind. When he jumped that head number, I was like 'holy smokes, what just happened?' I couldn't see (the head number) at the time. Before I got to the winner's circle people were telling me they saw it on the replay. Both were actually very good that night even though Seaside wasn't charging through the wire."
On the NA Cup elim undercard, eliminations for the Fan Hanover were also held, without Blazin Britches, who was suffering from a gravel.
"Britches had a gravel and it took like two weeks for it to pop. It finally came out the bottom of the foot. We sent her to the farm and they worked on the foot over there. Her blacksmith (Eric Thomas) got trimming it out and found the hole. She had to miss the Fan Hanover and the James Lynch. We were really wanting to go, she was winning races at Hoosier Park, beating older mares. We were disappointed that we could not go to Canada or Pocono with her."
Saturday, June 17 – Mohawk Raceway
Just days after having to choose between the two elimination winners, David Miller drives Fear The Dragon to a three-quarter length victory over Huntsville to win the $730,000 North America Cup Final in 1:48.4. The pacesetting Downbytheseaside and new pilot Brian Sears held on for third.
"Leading up to the final, we had a great week. Those horses were really good at the time. We did everything that we were supposed to do. We had them checked out, scoped them, pulled their blood. They were trained light in the middle (of the week), so I didn't train them hard enough so I couldn't say anything could be wrong. We turned them out every day, they were out there playing every day. We went into that final not really that nervous. I had been in a big race before, but never with horses that really had a shot. Leading up to that week, it was actually very fun because we had a lot of people, interviews, people just coming by (the barn) talking. I didn't get nervous, because I knew we did everything we were supposed to do. The horses were going into the race in really good shape and I thought we would do well. I didn't go in expecting to win, but I thought I sure had a chance with either horse."
Saturday, July 1 – Pocono Downs
The three-year-old colt pacers invaded eastern Pennsylvania for the Max Hempt Memorial. Saddled with post #8, Downbytheseaside was used hard to get the lead and faded to fifth. Once again, David Miller gave Fear The Dragon a perfect drive to take half of the $500,000 purse in 1:49.3. After the race, Downbytheseaside showed signs of sickness.
"When you race two horses like that and one wins and the other one does not race well, you are in the winner's circle but you are not enjoying the win. You are not enjoying the moment because you are worried about the one that didn't race well. You are happy that (Dragon) was great again, but the other one wasn't as good as he was supposed to be. It was a good night, but it was also a sleepless, worrisome night."
Tuesday, July 4 – Meadowlands Racetrack
A total of 13 sophomore pacers enter the Meadowlands Pace. The connections of Downbytheseaside elected to accept a bye into the final. Fear The Dragon's owner, Bruce Trogdon of Emerald Highlands Farm, elected to skip classic event due to the Meadowlands' 150-mile stabling rule that would have forced the Ohio-based pacer to stay in New Jersey for two weeks.
"Bruce and I both understand what Jeff (Gural) was after. Being from Ohio and Dr. (Ian) Moore being from Canada, we were the only ones that were affected by the rule. Everyone else was within that area. Huntsville was from within the area and got to stay in his own barn, his own trainer and got to do his own routine. If Dragon could have taken a bye and Jeff would said you don't have to come until the week before, we would have gladly put in that race and came out the week before. But with Seaside taking the bye, we still had to be there (nearly two weeks)… It was in Seaside's plan to go. Dragon was going to race eight straight weeks, so we didn't stake Dragon because we knew we were going to skip one (race). Dragon got to go to Bruce's farm and he took that whole week off. Down the road, it actually worked out to Dragon's benefit to just forget about that race."
Saturday, July 29 – The Meadows
Adios Pace days have always been special for Trogdon. This year was no different when freshman colt pacer, Whatstroublnurocky won a division of the Arden Downs, Blazin Britches won the Adio Volo and Fear The Dragon took the Adios Pace Final.
"(The three winners) were all owned by Bruce. It was all Bruce that day. Everything worked out great. To tell you the truth I thought Britches was more impressive that day than Dragon was. She pulled past the half and went by a really good horse in Bettor's Up. We were still a little cautious at the head of the stretch because she made such a huge move down the backstretch. She opened up a couple of lengths. It looked like Bettor's Up was maybe starting to catch her at the top of the stretch. As they headed down the stretch, Britches wasn't pulling away from her, but she couldn't gain on her. She was very, very impressive that week."
Saturday, Aug. 5 – Meadowlands Racetrack
Hambletonian Day is a day for champions. Blazin Britches opened some eyes with her track record equaling 1:48.4 win in the Shady Daisy. Downbytheseaside finished third in the $334,325 Cane Pace.
"I didn't expect her to go the (1):48.4 and she probably could have paced more that day. All we wanted was to win the race. It was Hambletonian Day, everyone is watching Hambletonian Day. Maybe a lot of people didn't see the Adio Volo, but after that day, everyone knew who she was.
"We were going with Seaside and we even thought about putting Dragon in the Cane. We had raced Dragon hard the week before. We just said 'no, we will just skip again and stick to the plan.' We stuck to the schedule and it worked out for the both of them."
To be continued…
PART 2 ON SUNDAY