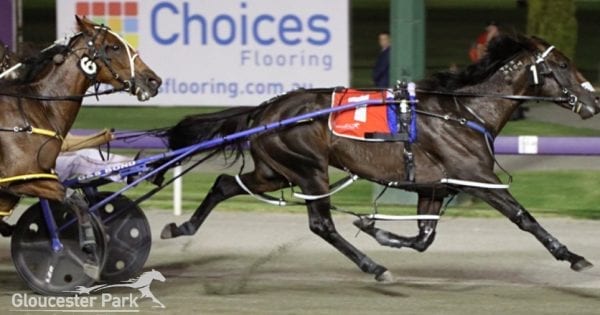 Purdon completes back-to-back Group One double
The 2017 Inter Dominion Championships saw a Singapore Airlines cargo charter flight from Melbourne arrive in Perth in the early hours of Nov. 20 with 21 standardbreds aboard in company with 18 thoroughbreds.
In addition to the New Zealand, New South Wales, Victorian and Tasmanian Inter Dominion hopefuls were a number of horses entered for support races across the four nights of the carnival.
Mark Purdon brought four horses to Perth for the 2017 Inter Dominion carnival including his star 4-year-old Ultimate Machete which, three days before the flight west, had earned his trip after racing on the outside of star Sydney pacer Tiger Tara before winning the $234,000 New Zealand Free For All at a 1:51.9 rate over the 1,950 metre trip.
Four days after arriving in Perth, Ultimate Machete won the Group One $125,000 Yes Loans 4-year-old Classic to give him two Group One wins in week – a remarkable performance for any horse let alone a horse having just his 21st race start.
The 2017 New Zealand 3-year-old Pacer of the Year is yet another son of Bettors Delight.
Just 30 minutes after his stablemate Lazarus took out the 2017 Inter Dominion Championship, Ultimate Machete gave fans another sample of his enormous potential with an easy win in the Group One $200,000 Retravision Golden Nugget Championship for 4-year-olds.
Ultimate Machete was crossed early by the Mach Three mare Maczaffair in his attempt to hold the lead from barrier one and Mark Purdon's efforts in moving off the rails cost him a 26-day suspension which will be appealed in an attempt to allow him to drive at the Auckland Cup carnival over the next fortnight.
Once Purdon move him to the front, Ultimate Machete was never seriously challenged and cruised home two metres clear of Maczaffair and Herrick Roosevelt rating 1:57.6 for the 2,536 metres and pacing the last half in 56.4 seconds.
Three of Ultimate Machete's part owners in Glenys Kennard, Phil Kennard and Kevin Riseley are part-owners, with Trevor Casey, of Lazarus, and after receiving the Inter Dominion trophy they remained in the trackside presentation area to watch the Golden Nugget.
Purdon's All Stars Stable collected some $733,000 in stakes for the owners in the space of some 40 minutes.
The Golden Nugget, first run in 1981, is Australia's premier race for 4yos and the race is seen as a preview of the next generation of outstanding Free-For-Allers.
The 2016 Golden Nugget saw three of the starters in Soho Tribeca (1st), Chicago Bull (3rd) and Galactic Star (10th) qualify for the 2017 Inter Dominion Final.
— Alan Parker