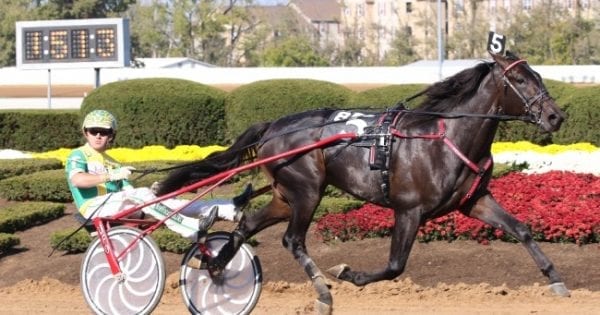 Behind the Walner stallion deal
The inside story of how a group of some of the sport's biggest players came together to stand Walner in New Jersey.
by Ron Gurfein
Hakan Walner was one of the most wonderful horseman I have had the pleasure of knowing. His namesake (Walner) may be the most fabulous horse I have ever seen.
It all started on a warm morning at the Meadowlands on the 18th of June in 2016 in the 7th baby race. A beautiful light bay son of Chapter Seven made his way out of the paddock onto the track in the more than capable hands of Tim Tetrick. What happened in that race was, to me, beyond belief. Tim took the colt off the gate and was seventh through less than pedestrian fractions. Not only did he win the qualifier, but to do so he had to trot the final half in 55 seconds and the final quarter in :26.3. This was the first start of a two-year-old. Simply amazing.
Walner tortured his competition for the entire two-year-old season, ending the year winning the Breeders Crown and the Kindergarten final. To say the harness world anxiously awaited his three-year-old campaign would be a ridiculous understatement.
Unfortunately, the sophomore jinx took hold. His return to the track in May resulted in a fine qualifier but he was soon sidelined by a minor problem that has since been rectified. He only had two overnight starts and a 1:50.2 performance in the Stanley Dancer that was breathtaking.
Sadly, that was to be his last start. When the announcement was made that he would not start in the Hambletonian the horse world was shaken. We are all thankful to a very special owner and trainer combination of Kenneth Jacobs and Linda Toscano for putting their horse before the money to avoid the risk of hurting him severely. I am sure that was a hard decision to make as I understand that the injury was not severe.
"When Linda announced that he was not going to race in the Hambletonian I thought it was a similar situation to Valley Victory and we should buy him," said George Segal. "I spoke to Myron (Bell) and had him call Steve Stewart, Marvin Katz and Al Libfield and they all loved it," said George.
Segal then contacted Toscano and she said they would entertain offers. However, at this point, there was no certainty that the horse was retired and Segal was afraid that if they bought the colt, tried to race him and there was still a soreness issue, it could present a serious problem.
Later, when the decision was made to retire the colt, the process evolved. Segal said, "my first offer was turned down and we finally settled at a number that we all could live with. Lindy Farms, Brittany farms, Hunterton and their clients, Libfield and Katz and Deo Volente are the basis of the syndicate. There are a tremendous amount of European interests that want to get involved at a later date. Preferred Equine will be the syndicate manager and the horse will stand at Southwind Farm in New Jersey."
Southwind Farm's manager Mike Klau said he was contacted by Preferred's David Reid, "because they wanted the horse to stand in an area with a mile track and he wanted to go for dual eligibility (New Jersey and Kentucky). In 2017, Muscle Hill returned to New Jersey. I think that state eligibility is a non factor in a top stallion."
Myron Bell said he saw Walner for the first time in a baby race at the Meadowlands.
"He was super impressive, he was outside the whole mile. He looked like a special horse," Bell said. "After a few starts, I spoke to Mr Jacobs and expressed an interest in the horse. After seeing Walner, Brittany bought three shares in Chapter Seven. Walner was a knockout from the word go in 2017. He was center stage. He is such a great outcross — out of a Ken Warkentin mare he is good to breed to mares by Muscle Hill, Cantab Hall, Father Patrick and Trixton."
Katz said he is very excited about Walner's future.
"I think he will bring a new dimension to North American breeding. He was very charismatic on the racetrack," Katz said.
It is quite normal for a trainer to favor horses he has trained. In his time, Self Possessed's performance in the Hambletonian was overpowering. Yet, I truly expected Walner to be far more impressive to the point of maybe equating it to Secretariat's 32-length win in the Belmont Stake.
I sincerely wish the best to all the investors in this great colt and hope all their dreams become reality.