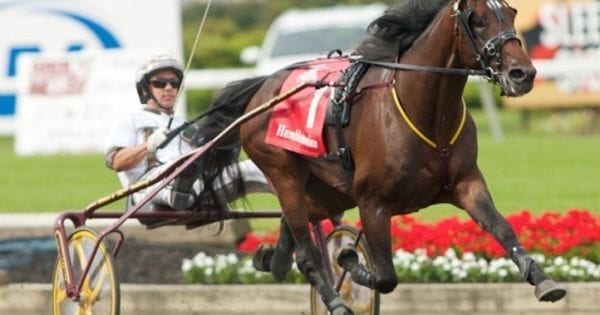 Choosing a less hectic lifestyle suits Sears and Brennan
Why two of the sport's top drivers have chosen stability and a saner schedule at Yonkers over chasing the spotlight.
by Dave Little
At the start of the current decade, if you didn't believe that Brian Sears and George Brennan were the top two drivers in harness racing, you knew at worst they were in the conversation.
The pair were the top pilots at the Meadowlands and they both experienced plenty of success on the Grand Circuit, as both had won a Meadowlands Pace (Sears added a second in 2016) and had swept the Hambletonian and Hambletonian Oaks on the same day, the only drivers to turn that trick (Sears doing it twice).
In recent years, the prolific pair have not been seen much on the Meadowlands scene, and while it made sense from their perspectives to move their tacks from the Big M to race for the video gaming machine (VGM)-bloated purses offered at Yonkers Raceway, Grand Circuit opportunities have been few and far between for the duo. They're alright with that.
"When I first went to the Meadowlands," said Sears, 49. "They were racing 220 days a year and that was my home track. Then they started racing 81 days. I'm looking for steady employment, and George was also, and not only would we have steady employment if we moved to Yonkers, the place is 20 minutes from my house. I live closer to Yonkers than any track. And, for purse money, it's the best place in the country. The best place in the business."
"What happened was," said Brennan, 50. "I would race at Yonkers on the off nights while I was racing at the Meadowlands, but then Gov. Christie reneged on his promise to bring slots to the Meadowlands. The Meadowlands cut their days to 80 a year. It was kind of a no brainer for me. Race 240 days at Yonkers or race 80 days at the Meadowlands. I'm no mathematician, but I knew I could make more money racing at Yonkers."
While overnight purses are low at the Big M when compared to YR, virtually every stakes horse passes through the track that sits in the shadows of MetLife Stadium during the months of July and August. Over the last two years, Sears has had a small handful of stakes performers at the Big M while Brennan has not. They both say it's about how one wants to live.
"You got Dave Miller, Yannick (Gingras), getting on a plane to race sire stakes on a regular basis," said Sears. "Are you kidding me? That's not the way it was. That's not what too many people signed up for. When you came out to the Meadowlands, every good horse had to go through the Meadowlands because it was the best circuit, and then, the Meadowlands drivers picked those horses up and raced on the Grand Circuit. They didn't chase them on the sire stakes circuit. I would not be surprised if a couple more drivers moved to Yonkers because of the purse money."
"I was totally aware that there would be less opportunity to go out on the Grand Circuit," said Brennan. "I still had some good trainers that I was racing for when I first went to Yonkers, but then I realized I wouldn't be at the Meadowlands to qualify them. The consistency of what I'm doing now appealed to me and it still does. It's a grind. I accept that it's a grind. That's what it is. That's what I do."
One thing is undeniable. The Meadowlands still has big power in harness racing world.
No track comes close in terms of handle. It has the Meadowlands Pace, Hambletonian and a slew of other top-flight stakes races. Scott Zeron said several months ago that one could win four or five on a card at Yonkers and hear nothing. Yet, win twice at the Big M, and the texts come pouring in. Other drivers and trainers have echoed that sentiment.
The purses are huge at Yonkers, for sure, but there is a degree of anonymity when you race there. It doesn't seem to annoy either Sears or Brennan.
"It doesn't bother me," said Sears. "I see the anonymity of the whole business. I think it's about making a living and doing something that you are comfortable with. I really enjoy racing good horses, no question about it. And I really enjoy the pressure of and winning big races. But there's also a thing called lifestyle. When you look at what these guys go through, you get on a plane how many times a year? That's not a lifestyle that I would be very fond of. I came to Yonkers for a reason: To make some money. I've been able to accomplish that. Why do I have to run around at this point? It puts miles on your life. You aren't getting those Sundays and Wednesdays that you race back."
The YR driver colony – according to Brennan and Sears – is the best in the game. But, still, all is not perfect.
"The shame of it is," said Sears. "We are not racing on a mile track. There's going to be three horses in the race that really don't get to race. You can't race eight horses on that track. You can't race five horses on that track. There's not enough room to put four horses into movement. That's the down side. I prefer racing on a mile track. It's a better scenario for the horses. But it is what it is."
Brennan sees some things moving in the right direction. "They moved the wire back," he said. "The racing is a lot better now. The start and finish are a lot safer. Horses can now make up ground racing first over on the last turn. Before, for some reason, you could not do that."
Sears has been fortunate enough to get some top horses both this year and last. In 2016, he was asked to drive Control The Moment, who went on to win the Meadowlands Pace. This year, he handles Downbytheseaside (who figures to be 2-5 or so in tomorrow night's Messenger at YR), who is in the mix with Fear The Dragon and Huntsville for top 3-year-old colt Pacer of the Year.
"I guess somebody put in a good word for me," said the humble Sears of his getting Control The Moment. "I can be a go-to guy if they need somebody. It's great to get opportunities like that. It's fun to win those big races. It's fun to be in those spots and even more fun to have a competitive horse."
And Downbytheseaside? "The same way," said Sears. "My name must have been on a list. It's not like I have an agent. They know who they might like, they know the list. And I'm glad to still be on it. They know I'm out there, and it's not hard to reach out to me."
Both have won driving titles at the Meadowlands and Yonkers. These days, Jason Bartlett is top dog at the Hilltop Oval. Do they still strive to be No. 1? It doesn't appear to be a high priority anymore.
"If I can win four or five or six on a given card, great," said Brennan, who says he'd still jump at the chance to drive a top stakes-caliber horse on the Grand Circuit were one to come his way. "And if I can get home safe, that's a great night."
"I like the down time at Yonkers," said Sears. "I definitely look for some time off. A few days off here and there. We work hard. It's not necessarily the 12 horses you drive every night. It's the travel to get there. It's time consuming. It's not like you play golf all day and then race at night. You have to prepare. You stay in your routine."