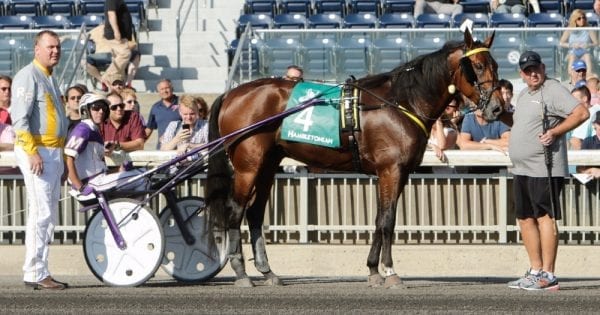 Imperfect Hambletonian goes to Perfect Spirit
It took a judges' inquiry to elevate Perfect Spirit and trainer/driver Ake Svanstedt to victory in the 92nd Hambletonian after What The Hill was disqualified for interference in the stretch of Saturday's $1 million event.
by Dave Briggs
Perfect Spirit became the first Hambletonian champion to win via disqualification after judges took down What The Hill, the first horse across the wire, for interference in the stretch in Saturday's $1 million final at the Meadowlands Racetrack in New Jersey.
That gave the victory to 58-year-old trainer/driver Ake Svanstedt and Swedish owner Lennart Agren's SRF Stable and left both What The Hill's driver David Miller and trainer Ron Burke winless in the Hambletonian.
"It was a tough break," Miller said after judges placed What The Hill ninth.
Agren said when the inquiry sign was still posted he had resigned himself to being second, "even though we thought it was quite clear that (What The Hill) should be disqualified. That's racing. I've been disqualified with horses before."
Perfect Spirit first overcame having the 10-hole in his elimination earlier in the day to finish third, two lengths back of winner Enterprise. Then Perfect Spirit claimed victory, despite finishing a half-length behind What The Hill at the wire, when judges ruled Miller interfered with Guardian Angel AS (Jason Bartlett), who made a break and finished ninth.
Agren said it was an odd way to win a Hambletonian, but he and Svanstedt had good fortune on their side on Saturday.
"You have to have luck," the owner said. "He had post 10 and we were a little bit sad for that, but it turned out okay."
Perfect Spirit, a son of Andover Hall—Good Common Cents was purchased by Agren for $75,000 at the 2015 Harrisburg yearling sale under the name Grill Hanover.
"I didn't like the name… so we changed it," Agren said. "I had another proposal for the name Free Spirit, but that was taken already, so we went with Perfect Spirit."
Svanstedt left from the six hole in the final and led at every call through fractions of :27.1, :56, 1:25.1 and won in 1:52.3.
"I thought it was a good tactic, but I thought somebody would come and take the lead from him, but they didn't," Agren said. "He really did the race himself. It's not often that you see a horse that leads all the way in the Hambletonian. That never happens."
You also rarely see two judges' inquiries in the Hambletonian.
International Moni, who won the first elimination, was sent off as the bettors' second choice in the final, but made a break in the first turn that the judges also examined for possible interference.
It was the first Hambletonian victory for Svanstedt and Agren, who said he is pleased with the improvement he's seen in Perfect Spirit in recent weeks.
"He raced well today, but the last month he has come forward quite a bit, the last three or four races. The horse is in form, at the right time," said Svanstedt, who moved his stable to the United States from Sweden four years ago.
"He's a nice horse to work with. He feels like a big horse when he comes to the racetrack, but a home he's like a cheap horse."
Perfect Spirit paid $17, $6.40 and $5.40 for his fifth win in nine starts this season.
In the revised order of finish, Devious Man ($3 and $2.40) moved up to second and Enterprise ($4) was placed third. The final two checks went to Bill's Man and Victory Gio It.
Svanstedt he was happy to win his first Hambletonian and they would be cheering back home in Sweden.
"For an American, the Hambletonian is what the Elitlopp is in Sweden," Svanstedt said.