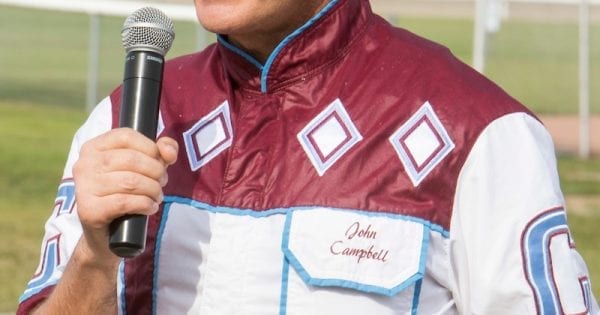 John Campbell's Farewell Speech
Given on Legends Day at Clinton Raceway on July 30, 2017
I'd like to thank all the horse trainers that supported me. I got to drive some of the best horses in our sport's history and I thank them for that opportunity.
Anybody here that knows me, knows what a big influence my dad was on me and he always told me, 'Don't ever say, 'never' because it's a really long time.' So with that caveat, I will say, in all probability, this is my last drive. (applause).
I don't know how many people were at Western Fair when I started driving 45 years ago, but I know four of them were my mother Florence, my sister Jo-Ann, her husband Bill McLinchey and my brother Jim. They're here today. That's 45 years of supporting me and cheering for me. All I have to offer them is 'thank you.' It seems somehow inadequate, but it is a big thank you.
When I started my career, my grandfather Duncan, my uncle Ray and especially my dad, Jack, they gave me opportunities and put me on a path that allowed me to pursue my passion. Along the way, all three of them taught me life lessons of horses and people that I still rely on today.
My wife Paula — who soon after we met, became my number one fan — her love, support, kindness and patience, allowed me to thrive in my home life and she had a huge impact on all the things I've been able to accomplish in my career. She completes me. She is my lobster.
My daughters, Lisa, Michelle and Britt… they're the lights of my life. My schedule, for years, has been hectic and crazy. I've missed so many social and family functions because of work, but they never once complained over all those years about something I couldn't attend and, for that, I'm grateful, and it's one of the many reasons I'm so proud of them.
My grandchildren, Emma, Camden, Colten, and my twin granddaughters Lolly and Stella, all made it here to see their pop-pop go around the track one last time. Thanks, guys. (applause)
I have to thank Ian Fleming and his wife, Jen, for everything they've done each and every Legends Day. It's just a fantastic job that they do. When Ian came up with the concept of Legends Day, he wanted to portray harness racing in a positive light, give back to the fans and raise money for the community. All I can do is tip my hat and say, 'Well done.' (applause)
I think I can speak for every driver that's ever competed at Legends Day, it's such a unique and special experience for us. The feedback we get, the reaction we get from the crowd each and every year is phenomenal. In short, you make us feel pretty good about ourselves, so thank you for that.
This year, Ian asked me to reach out to David Miller and see if he wanted to come to Legends Day. I sent him a text, and it came back immediately, 'Wow. I'll be there.' (applause) He absolutely deserves a hand for that. There was no, 'Let me check my schedule. I'll get back to you.' He said, 'I'll be there.' When one of the busiest, most successful drivers in North America can't wait to get to Clinton, there's something special going on here, and there is, and it's because of you the fans. The warmth we get, the enthusiasm we get, it's been a privilege for me to be here each and every Legends Day and I want to thank each and every one of you for coming out and sharing this special moment with me and my family.
I'm going to participate in future Legends Days, but just not as a driver. As I said, in all probability, this is my last drive. But, what a way to go out. Thank you so much.