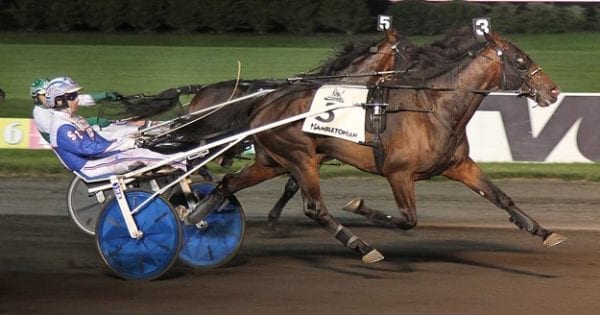 Saturday's Meadowlands Pace undercard was chock full of talented stakes winners, including Marion Marauder, Walner, Ariana G, Hannelore Hanover, Agent Q and more.
by Jerry Connors
A complete recap of the plethora of stakes on Saturday's Meadowlands Pace undercard.
HAMBLETONIAN MATURITY
($458,750, including $50,000 supplement by Warrawee Roo; 1 1/8 miles)
In 2016, Trotter of the Year Marion Marauder won the Triple Crown by about three feet – a head and two noses. He's not a horse to go to the lead before he has to, and he doesn't win in spectacular fashion.
But nobody is more determined to get past every horse in front of him, and nobody digs in harder late, than Marion Marauder, the son of Muscle Hill—Spellbound Hanover who won by an uncharacteristically large margin – a half-length — in the Hambletonian Maturity, covering 1 1/8 miles in 2:05.2.
The mare Celebrity Eventsy was away swiftly, then yielded to Warrawee Roo, whose connections went game and supplemented him for $50,000 after finishing a hard-charging second in the Graduate Final. The fractions were :27.1, :56, 1:24.1, and 1:51.3 as Warrawee Roo and driver Dan Dube appeared to be doing everything right – still having the lead in midstretch.
But then, without much asking from driver Scott Zeron, Marion Marauder, who had been first-over before the far turn, reached down to the spot where champions find more and produced it, shifting to a higher gear and dashing the pacesetter's hopes. The late-flying Cufflink Hanover, a 1:51.1 winner two starts back, was flying late to win a l-o-n-g photo over Warrawee Roo, whose connections (the Determination group that won with Emoticon Hanover) made money on the race – third was worth $55,050 against their $50,000 supplement fee. Marion Marauder, of course, made a bit more money – in fact, trainer Paula Wellwood and owners Jean Wellwood and Devin Keeling saw the Marauder become the richest Triple Crown winner ever, trot or pace, bumping his bankroll to $2,139,235.
After the race, Zeron acted just like a kid in a candy shop. "You can grind with him, because you know he won't get weak on you at the end. He likes to race at a target in front of him. And if anything, he's got more drive this year at four than last year."
WILLIAM HAUGHTON MEMORIAL
($427,400; 1 1/8 miles)
Mach It So, out to brush for the lead early on the first turn in the 1 1/8-mile William Haughton, took the lead down the backstretch, then held off a long first-over bid from Boston Red Rocks to win in 2:00.4 for the elongated distance.
But here's a good question – was that time a record?
When there was a yearly fact book published, the record for 1 1/8 miles was listed for only one performer at the distance. Now, without that book available, the kind folks at USTA make a customized computer run to answer the question, and that search produced an interesting result – 2:00.4 was faster than Always B Miki's 2:01.1 win at the long distance last year, but a tick short of the 2:00.3 time posted at 1 1/8 miles by the mare Lady Shadow . The official record-keeper differentiates by sex with "odd-distance" now, not the traditional way. You decide on the record question.
Whichever way you vote, you have to commend the son of Mach Three—Beach Dancer, following up on his Haughton success in 2015. Driver David Miller noted that "it looked like about 10 of them (in the 12-horse field) were leaving," but as it turned Miller was placed fourth after an eighth, with Boston Red Rocks moving up from behind, forcing Miller to move to the top "or forever hold his p(e)ace." He moved; the quarter was passed in :25.4, and Mach Three was soon on top.
Boston Red Rocks didn't try to follow his brush to the top, but remained in the tough grinding first-over spot as Mach It So went on to fractions of :54.1, 1:20.4, and 1:47.1. Boston Red Rocks never relented his advancement for Brett Miller, with the rest of the field unable to stay with the top pair, and in fact "Boston Red Rocks got a nose up on me at one point," David Miller said. It was a great stretch battle between the two Buckeye Millers, and it was David who was able to reach the wire first by a neck, repeating his 2015 margin for trainer Jeff Bamond Jr. and Bamond Racing LLC. The winner paid $34.60 (which surprised few people watching Pennsylvania racing, as both Buckeyes have been on a hot longshot jag recently).
STANLEY DANCER
(Walner's division $159,000; Long Tom's $161,500)
What's really scary is that Walner only figures to get better.
Better than going 1:50.2, a stake record and only 1/5th of a second off the world record shared by Donato Hanover and Muscle Hill. In just his second start of the year.
Walner and Tim Tetrick left outside of Sortie and Devious Man, briefly tucking third as the former put the latter in behind him, then was underway frontward before the :28 quarter. The half of :55.1 and ¾ of 1:23.1 were terrific but not special – what was special was watching Walner, who had Devious Man on his back after Sortie made a far turn break, find his major foe still with him in early stretch, and then seeing Tetrick just look back once or twice, coax another gear effortlessly from his charge, and then draw off without visible effort, winning by 3 1/4 lengths, bringing his career record to eight-for-nine and his bankroll to $563,537 – a number which looks awfully likely to grow almost exponentially for owner Ken Jacobs.
When asked about her Chapter Seven—Random Design sophomore superstar, trainer Linda Toscano could just say, "He's an amazing animal. He likes to do his work – he thinks it's fun." Linda also said, "I like to fly under the radar as much as I can' – but Toscano/Tetrick/Jacobs are less than 1-9 to see that not happening – everybody wants to know about a horse who could become one of the greats of the sport in the next couple months.
Tetrick completed a sweep of the Stanley Dancer by guiding the Muscle Hill—Illia colt Long Tom to a win in 1:52.4. Long Tom drafted behind pacesetter What The Hill, who took the field through fractions of :28.1, :57, and 1:25.2. The price of trotting went up in the last quarter – and you know your night is going well (Tetrick had five wins on the night) when you catch the pacesetter up the inside – on a track with no passing lane! What The Hill drifted out a little, and Long Tom shot up the inside to gain a 1 ¼-length advantage under the floodlights.
"I am very happy with this horse – he grew over the winter, and we have made a few minor changes that are working for him," trainer Marcus Melander said after the race. Asked about his Hambletonian prospects, Melander expects to have two entrants – "Enterprise was not eligible for this race." Long Tom, owned by AMG Stable Oy, is probably somewhere close to Devious Man in being ranked second in this class – but that's a big shadow ahead of them.
DELVIN MILLER
($125,250 each of two divisions)
The first horse to post parade on Meadowlands Pace night was the #1 trotting filly, Ariana G, and she and the #1 on the red saddle pad were indeed the number one horse on the night to go under the wire, with the daughter of Muscle Hill—Cantab It All a safe 1½-length winner in 1:51.4.
Magic Presto grabbed the early lead and took the field to the quarter in a pedestrian :28.2, at which point driver Yannick Gingras got Ariana G going to reach the lead by the half in :55.4. The top filly maintained control to the 1:24.2 ¾ pole, although Dream Baby Dream was making a big uncovered move to reach contention, and Magic Presto was alive in the pocket. Throughout the stretch, Ariana G seemed to be within herself, with Gingras looking over and slightly back in the battle for place, with Magic Presto squeezing through to photo Dream Baby Dream for the second spot.
Marvin Katz, co-breeder and co-owner of the lifetime winner of $939,092 with Al Libfeld, said, "I talked with Yannick in the winner's circle, and he noted he didn't even have to pull the plugs." When prodded by interviewer Hollywood Heyden about the possibility of Ariana G taking on the colts in the Hambletonian, Katz laughed and said, "You have to tempt me, don't you? We'll talk it over, but I will say this – I think she does have the ability to go right with the top colts."
In the second division, Feed Your Head left strongly for the lead, put up splits of :27, :56, and 1:24, and approaching midstretch looked to be anything but a 14-1 (white) rabbit, still in command. She held well, but the Yankee Glide—Bank Of Newport filly Overdraft Volo, having assured herself of a pocket trip by early hustling from Andy Miller, found clearance just past the 7/8ths and had enough rally to forge to the lead late, winning by ¾ of a length in a personal best of 1:52.4 as a 7-1 proposition. There were two horses sent off at even money, but neither was a major factor. That's All Moni was third-over and closed well but had too far to come, while Glitzey Gal made a late break while far back.
Overdraft Volo, a Julie Miller-trained filly, is now a winner of $269,990 for the Pinske Stables and Kentuckiana Racing Stable. She shouldn't be ruled out of being a winner on Hambletonian Day, said Andy Miller: "I know Ariana G is a tough horse to beat, but this filly is really good, too." She's won three of her last four, and can race on or off the pace –and obviously knows how to play the "pocket rocket" game.
MISS VERSATILITY
($30,000 each of two divisions)
The first division of the Miss Versatility was a carbon copy of the first division of Ariana G's Miller section as Yannick Gingras quarter-moved with a superior distaff – in this case Hannelore Hanover, who saw Side Bet Hanover take the field to the quarter in :27.3, then made her move along the back straightaway to reach the front by the :55 midmarker. The daughter of Swan For All—High Sobriety went on to the 3/4s in 1:23.1, then grabbed onto the bit and shifted into overdrive, with Gingras the proverbial passenger as Hannelore stormed home in :27.2 to finish out in 1:50.3, breaking the M(1) older trotting mare record of Buck I St Pat – who also was trained by Hannelore's conditioner, Ron Burke – and missed Giant Diablo's divisional world record by only two ticks.
Caprice Hill came from second-over to be five lengths back in second, but no threat to the career winner of $1,585,823, who took a new mark for Burke Racing Stable LLC, Weaver Bruscemi LLC, Frank Baldachino, and J&T Silva Stables LLC. The Meadowlands ruled out show wagering on this contest, but they were through quick calculation (the second choice was 15-1) on the borderline of a win minus pool, and drew almost three times the almost-$30,000 win pool in the place slot.
Speaking of his $2.40 Daily Double winners, Gingras was quick to praise "these two special horses." Asked about competing against males with Hannelore, Yannick said that "when the big money races come up, the boys will definitely be on our radar."
Hannelore Hanover's name popped up after the Miss Versatility's second division, as the Kadabra—Emmylou Who filly Emoticon Hanover equaled Hannelore's 1:51 world record for 4-year-old trotting mares, and broke a three-way tie for the divisional track record. Dan Dube took the shortest way home with this winner of $718,998, putting her right on the engine and notching splits of :28.3, :56.3, and 1:24.2, then storming home in :26.3 (in race where each quarter was faster than the previous one) to win in full control. Last year, this filly won seven races and $490,696, but had been winless in six 2017 starts for trainer Luc Blais and the snappily-named ownership of Determination – she made her announcement back to top form in the most demonstrative way possible.
GOLDEN GIRLS
($201,000; 1 1/8 miles)
Trainer Jo Ann Looney-King "knew that Nike Franco N could beat the great Lady's Shadow, and when I saw the trip tonight, I thought it would be our night" in the Golden Girls at the 1 1/8-mile distance.
It was indeed, as Nike Franco N left strongly, pushed the streaking Lady's Shadow to get the lead in :26.1 after starting post 10. The Kiwi daughter of McArdle-Nearea Franco sat in the comfy pocket as the defending "Lady" champion continued on with splits of :54.2 and 1:22, shaking off first-up Pure Country after the latter fraction.
Lady's Shadow continued to lead at the 1:48.1 mile marker, but the margin was shrinking as Nike and driver Tim Tetrick had vacated the pocket and had their sights on the lead. Lady's Shadow was her usual game self, but an equally-game Nike Franco N got the decision tonight, covering the extra distance in 2:01.2 after taking a ¾-length margin on the money.
A winner of $577,702, Nike Franco N was imported by owner Richard Poillucci and placed in the care of Looney-King, where she has done well this year, although Lady's Shadow had returned to Victory Lane in three earlier meetings. But tonight, Nike Franco N earned the spoils of the winner's circle celebratory picture.
MISTLETOE SHALEE
($167,500)
Agent Q had one of the toughest trips around – early tuck, then first-over – but shrugged off a little thing like a hard journey, grinding to the lead early in the lane, then drawing clear of Idyllic Beach, last year's freshman champion, by two lengths in 1:48.4, a new mark and an equaling of the divisional track record of Dancinwiththestarz.
Brazuca quarter-moved past early leader Big City Betty in a :26.4 split, then went on to the half in :54.3, just about where Agent Q started her uncovered grind. The heavily-favored daughter of Western Terror—Teenage Paine moved up inexorably as the field headed to the 1:21.4 ¾ pole, then easily drew clear under light urging from driver David Miller en route to the impressive triumph for trainer Chris Ryder, who just picked up responsibility for the mare. Bill Rochetti of Rochetti Cassar Racing, co-owner with Martin Scharf and Robert Muscara, noted that the future of the mare included some Pennsylvania Sire Stakes racing, and hopefully the Breeders Crown and the Three Diamonds.
The Meadowlands TV crew provided a large note of irony after the race, as the song played as Agent Q came back to the winners circle was "Song Two" by Blur. Until recently, "two" was the loneliest number for Agent Q, as she was second in the 2016 She's A Great Lady (by a half-length) and Breeders Crown (by a nose), and this year's Fan Hanover (by a nose) – had she won those photos, she would have an additional $312,495 in her card in addition to the $819,475 she has bankrolled. Out with "Song Two" – in with "We Are The Champions" by Queen.
WAGERING AND ATTENDANCE
Attendance for the card was 10,111. All-source wagering totaled $3,823,629, which was less than last year's $4.2 million, but that card included $747,891 in new money for a huge Jackpot Super Hi-5, which had a big carryover. On-track betting was $557,018, up almost $50,000 from 2016.