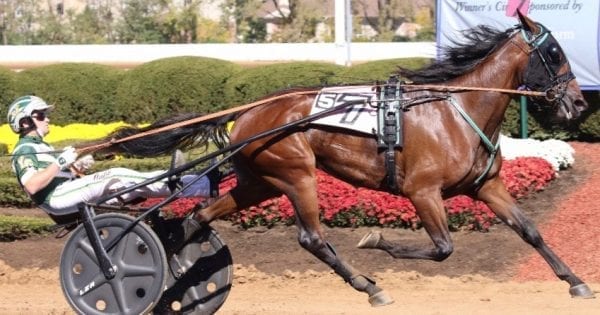 Is Ariana G Hambletonian bound?
Trainer Jimmy Takter said if the race was this week he'd certainly consider it after Ariana G dominated her $100,000 NJSS final with a 1:51.1 victory Friday at the Meadowlands.
by Dave Briggs
A day after sophomore trotting filly Ariana G lit up the Meadowlands teletimer with a 1:51.1 victory in her $100,000 New Jersey Sires Stakes (NJSS) final, her trainer said it's "too early to consider" putting her in the Hambletonian against the boys — with one caveat.
"If the race was next week I would (consider it)," Jimmy Takter said Saturday evening.
If Ariana G continues to impress, it won't be the last time Takter is asked about whether the homebred daughter of Muscle Hill—Cantab It All owned by Marvin Katz and Al Libfeld of Toronto should be taking on the boys on the first Saturday in August.
For now, make Ariana G the favorite to deliver Takter's fourth straight Hambletonian Oaks triumph after Yannick Gingras drove her to a victory in the NJSS final that was just two-fifths-of-a-second off the track record.
Gingras moved the filly to the front past a :27.3 opening quarter and Ariana G just kept chugging from there through fractions of :55.3 and 1:24.1 with a last quarter in :27 to defeat Ice Attraction by three-and-a-quarter lengths.
"She's coming back scary good," Takter said in the winner's circle. "We still have 60 days to Hambletonian Day. Yannick said if he let her go she would have gone :49. Hopefully I haven't peaked her too soon. I would say at this point, she could be the most talented one I have developed."
Long Tom, Every Way Out, and Misqued also won their $100,000 Sire Stakes finals on a warm, late spring evening.
Long Tom officially threw his hat into the Hambletonian picture with an impressive front-end score in 1:52.2 to win the $100,000 trotting colts' division. King On The Hill won the place photo over 3-5 favorite What The Hill. Long Tom was a stakes winner last year at Lexington and is now two-for-twio as a sophomore. With stablemate Enterprise, who is three-for-three in 2017, 25-year-old trainer Marcus Melander has a potent 1-2 punch on the road to the first Saturday in August.
"Long Tom got sore after Lexington last year and then grew a lot over the winter," said Melander, whose uncle Stefan won the Hambletonian in 2001 with Scarlet Knight. "I was only nine years old when Scarlet Knight won so I don't remember much, but hopefully I can get another Hambletonian for the family."
Every Way Out completed his sweep of the pacing colts division with a five-length win in 1:52. The If I Can Dream gelding paid $2.10 for the third straight week. Tim Tetrick, who won four of the night's 11 races, piloted the winner for trainer Dylan Davis.
The only Sire Stakes upset came in the 3-year-old pacing filly division when 1-5 favorite Colorful Jasmine faded to finish fourth while 7-2 second choice Misqued held off the late charge of Livinginthedream. Misqued was driven by Steve Smith for trainer John Balzer.
— with files from Justin Horowitz / Meadowlands media relations manager