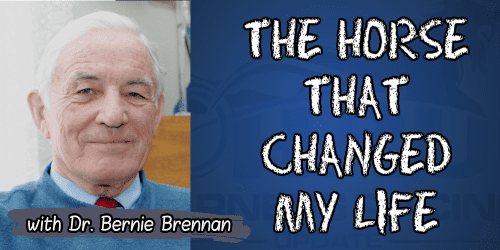 The Horse That Changed My Life: Dr. Bernie Brennan
by Dave Briggs, courtesy Ontario Racing
(Editor's Note: This item originally appeared on the Ontario Racing website in 2015 under a section called For The Love Of Racing which still adds new stories weekly. Harness Racing Update will periodically republish some stories from the archives and plans to add original ones here featuring the stories of participants from across the harness racing world)
Grey Cup champion Dr. Bernie Brennan of Kemptville, ON first found fame on the gridiron, but it was a lifetime with standardbreds that became his true sporting love.
The horse ignited that passion in him more than any other was the legendary Cam Fella.
Brennan, a veterinarian, director of Rideau Carleton Raceway in Ottawa and a former commissioner with the Ontario Racing Commission was one of the first people to buy a stallion share in the horse dubbed The Pacing Machine. The pacer owned by Ontarians Norm Clements and Norm Faulkner won 61 of 80 races (including his last 28 in a row) and earned over $2 million on the track between 1981 and 1983 before going on to be one of the greatest pacing stallions in harness racing history.
"I always had horses with Pat Crowe," Brennan said of Cam Fella's famed trainer and driver. "We were opening a new (veterinary) hospital in Ottawa and I hadn't had horses for a few years. He called me and told me about Cam Fella and how good he was. I happened to be in Toronto at an equine meeting in February and he was in to race and I went down. It was a cold, cold night and he just destroyed them. So, Pat (Crowe) said, 'They're selling shares in Cam Fella' and I said, 'Boy, I'll take one.' I think I was the first or second person who owned a share in Cam Fella."
Brennan's Ottawa RedBlacks won the 104th Grey Cup game in November, defeating the Calgary Stampeders 39-33 in overtime. In 1951, Brennan was a halfback on the Ottawa squad (then called the Rough Riders) that won the 39th Grey Cup, defeating Saskatchewan 21-14 in the Canadian Football League title game in front of more than 27,000 fans at Varsity Stadium in Toronto. Afterward, there was an all-night party in Toronto, a ticker-tape parade for the Riders down Sparks Street in Ottawa and a party at the famed Chateau Laurier hotel.
Brennan was paid $800 cash per game in those days. He earned a $1,000 bonus for winning the Grey Cup. It was the most he had ever been paid for anything. Though it was a few years before Grey Cup rings became the norm, Brennan and his teammates received rings from the city of Ottawa for the victory. Many years later, Brennan lost his ring in a snow bank at night. He never replaced it.
"A ring's a ring," Brennan said years ago over coffee at Mohawk Racetrack in Campbellville, not far down the road from where, while going to vet school, he starred as a halfback for the University of Guelph's predecessor, the Ontario Agricultural College (OAC). The OAC squad won the national university championship three straight years from 1947 through 1949.
The 1951 Grey Cup was Brennan's last game. He retired from football to pursue a veterinary career as a large-animal vet, first in Saskatchewan and then in New York State, before returning home to Ottawa. In 1955, Brennan and Dr. Jim Hutchinson founded what later became the Alta Vista Animal Hospital, a small-animal practice that became one of the largest clinics of its kind of Canada.
Brennan was inducted into the University of Guelph Sports Hall of Fame in 1991 and the Ottawa Sports Hall of Fame in 2002.
Cam Fella was inducted into the Canadian Horse Racing Hall of Fame in 1986, the U.S. Harness Racing Hall of Fame in 2001 and has a major award for meritorious service to the Canadian harness racing industry named in his honor.