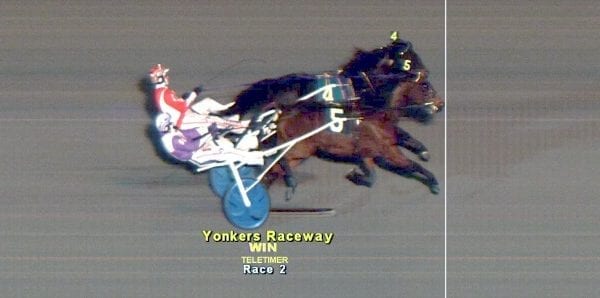 Pine Tab snaps 0-for-108 streak
The lovable loser found the winner's circle Monday at Yonkers for the first time in nearly four years.
by Tom Pedulla
Pine Tab possesses many desirable qualities as a trotter. The 8-year-old gelding is sound and can be counted on to make scheduled starts. He eats heartily and trains vigorously, showing every sign that he enjoys stretching his aging legs each morning at Yonkers Raceway.
The bay son of Cantab Hall out of Pine Career is so well-mannered that those entrusted with his care view him as a pet. If he has character flaws, it would be that, according to trainer Doug Rothlein, he is "a bit of a ham" and "a bit of a spoiled boy."
Then again, his human connections may be to blame. They have been known to overindulge him with his favorite treats, green apples and peanut butter and jelly sandwiches.
According to Scott Zeron, who started driving him recently, Pine Tab is an old pro in many regards. He starts well and can be relied on for a strong, dependable gait – for a time. Yet, when the race is there to be won, Pine Tab does not win. Well, hardly ever.
How rare have his visits to the winner's circle become?
He snapped a 108-race losing streak when he clipped heavily-favored Madhatter Bluechip by a neck in the second race on Monday night at Yonkers. Not only did he earn his first win since April Fool's Day of 2013, but he lowered his lifetime mark to 1:57.2, two seconds faster than he had gone as a three-year-old at The Meadows.
Joel Rothlein, Doug's 88-year-old father who owns Pine Tab under the Domino Stables banner with partners Arthur Monaco and Luigi Errico, describes the outcome as a "major miracle."
Pine Tab rewarded his relatively few backers by returning $19 for a $2 win wager. The odds would have been dramatically higher if bettors could have seen beyond the program page. After the April Fool's Day celebration in 2013, he dropped his last 22 starts that year, was winless in 32 starts in 2014, came up empty 20 times in 2015 and went 0-for-31 last season.
He was 0-for-3 this year before Monday's startling turnaround in an optional claiming allowance for non-winners of $5,000 the last five starts or a $12,500 claiming price. Pine Tab was in for the tag. Not surprisingly, there were no takers.
No sooner had the breakthrough occurred than the phone calls started. Joel, accustomed to telling family members and friends Pine Tab's latest tale of woe, began each conversation, "If you are standing, please sit down."
Joel said of previous discussions, "It got to the point where it was a funny story. He'll never win. He'll never win. He'll never win."
Pine Tab's recent breakthrough represented only his seventh victory in 152 lifetime starts with 27 second-place finishes and 24 third-place showings. The winner's $5,750 share of the $11,500 purse increased his career earnings to $167,850, including $27,689 last year.
Doug views Pine Tab as a classic underachiever, for his bankroll points to some talent.
"The will to win," he said, "that's tough to give a horse."
According to Doug, Pine Tab responds eagerly when asked to take off after the pace-setter. Then, just as suddenly, he is not so aggressive.
"He'll race right up to a horse that has the lead," he said, "and kind of be happy just being out there with him."
Doug pointed to Zeron's skillful driving as making a difference. Zeron, though, credited the horse.
"He was very enthused going down the lane," he said of the victory that had been so elusive. Pine Tab had finished sixth, second, and fifth in his previous three starts this year.
Pine Tab has been full of himself since Monday. Joel said he was so stirred up that he took him for an extended walk the next day. "It was like he was king of the hill," the father said. Doug said the trotter resumed training with "a bit of an attitude."
Joel worries now that Pine Tab might be claimed. His son severely doubts that. One for the last 109 is hardly compelling.
"Pretty much everybody has driven him. Every trainer has watched him. If they thought they could move him up, they would have claimed him by now," Doug said. "So he's left to us."
And they are only too happy to have their lovable loser.