by Brett Sturman
One of the things that makes harness racing unique from thoroughbred racing is the manner in which the races are run. More specifically, the racing style and greater levels of influence in the outcome of a race that drivers have over their jockey counterparts.
In thoroughbred racing, the best horse typically wins. You can define 'best' as subjective as you like, but, in general, you know what you're getting and each horse is able to run its own race in a thoroughbred event. In harness racing, this isn't the case, and it's one of the things that can sometimes be maddening for bettors.
In a harness race, the success of all horses is to some degree dependent on their driver. No matter how well you handicap a race, it's ultimately the driver who will decide to leave or take back at the start of a race, tuck or press on, yield or park, go first over or sit in, and so forth.
As a bettor, I realize that the very nature of a race doesn't lend itself for every horse to be second over or sit a pocket trip every race, so I largely rely on the drivers to put seemingly contending horses in positions to compete. All I ask when backing a horse is that it's given a chance to compete honestly. If a horse I back isn't good enough or fast enough when given the chance then so be it, but at least I'll feel better knowing that a fair try was given.
Fewer things are more frustrating than seeing your horse get a no-shot trip; either by never leaving the wood or by being hopelessly far back. For handicappers, we need to determine not only a horse's capability, but also what the driver's intent will be with that capability on a given night given the circumstances.
Spotting situations where a driver is willing to be uncharacteristically aggressive with a horse are generally strong wagering opportunities. This occurs when horses are live, and the drivers know it.
As one would reasonably suspect, horses are more likely to be given a strong try when paired with a driver known for that type of style as opposed to one who isn't. At Yonkers for example, a horse is more likely to be put up front early in a race by Jason Bartlett than it would be by the more patient Steve Smith. Especially at the smaller sized tracks such as Yonkers, eventual race winners are found on or close to the front in many more races than not.
There are other times when instead of a top catch driver, any catch driver may indicate that a horse is in line for live drive. Driver changes have always been popular angles and rarely are they as profound when the driver change involves the trainer of a horse or a lesser known commodity to one of the tracks standard catch drivers. These instances squarely represent positive intent from the connections and a horse in these situations can be expected to be driven as such.
More often than not, horses are logically driven a more aggressive steer when they rate favorably on paper against the rest of the field. With the exception of a small number of one-move type horses who truly race better when coming from off a helmet, most all other horses are versatile enough that they can show a new speed dimension whenever the driver wants it. I'm never hesitant to back a horse that looks to be lacking early speed in the program if I feel he's one of the best horses in a given race. Drivers know this and have a way of inventing speed; they'll always find ways to get live horses into play.
In some cases, a horse may need to prove itself first, prior to a driver giving him an optimal drive. Such was the case at Woodbine on Jan. 30 in a N/W 1 Pace. In the race, newly turned three-year-old Talbot Romeo debuted three week's prior as a 20-1 longshot from post 9, driven by Mike Saftic. Finding himself 15 lengths back halfway through the race, he closed with a flurry in :27:1 (very fast relative to the condition) to finish fifth beaten by only four lengths. On this night, knowing what he now had, Saftic was back aboard and took no chances and gunned to the front, re-took and jogged en route to an eight-length victory all while being hammered down to 7-2 from a 15-1 morning line.
On the other hand, drivers tend to tread lightly when it comes to horses making their first start off layoffs, off scratches, driving for low percentage stables or while driving a horse in elimination race where there is no incentive to win. As with anything, each race is its own puzzle and needs to be looked at individually.
Sometimes as a bettor in this sport you need to create your own luck and that will happen as horses wind up in favorable positions throughout a race. Being on the side of an honest drive is half the battle.
Horse to Watch:
Lightly raced Ava N Ella debuted last week at the Meadowlands and crushed her foes, winning in 1:53:2 by eight lengths for the connections of driver Corey Callahan and trainer Mike Russo. Previously trained in Canada by Tony O'Sullivan, this four-year-old gray Western Terror mare has the look of a pretty good one and is back in-to-go Friday night in race 11 at the Meadowlands.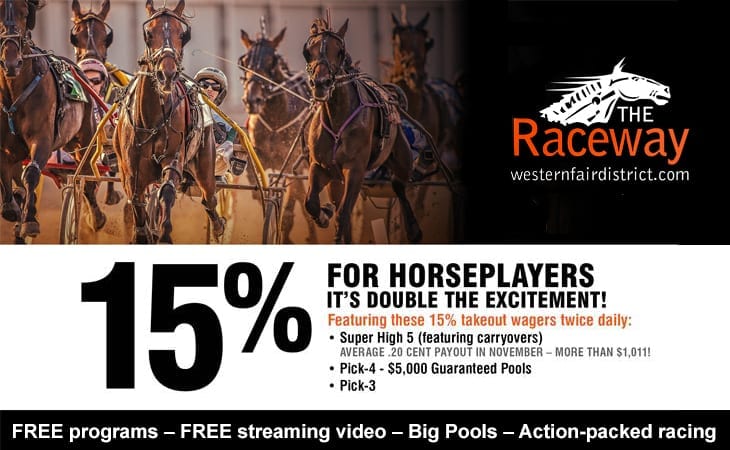 Last Week's Bankroll: $889
Total Wagers: $89
Total Return: $82
This Week's Bankroll: $882
Pompano – Saturday, Feb. 11 ($6,644 Pick 5 Carryover)
Race 1: ZORGWIJK IMPACT drops down a notch and lands a driver who is familiar in these amateur races; can easily win with that end of December form. A CROWN FOR LINDY has jogged in her last pair but now it's the outside post and a provisional driver; won't be as easy. HANRAHAN enters in for a tag and looks to fit on paper; won at the Meadowlands last year and that should count for something against this group. CREAMPUFF MACDADDY is a half million dollar career earner but recent form hasn't been kind; makes second start over the track.
Race 2: STRIKE A CORD is one of two 3-year-olds in here and was most recently in a qualifier won by former world champion McWicked (who makes his return to the races at Pompano on Sunday). This McArdle filly showed some promise early in the 2-year-old season as a freshman and if anything, maybe that 1:51:2 Q she was involved in will have her ready to go in first start since September. CAITLIN'S ROMANCE is the other obvious choice in this race. She's done no wrong in her two races since returning and her and the top choice should have it to themselves.
Race 3: What a field. CHIP CHIP PAGE was actually half decent last out when he ended up going first over in a race where he started from post 7. He was involved in noticeably fast mile four back and it's hard no not see him being up close in this one; must include. ILLUSIONSNDREAMS used to pretty good but it looks like time is catching up to this gelding. Bound to show speed but hasn't been able to carry it of late. ACT OF VALOR always leaves himself with too much work to do but he closed a ton last out in the stretch; may only need to be close enough.
Race 4: REVENANT had no shot last out from the outside and now catches a soft looking field while moving inside; bound to figure. TROTTIME DIAMONDS exits the same race as #2 but wasn't exactly stellar and his career record is now 0 for 21. TERROIFICVELOCITY gets Lasix for his debut and may need not be much to threaten against these at first asking; it's hard to make a case for anyone else.
Race 5: It's been one thing or another since arriving in South Florida for TWO DAYS FINALE but I think he can go with these. He had late trot in his Pompano debut two back and then was favored next out against slightly lesser when he broke; can win this. SAVIN ROCK has raced good enough to win in his few recent tries but hasn't been able to break through yet; needs the ideal setup. THUNDERCREST might end up odds-on despite starting from the outside; had the pole in his most recent and still may need to go a tick faster. SUMMIT CITY FRANK could be any type as a newcomer from Hoosier; might be a longshot surprise.
$0.50 Pick 5: 2-5-8 / 2 / 2-3 / 2-4-5 / 3-4-6 — $27