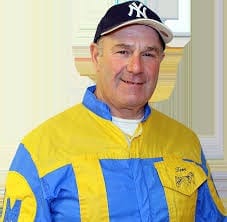 Yonkers refusing entries from Tom Milici
The track's second leading trainer in 2016 is not welcome to race at the New York track while being investigated for an alleged association with banned trainers Josh Marks and Tracy Brainard.
Tom Milici, the second-leading trainer at Yonkers Raceway with 221 victories in 2016, is no longer allowed to enter horses at that track, pending further investigation.
"As of right now, we are not accepting entries from Milici because we are still investigating any association he might have with Josh Marks," Yonkers racing secretary Steve Starr said Thursday morning. Starr said no other trainer who competed regularly at Yonkers in 2016 is being subjected to that action at this time.
Marks and his wife, Tracy Brainard, have not been allowed to compete at Yonkers for more than a year. But a rival trainer, speaking on the condition of anonymity, said it is "common knowledge" on the backside that Milici is attaching his name to an ongoing operation overseen by Marks.
"The owners were employing Josh. There is no doubt about that," the person said, adding, "Look at (Milici's) statistics. He didn't do nothing before this."
A second source said management's decision was based on a large amount of information. "We know what goes on," the person said. "We're not guessing."
Milici vehemently defended himself. "I am not a paper trainer," he said. "I am very much hands on."
Milici, 61, produced modest results before enjoying a level of success last year that dwarfed anything he had previously accomplished and left him trailing only Rene Allard's 233 wins in 1,008 starts. Previously, Milici had never won more than 44 races in a season, setting that career high in 2005.
He won 27 races in 2015 while taking in $304,020. His earnings last year ballooned to $2,636,702. In addition to the 221 wins in 763 races, he recorded 115 second-place finishes and 85 third-place showings. His UDRS was a gaudy .411.
Milici said he is "fully cooperating" with the ongoing investigation. He noted that he is voluntarily reducing the size of his stable to make it more manageable for him.
In an interview with Harness Racing Update last April, Milici credited his new-found prominence to what he described as freeing himself from "the grip of the devil." He was referring to the hold that alcohol and drugs once had on him.
Milici said then that he was working hard to put behind him a checkered past. Among other offenses, New Jersey revoked his license for "financial irresponsibility" in 1991. His license was suspended indefinitely on Aug. 4, 2010 after he tested positive for cocaine.
He said on Thursday that, with the help of Alcoholics Anonymous, he has remained sober since Aug. 4, 2010 and that he continues to be available to others struggling with alcoholism or addiction.
Milici admitted that CIs Buckeye, one of his horses, recently tested positive for TCO2. He said he learned after the race that the horse had run with a significant fever, leading him to be admitted to a veterinary clinic for extensive treatment. He attributed the positive test to the fever.
Racing resumes at Yonkers on Sunday after its annual winter hiatus. Milici said he was "shocked" when eight or nine horses he attempted to enter for that day were refused.
He said of his startling results, "I'm a winner. I know what I'm doing. I know how to win races."