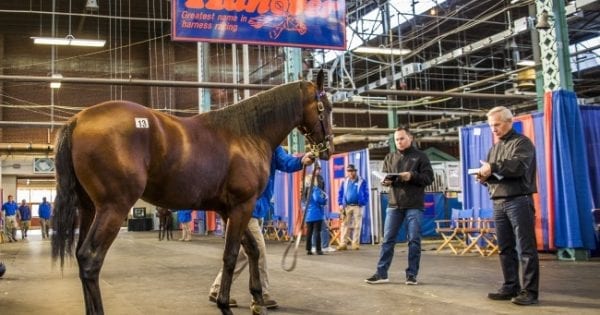 As the last handful of yearlings headed for the auction ring Wednesday at the Pennsylvania State Farm Show Complex in Harrisburg, Standardbred Horse Sales Company senior vice-president Jim Simpson, who doubles as the president of Hanover Shoe Farms, was looking extremely pleased with the results.
"It looks like we're headed for the second best sale we've ever had in average. I'm ecstatic," Simpson said.
The three-day yearling sale concluded with Wednesday's eight-and-a-half hour session. In all, 868 yearlings sold for a total gross of $33,511,501 to produce an average of $38,608 that was the highest in nine years — the 2007 sale averaged $40,784,000 — and the second highest average since at least 2002. This year's average was up 25.3 per cent, though 142 fewer horses were sold this year compared to 2015.
photo: Hanover Shoe Farms led all consignors with gross sales of more than $10 million. | Ryan Randolph