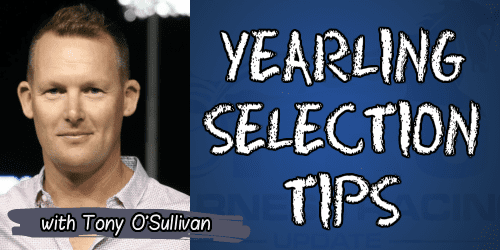 Yearling Selection Tips with Tony O'Sullivan
by Lauren Lee
For a trainer who is known for his stellar work with young horses, including this year's Metro champion Beyond Delight, one can reasonably assume that Tony O'Sullivan has a couple of tips to impart on the subject of yearling selection.
But his advice begins and ends with a single word: Athleticism.
"For me, the first thing is their presence. They have to be athletic. You have to be able to see that they're going to be there physically. I'm not going to say pedigree, because everybody says that. If the horse is not athletic, I'll walk away," he said.
"That's my main thing, before I get into the pedigree or conformation or anything. My initial impression of the horse means a lot."
As for what screams athleticism to O'Sullivan, the trainer has a few indicators on his list.
"A well put-together horse where everything is in proportion. I like horses that have a bit of substance on them, because they seem to be able to weather the storm a little bit more," he said.
"I'm also looking for a bright eye, and just general alertness. That's general stuff, but I'll walk away from a horse if I just automatically don't like him."