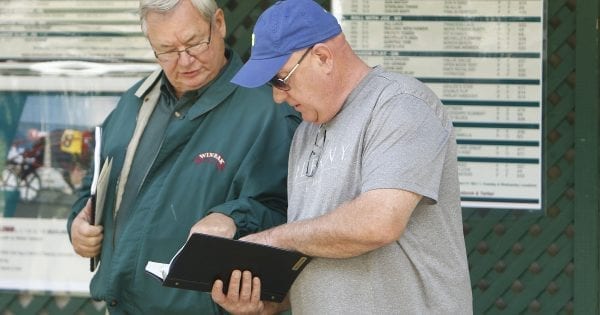 Consignors Optimistic in Lexington
Thanks to fewer horses, strong purses and the incredible popularity of Muscle Hill yearlings, tonight's opening session of the Lexington-Selected Yearling Sale is expected to dynamite.
by Dave Briggs
Consignors were buoyant about their prospects Monday afternoon at the Fasig-Tipton sales facility in Lexington, KY on the eve of what promises to be a gangbusters opening session tonight for the Lexington-Selected Yearling Sale that will run every night through Saturday.
"I think it's going to be a very good sale. The catalog is the best ever. It's loaded. There are fewer yearlings, but a lot higher quality," said Kentuckiana Farms' Bob Brady.
As the overall horse population goes down, Winbak Farms owner Joe Thomson said quality yearlings should sell at a premium.
"It's the old economics theory of supply and demand, when the demand is there and the supply has gone down, generally speaking, prices will go up," Thomson said.
Hunterton Farm's Steve Stewart said optimism is high.
"Some years you hear, 'Who's going to buy these horses?' but I haven't heard any negative or any things that make you think that the sale is not going to be good," Stewart said. "We're still racing for the same amount of money and there's fewer horses in the sale, fewer horses to buy. I always tell people that the standardbred business is very simple economics. It's two plus two equals four. The horses will only sell for what people think they can make with them, and when there are fewer to buy and we are racing for the same amount of money, usually prices go up – whether it's peaches or horses."
Cameo Hills' Steve Jones said purse money and opportunities have never been better, in total, across North America, giving owners a greater chance of seeing a return on their investment.
"There are more racing opportunities than ever, and there's 100 less horses in the book, so I think the prices will be strong," Jones said.
Preferred Equine's David Reid said the quality of the yearlings being sold in Lexington is "outstanding, pedigree-wise. I have good expectations. I'm not going to predict that the market is going to be up, I think it's going to be stable – that would be my hope, anyways. Hopefully, the weather will cooperate. It's supposed to be beautiful all week."
Thomson said having fewer yearlings selling has its advantages. "I love what we've done as far as not having so many selling each day," he said.
Diamond Creek's Adam Bowden believes the Lexington sale will follow some trends from the thoroughbred yearling sale at Keeneland.
"I think it will be similar to the Keeneland thoroughbred sale, where the upper end will be maybe a little bit up from last year and then the middle market will be even and the lower end will struggle. I think that's about the same for every year," Bowden said.
Reid said he believes the sale will prove to be strong for all five sessions.
"I know after we get through Day one, that there's still a lot of outstanding horses to be sold and even on Saturday night, I think it will hold up very well.
"I like the quality of the people and the traffic has been pretty good. I anticipate people arriving this afternoon or tonight and they'll be here tomorrow. Some people are observing the Jewish holiday (Rosh HaShanah), so I think things will pick up from here on out."
Jones said the old adage will apply — good horses will sell well. He doesn't believe the economy will have much impact on the sale.
"I used to think whether the stock market was up or down that week made a difference, I don't think that anymore, either. Whatever goes on here, we seem to be oblivious to the rest of the world," Jones said.
Brittany Farms' Art Zubrod said owners are typically resilient, optimistic people.
"I love the old saying, 'There's nobody that ever owned a two-year-old that committed suicide.' Everybody is waiting for that next big horse," Zubrod said. "If you're a pessimist you're not going to be in the horse business very long, and we've got an optimistic bunch of buyers out there."
Zubrod said his optimism for strong results has grown the closer it gets to opening night.
"Looking at the catalogue and knowing what the Europeans are going to do, how strong the trotters are, I'm looking at a 10-12 per cent bump for the first two days, for sure. Then I think we'll probably get flat back to where we were last year."
Most consignors say the strength of the sale will be come from yearlings sired by Muscle Hill.
"Muscle Hill is head and shoulders about any other trotting stallion at this point, so I would expect them to sell off the charts," Bowden said.
"Since Valley Victory, we've never seen the focus on one stallion the way it will be on Muscle Hill," Stewart said. "Muscle Hill has shown that he totally dominates and if you're trying to win the classic races, you're going to be one step ahead of everyone else if you've got a Muscle Hill. Maybe you don't have the right one, but you're ahead of the game. We haven't seen that in a long, long time, maybe ever."
"He's perhaps the hottest sire we've ever seen in our business and I'm happy to have the ones I have to offer," Reid said.
On Monday, Thomson was beaming with pride that Winbak bred Muscle Hill.
"He was an amazing horse when he was racing. He was really well gaited and it just seemed like he was all by himself. There's a great deal of pride to be able to breed a horse and have him do as well as he and some of the other horses have done," Thomson said.
Muscle Hill is popular in Europe, too, which should help drive that end of the market.
"The European contingent is very enthusiastic about him. They like Muscle Hill," Zubrod said.
Swedish horse agent Robert Lindstrom confirmed that Muscle Hill is very popular in Europe.
"There's only two stallions that anyone talks about (in Europe), Ready Cash and Muscle Hill," Lindstrom said. "Either of them, it's the sale topper anywhere you go. They are really nice horses. The bodies are fantastic and the engine is there to go very, very fast. They are not standing correct, many of them, in the lower parts, but anyway, they are tremendous horses."
Lindstrom said the number of European clients he's representing in Lexington may be down a bit from last year, but they are expected to be active at the top end of the sale.
"They are here to buy and I think they will buy from the great part of the auction," Lindstrom said.
"The Swedish yearling sale has been very strong, and that could affect how many come over here to buy, but most of them are going to (buy yearlings and) leave the horses here (to race)."
Another growth area is expected to be yearlings that are Kentucky eligible for the Kentucky Sires Stakes program that is growing thanks to revenue from historical racing machines at Red Mile.
"I think the other thing that's going to be a big help to some of (the Kentucky breeders) is this dual eligibility," Zubrod said. "People are very excited about it, once you explain that we weight our placings… So a horse that wins one leg (of a Kentucky Sires Stakes event), there's a good chance that they don't have to race again until the final – that one win will get them into the final. It doesn't make sense to give a horse that finished sixth four points. A horse that finished sixth three times should not be in a final above a horse that won a leg. So, with dual eligibility, we're trying to make it so you can (race in Kentucky and elsewhere).
"Like an Ontario horse, if you've got a nice break you can come down here and hopefully win a (Kentucky) leg, go back home for five weeks and maybe do another Gold and then come back here for the final."
Brady said he's enthusiastic about Kentuckiana's Kentucky-eligible yearlings.
"It's just added money. It's another opportunity and hopefully they are going to get races staggered, where you can compete in different jurisdiction," Brady said. "So maybe if you're not ready for Pennsylvania at the start of the year, you can swing down here for the end of the year. It's a very nice series, and there's no better place to race than Red Mile."
Harness Racing Update spoke to eight consignors Monday and gave them the chance to tout their consignment (presented in alphabetical order):
Blue Chip Farms:
Blue Chip Farms will sell its Lexington consignment through Bob Boni's Northwood Bloodstock.
"We're excited to work with Northwood," said Blue Chip Farms owner Tom Grossman. "I think it's given us an opportunity to bring a very select group of yearlings here. And have a little more free time on our staff to both look for some fillies for the future and, more importantly, really keep the focus on the yearlings that we are going to be selling at Harrisburg… and still be really comfortable that the yearlings we are selling here are going to be seen by everyone they need to be seen by. Bob (Boni) and Northwood have relationships, some that we don't even have, so I think it's a win-win for us."
Boni said the deal to sell Blue Chip's yearlings came together over the winter.
"We've got seven in on the first evening and they are all good individuals. We've had a great response," Boni said. "Just to pick a couple… the first one we are selling is the Art Major filly, she's an exceptional filly and she's been very well-received, as has everything. We've had a terrific response and traffic right through from yesterday to today.
"What we have here are all good individuals. Tom's are raised right, they look good, they act well. The pedigrees are there. The trotting filly, number 60, the one out of Déjà Vu Too, who has been extremely well-received. They are the kind of horses that people want. It's not tricky."
Brittany Farms:
Art Zubrod said, "This is the most solid consignment we've ever had. Ever. It's solid. Now, solid means top to bottom. Our bottom is very, very strong. We may not have a $600,000 or $700,000 yearling, but I've got plenty that should be mid six-figure prices."
A reduction in the size of Brittany's broodmare band should pay off in better quality yearlings from top to bottom, Zubrod said.
"We've refined our breeding program. For several years, we've bred to stallions that we shouldn't have been breeding to and (now) we've got Cantab Halls, we're into Muscle Hill pretty strong. American Ideal is still a great horse. Somebeach, we've got one hell of a horse. And, honestly, we've gotten rid of the bottom end of our broodmare band. We'll be down to 62 at the end of the year, from 150."
Cameo Hills:
"I'm obviously excited about selling the first foal out of Check Me Out," said Cameo Hills' Steve Jones. "She's a great filly and this is a beautiful filly that we're selling. I don't normally get attached to too many of them, but she's one that we are very partial to," Jones said. "Also, we're selling Somebeach colts the first night, first foal out of Big McDeal, who is an outstanding colt. And also, Yellow Diamond has a Somebeach colt.
"I've also got a Credit Winner filly out of Bramalea Hanover, Hip#50, who I think is outstanding. I'm selling eight horses in my consignment the first night and I also own part of Rainbow Blue's Somebeach filly that sells out of the Vieux Carre consignment, he's my partner. I've got a beautiful Muscle Hill filly out of Lima Playmate that sells the second night, so I think we'll have a good sale."
Diamond Creek:
"I'm happy with our horses," said Diamond Creek's Adam Bowden. "I think they are placed right. I've got a couple on the first night that I think should do really well. They are by the right horses and they look the part… I have the first colt out of See You At Peelers and then a Muscle Hill brother to Winter Harbor, who has turned around here at three. We've got really, really nice horses placed throughout the sale.
"I've got five Muscle Hills and we've got a couple of Somebeaches… So we have horses by the right stallions. I've got a nice Ontario colt that should do well and a couple of nice trotting fillies. We're going to spread out pretty evenly."
Hunterton Farm:
"We're overloaded," Stewart said, laughing. "You don't always want to be that confident going in, but the horses make you confident. We've just got a lot of nice horses to sell, starting with Hip #1 (Somebeachsomewhere filly out of Put On A Show). If there's a nicer filly in the sale, I'd have to see her. She's going to do very well. Right off the bat, we'll start with a bang, there's no question about that."
Kentuckiana Farms:
"We have a very solid consignment this year, a lot of top-end trotters," said Kentuckiana's Bob Brady. "We have nine Muscle Hills in the group and a bunch of Cantab Halls that are really nice. That's probably the high point. Kentuckiana has a very good group, top to bottom. The yearlings are very correct and we're very pleased with how they turned out over the summer and how they are being received."
Preferred Equine:
"We have a lot of Muscle Hills in our consignment and you can never have too many of those this year, that's for sure," said Preferred Equine's David Reid.
"Somebeachsomewhere is the same thing on the pacing side. I think we have outstanding Somebeachsomewheres – a brother to Darlinonthebeach and a sister to Captaintreacherous. I'm happy they are located in Barn 1 at Fasig-Tipton."
Reid said Preferred has "a solid group of everything. We're stronger on trotting colts than any other division, just by sheer numbers. That being said, we have some lovely pacing fillies and lovely trotting fillies and outstanding colts, including one in particular that stands above the rest.
"I generally don't like to tout horses, but Hip #55. He's a pacing colt and I like our chances there and I like our positioning. He's from White Birch. This year, you know, for White Birch it's the first year selling since the death of Michael, which was very sad.
"He worked very hard to achieve what he achieved. I've been a breeder in the business for a long time and there's a certain degree of sadness that you're here as part of his legacy, but that being said, the nursery has been recognized for selling numerous champions in the past and I think this crop here, I definitely see some potential that he has future champions coming out of this crop."
Winbak:
"Our horses are beautiful this year," said Winbak owner Joe Thomson. "We have a lot of well-bred horses and they look the part.
"We've got a good mix, but I think we are probably stronger on the pacing side. We breed more pacers than we breed trotters, but we've had good luck in both. As you know, we bred Muscle Hill and sold him. We bred Bettors Delight and sold him and, to me, those are two of the premier stallions in the business. We've had a good run.
"We've produced three Horses of the Year (Muscle Hill, No Pan Intended and Rainbow Blue), so that's quite an accomplishment," Thomson said. "At the time, I probably didn't realize how hard that was to do, but it is daggone hard. It is hard to breed one, much less three and we've had a trotter (Muscle Hill) and a pacer (No Pan Intended) and then we had a pacing filly (Rainbow Blue). What's good about it is we continue to have them in the pedigrees we sell today."
Thomson also touted Winbak's work with Equi-Stem, a company also used by Blue Chip and other farms.
"Equi-Stem is one of my favorite programs," Thomson said. "As you know, stem cell treatment has been very popular… so (Mark Wasserman) created a program where you take part of the umbilical cord and snip it and they sent it off to be processed and then it's frozen and stored. We bring the contract to the auction and whoever buys the horse can continue that process. As that horse goes through his life racing, if he gets injured, he'll always be able to dip in and pull out the original stem cells which come from the umbilical cord."