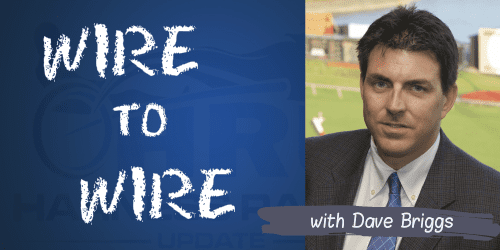 Should drivers wear owner colors?
Following the thoroughbred tradition may just spur much needed ownership growth and investment the sport desperately needs.
by Dave Briggs
With horse ownership down and more owners partnering up to buy horses, Phil Antonacci believes one way to drive more single ownership — and ownership interest in general — is to follow the thoroughbred tradition and have drivers wear owner colors.
Put aside the logistics for a second of each owner/stable having to have multiple sets of colors for all seasons — and in drivers' case they'd have to be a variety of sizes, too. Let's just process what Antonacci is suggesting.
He thinks ego alone may spur owners on to want to see their colors and logos on the track and more owners would have to own horses solo in order to earn that right. That would mean more owners bidding against each other, rather than teaming up. That, in turn, would drive up prices for yearlings and allow more breeders to make a profit, which may, ultimately, increase the horse population, leading to fuller fields and more attractive betting options for the customers.
"Some people say it doesn't matter, but I think it actually matters," Phil said recently.
His brother, Frank M. Antonacci, agreed.
"There's been enough fights in the business about who gets the trophy and who stands where in the picture. You would think if you put owner colors in the mix that it might make a difference," Frank M. said.
Yes, I get it, drivers wearing their own colors makes them more recognizable. But it also tends to make them more important in the equation than they may be given their role in the process. Many, including the Antonacci brothers, argue making drivers the stars has not been a winning strategy.
"The drivers, really, have way too much leverage on the whole sport. I don't see how creating drivers to be the superstars has helped us one bit," Frank M. said.
In fact, the concept of drivers having their own colors really stems from a bygone era when the trainer/driver model dominated and stables — think Stanley Dancer, Billy Haughton, Delvin Miller, etc. — truly were the stars.
Now in an era when owners not only feel marginalized — as well as being squeezed financially by rising training bills, vet bills and more — making an owner's brand more recognizable may spur much-needed ownership growth.
"You go to Saratoga (for the thoroughbred meet) and you're not even looking at the form," Phil said. "You see the horses in the paddock and if you see WinStar has a horse in the race you're going to look at that horse and you see WinStar colors. It builds a brand around the farm that you can recognize."
Drivers wearing owner colors also might signal a much-needed course correction where the investors become the most important part of the equation.
"I've got a buddy named TJ that I grew up with. He's a self-made guy. A guy like him, the value that it would add for him to have his own colors and have his horse go out on the racetrack and race in his colors would be huge for him. There's more than just one guy," Frank M. said.
Yes, it's convenient to look out and easily spot John Campbell, Yannick Gingras, Tim Tetrick, David Miller, etc. Yes, it is easier to find your favorite driver than it is to spot your favorite thoroughbred jockey. But, in the end, especially in top markets where there's a number of talented drivers, there's not usually a huge disparity in talent from one driver to the next, rendering that less of a handicapping factor. Most of the Meadowlands drivers, for example, are talented enough to make the bettors happy.
Yes, there would be logistic hurdles to overcome, but one possible solution would be a high-class bib or cover-all of owner colors that drivers could put over generic driving suits and switch out easily from race to race.
The point is not that drivers are unimportant. Of course they're important. Rather, having drivers wear owners colors would give the investors some added ego value for their hefty investment.
As Frank M. correctly points out: "More times than not (owners) are going to lose. How you can make that experience as enjoyable as possible is the challenge."
The benefits of horse ownership are frequently touted as the equivalent of owning one's own sports franchise. If true, why then do we allow the employees to pick the uniform?