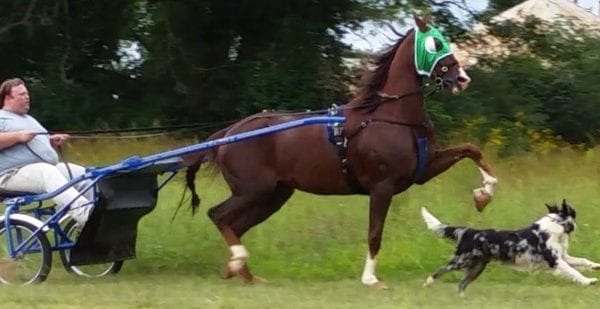 Track Star is now a show star for Captain Kirk
by Dean Hoffman
I just glimpsed him out of the corner of my eye.
It was Sept. 16, 2012 and I was at the Delaware County Fairgrounds in Ohio handling a radio broadcast of Little Brown Jug week. Our broadcast tent was located behind infield judges' stand and I had only limited visibility of the track's homestretch.
But as the horses were parading to the post for the day's fifth race, a non-descript event for a purse of $6,000, a horse caught my eye.
He was a high-stepping chestnut with lots of chrome. He carried his head high and had a proud way of going.
"That horse might have the makings of a show horse," I mused.
To be truthful, I know about as much what makes a show horse as I do about quantum physics. Maybe even less.
But if I may be allowed to fast-forward a bit, this Indiana-sired trotter did indeed become a show horse. He became a champion in his first season in the show ring, and now is owned by William Shatner, the famed actor best known as Captain Kirk on Star Trek.
His name when he raced was Moveman, and he was by the Indiana stallion Semper Fi Hall, and out of a mare by Super Ben Joe.
In the race that day at Delaware, he left from post one, trailed the leader all the way, and was beaten more than five lengths.
There were many other races — and far, far more important ones — that week at Delaware and yet I simply couldn't get Moveman out of my mind.
So I mentioned him to my friend David Yoder, a perceptive horseman I first met in 1997 at the World Championship Horse Show at the Kentucky State Fair in Louisville. Earlier that year, Yoder had bought a horse named Sounds Like Fun. He earned just $660 that year, and Yoder bought the son of Speed In Action after he'd been distanced behind a 2:06.2 winner in a qualifier. Sounds Like Fun's days of racing were clearly done. But Yoder converted him into a roadster for the show horse circuit, and sold him for a hefty profit in early '97.
Performing in the ring under his show name of Power Ranger, the horse won the first USTA Classic at the Kentucky State Fair. The purse of $15,000 was a veritable gold mine in the roadster world.
Yoder told me that night in 1997 after Power Ranger's victory, "The owners could probably sell him tonight for $75,000. Of course, that's a lot more than I got for him."
Power Ranger went on to be an enduring champion in the show ring for many years under the masterful touch of Raymond Shively of Indiana. If you combined the talents of Stanley Dancer, Billy Haughton, Jimmy Takter, Howard Beissinger and other greats of the trotting world, you would have what Raymond Shively is to the roadster world.
So when I mentioned Moveman to David Yoder in 2012, he decided to watch a few videos of the horse in action. His expert eyes saw some potential, but when he made an inquiry, he learned that Moveman was not for sale.
Yoder now lives in South Carolina where he operates Yoders Good Health Products LLC and he didn't have a chance to see the horse race in person. But he never forgot about him.
Good horsemen are patient and persistent, and Yoder followed Moveman and later was able to purchase him. Moveman left the track with a 1:59h mark and earnings of $58,861.
It was then Yoder's task to transform the racehorse into the show horse.
The roadster (or road horse) slice of the show horse world is small but enduring. They are shown to a cart and under saddle. The sanctioning organization is the American Road Horse & Pony Assn.
In 1997, the U.S. Trotting Association wanted to promote the versatility of the standardbred and helped establish the USTA Classic for trotters and pacers in their first season in the show ring. The purse of $15,000 was a jackpot in the roadster world.
"I guarantee you that they'll have every guy who can hook a horse to a cart competing in that class," a horseman in the Bluegrass told me. "For that much money, they'll be coming out of the hills and hollers."
Two decades later the USTA Classic continues as a "coming out party" for newly-minted roadsters. Many of the horses are given "show names" when they leave the track. That was why Sounds Like Fun became Power Ranger in 1997 and Moveman became "The Mailman" and later "Track Star" in 2015. Even pacing-bred standardbreds can compete in roadster classes, but they perform on the trot. They are judged on gait, carriage, speed and manners. And it sure helps to have that "wow" factor that dazzles judges and fans.
Yoder wasn't too sure Moveman had that wow factor when he began trying to convert him into a show horse. He was worried that Moveman at about 16.1 hands was too big; he prefers this road horses to be 15.2 or so. Taller horses are often not so handy.
Moveman proved to be an exception, but it took a while for Yoder to appreciate that.
"It just takes time," said Yoder. "Standardbreds know how to go forward, but many of them don't have a mouth on them. I spent a lot of time with this horse on long lines teaching him to bend his neck and his body and to feel the bit. You've got to let the horse have time to forget the racetrack."
Yoder liked the fact the Moveman was finely made and had a long neck. A roadster must set his head in a certain way to get high marks from judges.
"A roadster must be a line-gaited trotter," Yoder emphasized. "Those passing-gaited trotters don't get around tight turns in the area that well."
Shoeing is important, said Yoder, but he said that roadsters seldom carry the exaggerated weight seen in breeds as the Tennessee Walking Horses.
"Even with a leather pad and a toe weight and shoe, a roadster probably won't carry more than 16 ounces," he said. "The less weight the better."
Yoder's friend Danny Bugg of Kentucky, who's had his share of top roadsters, saw Moveman in training and liked him so much that he bought half-interest in him. In the process, Moveman was renamed The Mail Man.
In the spring of 2015, Yoder says that The Mail Man started to understand what his new job was all about. So it was time to test him in the show ring. Bugg was in the bike when the flashy chestnut made his show debut in 2016 in Clemson, SC. The Mail Man delivered by winning the blue ribbon over one other contestant.
He was so impressive, however, that the champion chasers were soon hot on his trail. It seemed that every trainer saw The Mail Man as a rising star and wanted to acquire him. They began tossing some big prices at Yoder and Bugg. Yoder was practical and sensible enough to be tempted by the big money, but Bugg held out for more.
The person who was the most persistent and who had the deepest pockets was trainer Raymond Shively, and he finally made the partners an offer they could not refuse.
Shively then won three out of the next four shows with the horse before his big victory in the USTA Classic at Louisville. The flashy chestnut was then sold to Shatner and named Track Star.
Shatner shows Track Star himself and the flashy gelding should have a long career in the spotlight at horse shows across America.
Meanwhile, the 2016 USTA Classic will be held next Thursday (Aug. 25), as part of the World Championship Horse Show in Freedom Hall in Louisville.