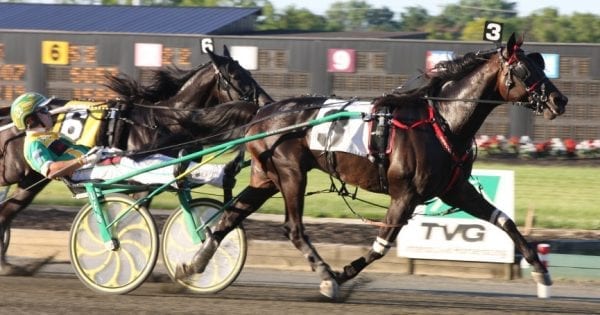 Keep an eye out for the progeny of a number of first-crop and relocated stallions as they hit a racetrack near year you.
by Joe Fitzgerald
The freshman class is prepping for Grand Circuit and Sires Stakes action at tracks all over North America. And while there is no Muscle Hill or Somebeachsomewhere among the purveyors of first-crop trotters and pacers, there are some solid prospects that bear watching. In addition to that, there are several relocated stallions whose first crops in their new locations will come online in 2016.
Chapter Seven, world champion and 2012 Trotter of the Year, is the highest profile first-crop stallion. The diminutive son of the ill-fated Windsong's Legacy, a Triple Crown winner and Hall of Fame Immortal, stands in New York for $7,500. Blue Chip paid $500,000 for a 20per cent stake in him, giving him a valuation of $2.5 million. He set a 1:50.1 world record at four and earned almost $2 million.
Chapter Seven bred 112 mares in 2013, resulting in the 84 registered foals that make up this year's crop. Paternal brother Lucky Chucky is about to send his third crop to the track, and while Dog Gone Lucky and Non Stick have impressed, the returns have not been favorable thus far. Let's hope Chapter Seven gets off to a better start in the New York Sires Stakes (NYSS). To this point they are showing plenty of speed in baby races.
Archangel made a halting start to his breeding career in 2013. He was granted a waiver from the Gural Rule for a slight breathing issue and was advertised for a $4,000 fee in New York. He won a break-plagued Yonkers Trot in world record time, as well as the Empire Breeders Classic, and been successful in the NYSS, earning about $900,000. A solid colt career, but nothing to take your breath away and the breeders acted accordingly, sending only 43 mares his way. This resulted in the 30 registered foals being introduced in 2016. Archangel's daddy, Credit Winner, is still searching for a son who will extend him. Crazed, Chocolatier and Here Comes Herbie are currently his most prominent sire credits. Archangel's dam, Michelle's Angel, won the 2007 Casual Breeze and his granddam Almost An Angel was the queen of her 2YO division in 1991.
Archangel returned to the track in 2014 where he only won two races, but one of them was a world record 1:50 in a Cashman elimination. This time he was retired to Ontario where he was made to feel wanted, drawing 108 mares. We'll see how that small first crop makes out in the States this year.
Unlike his paternal brother Archangel, Dejarmbro was very popular in Ohio from day one. He bred 138 mares in each of his first two years there and 100 last year. There are 105 freshmen in this year's crop, 61 of them colts. He was more successful than Archangel was in the NYSS at two as he won six legs and the final. Dejarmbro subsequently broke stride as the favorite in the Breeders Crown. At three, his claim to fame was a dominant win in the Earl Beal where he matched the world record for his class.
Big Rigs, an Andover Hall eight-year-old out of 2002 O'Brien winner Filly At Bigs, has had fertility issues. He bred 58 mares in Ohio in 2013, but only got 10 registered foals from those pairings. In 2014, he only bred 19 mares and got a dozen foals from that; and last year the number bred dropped to eight. His fee dropped $1,000 from last year to this when he was relocated within Ohio.
The first crops in new locations of stallions that were moved for one reason or another obviously don't carry the same air of mystery as the former group, but sometimes a step down in sire stakes affiliation can bring new life to a stallion.
Art Official, who conquered Somebeachsomewhere in the Meadowlands Pace, has been no match for that one in the Pennsylvania Sire Stakes. That fact is reflected in his bookings, which dropped from 135 to 75 to 47 between 2010 and 2012. He took up residence in Ohio in 2013 and breeders with more modest expectations than the Keystone crowd sent 108 mares to him, resulting in the 67 two-year-olds that will hit the Ohio Sire Stakes this year. The fact that his fee dropped from $7,000 to $5,000 when he arrived helped his cause. That fee has since decreased to $3,000 as his popularity has waned; he bred 72 mares in 2014 and 47 last year. The Ohio Sires Stakes is much easier to navigate than the PASS; we'll see if Art Official can come alive in that more laid back Midwestern environment.
Crazed, the Credit Winner stallion that gave us JL Cruze and Crazy Wow, stood in New York for four years before being moved to Pennsylvania in 2013. That crop of 69, derived from 108 bookings, will be eligible to the PASS this year.
Crazed stayed two years in the Keystone State before returning to New York in 2015. The trotting division of the Pennsylvania Sires Stakes is very competitive, with the likes of Cantab Hall, Donato Hanover and Andover Hall, and with Muscle Hill joining the fray with a freshman crop next year. Tirade Hanover, Gural Hanover Crazy Wow and Crazy About Pat have flourished in the NYSS, but New York ain't Pennsylvania.
Bettor's Delight, arguably the most productive and consistent pacing sire on the planet, was relocated to Ontario after 10 years in New York to make room for his little brother, Roll With Joe. His single 2015 crop in Ontario produced the likes of L A Delight and Betting Line. This year's crop of freshmen, and next as well, will compete in the Pennsylvania program. He bred 168 and 169 mares in 2013 and 2014 in PA, resulting in 126 and 115 registered foals. So the money machine will surely make his presence felt in that restricted program as well as on the Grand Circuit trail this year.
McArdle, who stood with modest success in Pennsylvania for $5000 until 2012, moved to Ohio with a $4,000 fee in 2013. His first Buckeye crop will emerge this year. He started his siring career in New Jersey in 2004. After two years there he moved to Pennsylvania for a seven-year stretch. McArdle has been very popular in Ohio with bookings of 176, 105 and 113 mares. There are 97 two-year-olds in his coming out crop. One More Laugh, McWicked and Big McDeal are three of his top offspring. He should do very well in a smaller pond like Ohio.
After standing seven seasons in New Jersey, Rocknroll Hanover was moved across the border to Pennsylvania in 2013. It was there that he died in March of that year. The tricks of the trade allowed 93 mares to be bred to him, resulting in 44 registered foals. They will be Pennsylvania eligible this year.
Fifteen-year-old Ponder, who started his siring career in Pennsylvania in 2007, is back there and will introduce his first Keystone crop this year. He was relocated to Kentucky in 2008 and spent three years as the dominant stallion in their limited sire stakes program, before heading north to Ontario for a two-year residency. Numbers have always been the issue for the sire of Thinking Out Loud and Bolt The Duer. He bred 99 mares in 2007, but has failed to top 76 in the ensuing eight years. He averaged 37 registered foals per year from his first eight crops. Those numbers have improved at Diamond Creek Farm in Pennsylvania. There are 24 colts and 20 fillies in this year's crop of PA two-year-olds.
Deweycheatumnhowe was scheduled to remain in Ontario in 2013, but he was moved to New York at the last minute after the Slots at Racetracks Program was cancelled. He stood two years in Kentucky before moving to Ontario for three years. And while he's never been mistaken for a Grand Circuit stallion, Dewey has done very well in the Ontario Sire Stakes program. In fact, he bred 134 mares his last year in that province. His fee has gradually dropped over the years from $20,000 to the current $6,000. Now that some stability has been built into the OSS program it's hard to see what he gains from the switch. His current crop of freshmen numbers 33 colts and 31 fillies.