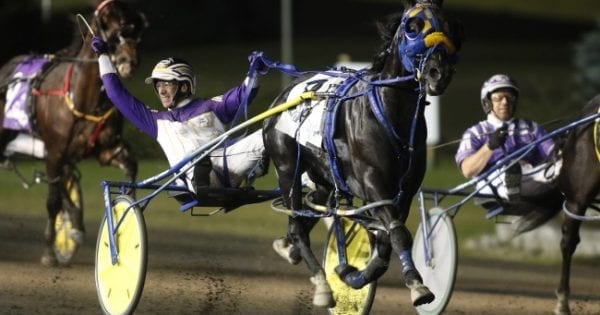 David Miller won his first Pepsi North America Cup and trainer Casie Coleman her second as Betting Line rallied from fifth to equal the 1:47.1 Canadian record in the $1 million Mohawk event.
by Dave Briggs
David Miller had tried 15 times before over 22 years to win this damn Pepsi North America Cup, so you can understand why the normally low-key driver was positively joyous after guiding favored Betting Line to the 1:47.4 victory Saturday night at Mohawk in the $1 million (Cdn) event in front of a crowd estimated to exceed 15,000.
Miller celebrated his first NA Cup by thrusting his whip in the air at the wire and grinning his head off in the winner's circle.
"That was great. That was great," he said, shaking his head, his face a picture of bliss. "That was as awesome as I thought it was going to be."
Betting Line, an Ontario Sired son of Bettor's Delight out of Heather's Western was fifth, seven-and-a-half lengths out of it at the three-quarter pole, but rallied in the stretch to pass front-runner Control The Moment and hold off a surge by Racing Hill to defeat the latter by a length. The mile equaled the track, stakes and Canadian record set by Thinking Out Loud in the 2012 NA Cup. Betting Line's win in the 33rd edition of the Cup is also 19th time that an elimination winner has also won the final.
"I was a little bit concerned around the last turn that I wasn't closer, but (Betting Line) really has as big gear to him when you ask him. I asked him halfway through the stretch and he just took right off," Miller said.
Control The Moment tired a bit after setting tough fractions of :26.4, :53.4 and 1:20.3 out of the nine-hole, but still hung on for third, five lengths back of the winner. Boston Red Rocks was fourth and Michael's Victory was fifth.
In his 15 previous NA Cup drives, Miller has finished second twice— with Sutter Hanover in 2007 and Twilight Bonfire in 2013 — and third three times — Cinderlane Sam in 1995, Buckeye Hanover in 1999 and Betting Exchange in '15.
"I finally got there," he said. "I was thinking, 'This ain't going to happen.' But (Betting Line) was my first favorite. I will say that. That was the first favourite I've ever had."
Miller said he owes it all to trainer Casie Coleman. "Believe me, I couldn't be more grateful to her giving me the opportunity to drive this horse. I'm very thankful," he said.
Coleman said she couldn't be happier to have played a role in Miller breaking his Cup maiden.
"Me and Dave have been partners. We've owned horses together. He's driven for me quite a long time and he had never won the Cup, yet," she said. "I thought we had a chance with McWicked, but it just didn't work out. (Miller) has had lots of other chances and they just didn't work. We've been joking with him that he's never going to win this race. So, it's great for him to get it done. He's a Hall of Fame driver. He's a great guy and I'm really happy for him that he got this race under his belt."
It was the second Cup victory for Coleman, who won the 2010 edition with Sportswriter.
"It's phenomenal," said Coleman, who also owns a piece of Betting Line. "This is the biggest race. It's the only million-dollar pace race there is and it's on our home track in our backyard. I live 20 minutes from here (in Cambridge, ON). I don't know how to put it into words, but it's absolutely phenomenal just to race in it, let alone win it twice."
The victory comes after the five-time Canadian trainer of the year decreased the size of her stable substantially, making the victory particularly sweet, said co-owner Steve Calhoun.
"Casie needed to get her stable to a more manageable number. The stress of the bigger stable was killing her, literally," Calhoun said. "Getting to a smaller stable and still being able to produce a champion like this is a testament to Casie's skill with horses, both selecting yearlings and also bringing them along."
Betting Line was bred by Fair Winds Farm of Cream Ridge, NJ and purchased for $60,000 at the Standardbred Horse Sales Company's 2014 yearling sale in Harrisburg, PA by a group of some of Coleman's most loyal owners — Ross Warriner, Mac Nichol and Calhoun, all from Ontario.
"Ross Warriner, Mac (Nichol) and Steve have been with me probably 15, 16 years now," Coleman said. "They're great guys. I couldn't get a better bunch of owners. They've been my best owners and they finally got together. They always just owned by themselves with me. Now they've all joined together and it's a great combination. We all get along great and think the same way. You couldn't get a better group."
Warriner, who recently suffered a stroke and a heart attack, said winning the NA Cup was a good tonic, despite Betting Line testing the owner's heart with his late-race heroics.
"I feel like I'm flying around. I'm walking on the edge of the moon at the moment," Warriner said.
In was the 10th win in 17 career starts and fourth victory in five 2016 outings for Betting Line, who pushed his lifetime earnings to $1,119,922 (Cdn).
"Casie (Coleman) told me when he was a baby when he was going in about 2:40 that he'd be a good colt, top of the line. She was right," Calhoun said.
"From day one when I broke him, this horse has always been sensational," Coleman said. "Training back, he trained back with (four-year-old) Reverend Hanover and there was actually a few times that I was a little bit worried about (Betting Line). He was training well, but not as well as I thought he might have been. Now saying that, I don't normally train a three-year-old with Reverend Hanover, but I didn't have any other three-year-olds of his caliber to train with him."
Coleman then deferred a lot of the credit to driver Jonathan Drury, who has driven Betting Line in three of five starts this year.
"(Drury) did an unbelievable job prepping this horse for me. He knew he wasn't going to get to keep driving the horse and he couldn't have driven the horse any better. Whenever he goes his training miles, he does the training on him for me. He talked to Dave (Miller), told him all about him. Jonathan will still drive him again in some (Ontario Sires Stakes) Golds when Dave can't make it."
As for what lies ahead for Betting Line, Coleman said she is giving the colt a week off and then he will compete in an Ontario Sires Stakes Gold event at Mohawk. She is not racing Betting Line at Pocono
or in the Meadowlands Pace.
"I never paid him in. I've just had bad luck with (the Meadowlands Pace)," she said. "I'd love to win the race, no doubt. I'd love to win every race. But it was Sportswriter's last race ever. It was Art Colony's last race ever. Betterthancheddar got beaten by 20 lengths and I couldn't explain why. We couldn't figure it out. It's just one of those things. I'm scared of it. I'm told my owners, 'I'm sorry if you want to win the Meadowlands Pace.' I would love to win it. The Meadowlands is a great place and I love racing there, but the Meadowlands Pace, I'm scared.
"We'll battle the big dogs in the Breeders Crown, the Jug, the Battle of Brandywine. I don't want to over-race him. So, I tried to plan his schedule out accordingly."