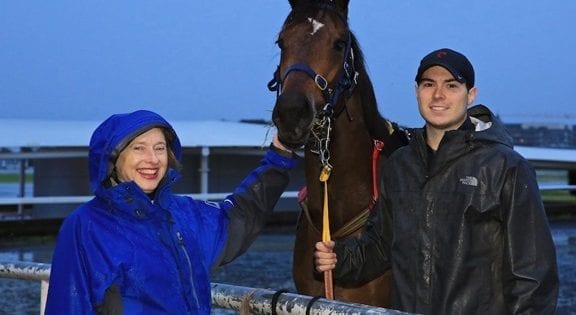 Antonacci equine education Down Under
Philip Antonacci on his once-in-a-lifetime experience working for top thoroughbred trainer Gai Waterhouse.
by Philip Antonacci
Editor's note: This story originally appeared in the June 7 edition of Thoroughbred Daily News as part of the regular column by leading thoroughbred trainer Gai Waterhouse of Tulloch Lodge. Antonacci is part of harness racing's famed Antonacci family of Lindy Farms in Connecticut and is the younger brother of standardbred trainer Frank M. Antonacci.
After meeting Gai in Saratoga last summer through our mutual friend and my personal mentor, Wesley Ward, I was immediately drawn to Gai as both a person and trainer. The aura around her was something that I had never experienced before, as she seemed to brighten the room with an abundance of energy and excitement. In terms of her draw as a trainer, her record speaks for itself: 134 Group 1 wins highlighted by six Golden Slippers and a Melbourne Cup. After speaking with Gai for some time, she invited me Down Under to work at the fabled Tulloch Lodge.
Naturally, acceptance was the only option for such a once-in-a-lifetime opportunity, so I decided to dedicate my summer before senior year at the University of Pennsylvania to learning as much as possible from one of the world's premier trainers. It has been over a week since I have arrived in Sydney and despite the short time being here, I have noticed several differences in Australian racing and training, yet more importantly several attributes of Gai and her training methods that have led to such an unprecedented rate of success.
Differences are many, from the obvious like clockwise racing, to subtler things like the difference in the American horse to the Australian horse. A quick look at a top American thoroughbred, you see that power and elegance are seamlessly engaged in the creation of a magnificent animal, yet the power is matched with a degree of slightness as many have a tendency to be light boned. On contrast, the Australian thoroughbred seems to be equipped with the same degree of power — a large shoulder with great depth, but matched with significant bone and substantial hindquarters.
Another difference that has been of great contention back in the States is the use of race day medications like Lasix. A quick glance in the "form" on a race day afternoon in the United States, you'll be pressed to find a horse not racing on Lasix. While Lasix may help a horse with significant bleeding problems, it undeniably dehydrates the horse. This often is not a problem in the United States as horses are given several weeks after a race prior to reentry. Australia, which does not allow Lasix, races horses at a much quicker rate often re-entering in a week. These quick turnarounds are remarkable and are a true testament to the durability of the Australian horse.
Perhaps the most foreign concept in Australian racing is the "trials". There is absolutely nothing in American thoroughbred racing that is comparable to this. Essentially, trials are non-wagering and no purse races run prior to entry in a purse event. In the United States, the betting public is informed of the horse's form through official timed works that are published under the horse's lines in the form. Australia does not have official time works, so trials are used to show the horse's form and ensure that the betting public is protected. While the concept does not exist in thoroughbred racing, nearly the same thing is practiced in harness racing, which refers to the practice as "qualifying", which too serves the purpose of ensuring that the horse would be competitive in an official race.
While general differences between America and Australia are interesting and worth mentioning, the true astonishment from my time at Gai's comes from her unique twists on training. Every morning at exactly four o'clock, track work begins and for the ensuing four hours 120 horses come to Gai's station in the infield of Randwick to hear their training orders. Despite the fact that Gai is stabled at a bustling racetrack, it often seems more like a private training center due to the variety of training tools she uses to make her horses well-rounded individuals. While other trainers, especially in America, tend to rely on a purely dirt track work schedule, Gai utilizes every part of Randwick from the sand, dirt, and turf tracks, to the smaller bullring, the infield, the pool, and even the local beach. These variety of training methods allow Gai to custom fit training to a horse she feels will thrive with one particular method over another. With 120 horses it would be easy to create a strict program that all horses must follow, yet Gai custom tailors each training program for each horse and for many this would be nearly impossible to keep up with, yet Gai's attention to detail, ability to read a horse's demeanor, and memory of her horses is remarkable and allows her to maximize her horses' potential.
After spending some time with Gai at track work it is easy to notice that she likes things to be done the right way. That applies to nearly every aspect of the stable, from leading a horse and legging up a rider, to dressing properly and standing in a relaxed, yet respectful, matter. In particular, this "doing it right" principle applies especially to barrier training. Every morning work is done at the barriers: loading and unloading, walking straight through then backing through, often times not even breaking, merely familiarizing the horse with the situation. When Gai feels the horse is ready, they will break from the barrier with a senior track rider on board ensuring that the horse breaks properly and learns the right way to do it. After watching several of Gai's runners race, it is easy to notice that the barrier practice has paid off as her runners consistently break sharp and clear of the field which allows them to be on the pace or close to it, a Gai Waterhouse signature. While it is easy to see the success of Gai's barrier training she remains strict on always improving the horse's barrier presence and their ability to break sharply.
Coming to Gai's as a college student with a background in racing, I was eager to learn as much as possible from someone I had the world of respect for. To my delight I found that Gai loves to spread her knowledge and is eager to see that the next generation continues doing things the right way in both racing and life. While I came to Australia to learn about training and racing, I find myself supplementing this knowledge with lessons that apply to a broader spectrum than just the racing world and will benefit me throughout the course of my life.