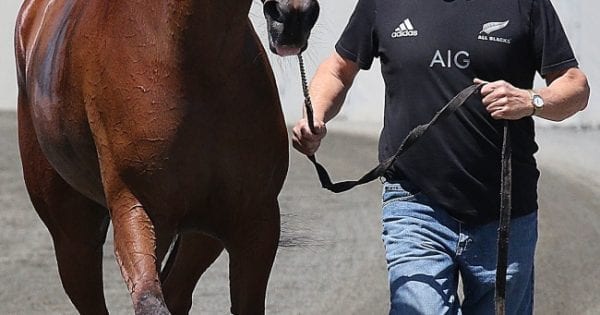 After Resolve was disqualified for going inside several pylons in the stretch, Bee A Magician was named the victor of the inaugural $150,000 Mack Lobell Elitlopp Playoff on Sunday afternoon at the Meadowlands, earning an invitation to the May 29 Elitlopp in the process. But will the Queen Bee's connections accept the invitation and make the trip to Sweden?
by Dave Briggs
About an hour after "Nifty" Norman had to run nearly a half-mile from the Meadowlands paddock to the winner's circle with his slightly amused looking star trotting mare Bee A Magician jogging beside him, the trainer said he had cooled out and was recovering nicely.
"I'm getting some fluids into me as we speak," Norman quipped when reached on his drive home from the track yesterday afternoon. Norman said he had already received more than his share of wise-ass texts from friends who watched the unusual scene unfold via simulcast after judges made Bee A Magician the victor of the inaugural $150,000 Mack Lobell Elitlopp Playoff Sunday afternoon at the East Rutherford, NJ plant.
Resolve, the trotter that reached the wire four-and-a-quarter lengths ahead of the nine-horse field in 1:51.2, was disqualified after going inside at least three pylons in the stretch. By the time judges made Bee A Magician the official winner (timed in 1:52.1), she was already back at the paddock with her equipment off, forcing her trainer to have to hustle her to the winner's circle where officials from Sweden were patiently waiting to give Bee A Magician's connections the official invitation to this year's Elitlopp that went to the winner of the race.
Naturally, the officials then took the opportunity to try to convince Norman to accept the invitation. They didn't come all the way from Sweden just to get their picture taken.
"They were hot on my heels," Norman said. "They were putting a lot of pressure on."
Bee A Magician's connections are willing to listen and want to be polite, but as of yesterday afternoon, they were still leaning more toward declining the invitation to one of the world's greatest trotting races said Mel Hartman of Ottawa, ON, who owns the daughter of Kadabra out of Beehive with fellow Canadian Herb Liverman and David McDuffee of Florida.
"As far as going over (to Sweden), it's a lot to think about," Hartman said. "I'll have to speak to Dave (McDuffee) and Herb (Liverman) and see what they think and what Nifty thinks and what (driver) Brian (Sears) thinks.
"Honestly, if you check the history of horses that have gone over (to Europe), they haven't come back the same. It's very, very tough. The money that you're giving up over here to go over there, it's lots to think about.
"I'm concerned about the horse. I know the owners would be treated great and have a nice time and all that, but I don't think that's important. Ever since I've been in this business I've always been concerned with what's best for the horse."
Nifty said he was a little concerned with how Bee A Magician raced Sunday. He said she looked a little flat, a sentiment echoed by Sears. Though, Norman did say the weather conditions were challenging.
"The wind was very, very strong there and I thought everybody was affected by it. I thought no one really had any trot in the stretch and I think that was because of the wind," Norman said, estimating there was a 25 or 30-mile per hour headwind right down the stretch. "Brian said as soon as she came off cover and hit the wind you could really feel the difference. Without being great, she was okay."
The trainer said he thinks the wind may have played a role in Resolve and his trainer/driver Ake Svanstedt going off-course in the stretch. "As soon as they hit that wind, you could see them struggle," Norman said.
Svanstedt had the barefooted Resolve fired up off the starting gate. The pair hit the quarter-mile station in :27.2 with the favorite, JL Cruze (John Campbell) sitting in the pocket. Campbell powered to the lead through a :54.3 half before Svanstedt retook the lead heading through the 1:23.1 third quarter. Meanwhile Sears put Bee A Magician in position to strike, though the mare did not seriously threaten Resolve.
Gural Hanover finished third and was elevated to second when Resolve was disqualified. Obrigado, sent off at 88-1, was fourth-placed-third. Crazy Wow was fifth-placed-fourth and JL Cruz grabbed the last check when bumped up from sixth to fifth.
The winner paid $7.20 and keyed a $2 exacta worth $46.60. The $2 trifecta paid $882.80.
The first seven races on the special Mother's Day afternoon card were taken for wagering in a separate pool in Sweden, with the first six — all trotting races — taken as part of the country's popular V64 wager. Unofficial figures indicate just under $277,000 (U.S.) was wagered in Sweden on the Meadowlands races.
Bee A Magician, who was a perfect 17-for-17 en route to the 2013 Horse of the Year titles in both the United States and Canada, is now perfect in her two 2016 starts.
"She just blows my mind away," Hartman said. "She's just something else. Nifty kept telling me all winter that, 'She's coming back better than she was last year.' I've got to give him credit. He's really done a hell of a job with her."
The six-year-old mare was bred by the late Michael Parisi's White Birch Farms of Allentown, NJ and sold as a yearling for $90,000 out of Preferred Equine's consignment at the 2011 Standardbred Horse Sales Company's sale in Harrisburg, PA . Bee A Magician's winnings from the Elitlopp Playoff pushed her earnings over $3.8 million lifetime.
McDuffee was in the winner's circle to represent Bee A Magician's three owners. He received the invitation to the May 29 Elitlopp from Markus Myron, Christer Haggstrom, and Mats Lagerholm from Solvalla Racecourse in Stockholm. The trio of Swedes also extended an invitation to Resolve to race in the Elitlopp.
"It is certainly a great honor to receive the invitation and I will speak with the other owners before we make a final decision," McDuffee said during a winner's circle interview.
Norman said he told the owners he could be talked into taking Bee A Magician to the Elitlopp, but the final decision rests with her owners. The trainer said the Swedes have tried to make the invitation as attractive as possible by arranging a direct flight from New York to an airport not far from Stockholm.
"I learned a lot about the travel arrangements and everything and they're pretty damn good. It sounds like they're doing as good a job as they can as far as getting you there and getting you home, which was a big concern for me," Norman said. "We would go over on a Monday and come back on the following Friday. It's not bad. You don't really miss much. It's a good few days before the race and a good few days after. So, there's a good opportunity for her to settle in and a good opportunity for her to recover after. It is a pretty good setup that way."
Even having to race Bee A Magician without Lasix Sunday — to match the conditions of the Elitlopp — did not pose as big a problem as Norman thought it might.
"My other concern was (no) Lasix, but she scoped really well after the race," Norman said. "So, I think (racing in the Elitlopp is) possible. It's possible she could go. The rest of the group is probably going to sleep on it and think about it."
Norman said he would do the same. After all, it had been an interesting day.
"Unusual is a good word for it," he said.