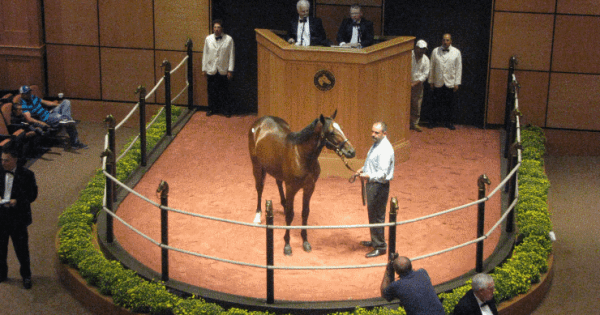 How's This For An Encore? Lexington Up 4.3 Percent on Opening Night
By Bill Finley
Photo: Hip 21, a Muscle Hill colt named Federal Hill, was the co-session topper last night in Lexington at $350,000 (photo by Tito Santana)
LEXINGTON, KY – The main worry coming into last night's opening round of Lexington was that things were so good a year earlier that the sale almost had to come back down to Earth.
So much for that fear.
The opening night of Lexington 2014 was the first time in more than 20 years that the average price per yearling sold topped the $100,000 mark. Now, you can make that two years in a row.
Ninety-eight yearlings were sold last night at the Fasig-Tipton sales grounds for a gross of $10,734,000 and an average of $109,531. The average represents an increase of 4.3 percent.
"I was ecstatic…this was a great feeling,"co-sales manager Randy Manges said. "To be up that much over last year is terrific. We wound up selling just about the same amount of horses even with all the outs. And I can't imagine how well we would have done if not for those outs."
Manges believes that the reason the opening night was so successful was that the catalogue was filled with gems. Some observers said this was the best group they had seen in decades.
"I was just hoping we would do as well as last year and that was even pretty lofty," he said. "I think we had a really good group of horses, a really good group. The pedigrees were there and the horses matched the pedigrees and when that happens the buyers will spend."
The title for session topper and, presumably sales topper, was shared by Hips 21 and 31. They both sold for $350,000.
Hip 21 is the Muscle Hill colt Federal Hill, who was purchased by Mario Zuanetti's Atlantic Trot, acting as the agent for Finnish owner Reima Kuisla. The colt is a half-brother to Father Patrick and Pastor Stephen and was sold by Brittany Farms.
"Probably Ake Svanstedt will train this horse but I am not 100 percent sure," Zuanetti. "I loved the horse and the owner loved him too. He was ready to go a little bit higher, so It feels like we got a bargain. The owner has horses here and in Europe. He loves the sport and he wants to be a player."
Jimmy Takter has trained most of thee offspring of the dam, Gala Dream, but bowed out on this one.
"Maybe Jimmy saw something that we didn't," Zuanetti said.
Hip 31 is Live For Greatness, a colt by Cantab Hall out of Forever Graceful. He was purchased by agent Robert Lindstrom on behalf of Lennart Agren's SRF Stable. Agren also owns Elitlopp winner Magic Tonight and the top mare D'One.
"He will race over here but we have not decided on a trainer yet," Lindstrom said. "(For European owners) it is absolutely best they stay in the States for first period and then we will bring them later to Scandinavia. That is the trend.
"He was the best horse in this sale in our opinion. Personally, he reminded me of Muscle Massive (a half-brother to the dam) with way he moved. I am very happy with him. With some others we bought tonight they were a little more expensive than we thought they would be."
The biggest single increase among any sex or gait was with the pacing colts, who had a surprisingly weak showing on this night last year. This year they averaged $96,000 versus $77,714 in 2014.
Trotting colts just edged out trotting fillies for the most valued commodity last night. They sold for an average of $121,485 versus $121,188 for the fillies.