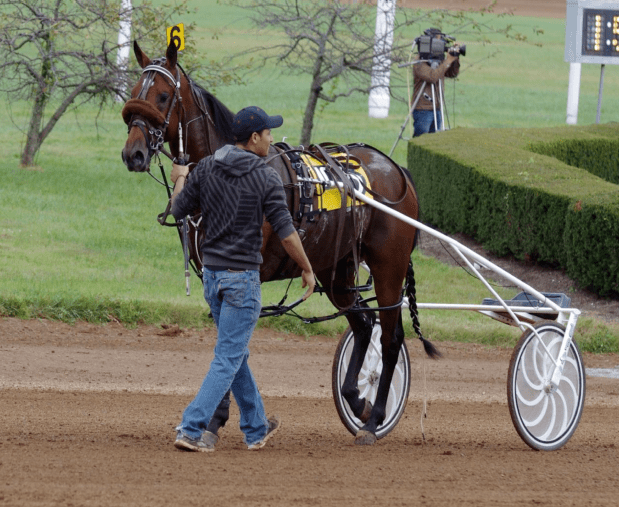 No Longer Cast Offs, In The Arsenal and Betting Exchange Seek Rooney Win
This business of buying yearlings, it's a funny game. Sometimes they look great, have an impeccable pedigree and go for seven figures and it turns out they're slower than a slug. And sometimes they go through the sales ring, unwanted, cast aside and already labeled as sure-fire bums and they turn out to be sensational on the racetrack. No one can figure out why it happens that way.
The connections behind In the Arsenal and Betting Exchange, two horses who definitely fell through the cracks at the 2013 Harrisburg yearling sale, don't have the answers to why some yearlings turn to gold and some to dust. But they're not going to worry about it. Right now, all they're focused on is winning the $380,000 Rooney tomorrow night at Yonkers with horses that were plucked out of the proverbial yearling trash bin.
In The Arsenal, who will be heavily favored in the race, was among the best 2-year-old male pacers in the sport last year. He won six of 11 starts, beat Artspeak and made $396,318. He's 2 for 2 this year and is heading into the Rooney off a win in last week's elims.
That's obviously not what buyers were expecting at Harrisburg when the bidding stalled at $7,000 and breeder White Birch Farm bought the American Ideal colt back for $7,500.
"He was a little on the small side and he is a later in the year foal," said White Birch Farm Manager Steve Williams. "He is a mid to late May foal . And probably the biggest knock against him, which a lot of yearling buyers don't like, he was the 15th foal out of the mare. But I've seen the majority of her foals and this was by far and away the best looking colt she had had in a long time. The colt had an air about him that I've always liked. While on the small side, he is very well put together and had nice way of going. I honestly really liked him, which is the reason I bought him back."
Williams knew he was rolling the dice. White Birch owner Michael Parisi decided to take a vacation during that particular sale and left Williams in charge. Williams knew that Parisi doesn't usually like to buy back colts and wasn't sure how his boss would react. Parisi later admitted to him that had he been attending Harrisburg himself he would have let the colt go for the previous bid of $7,000.
"When I bought him back, I was a little worried what Michael's response would be," Williams said. "After all, we knew what the buyers knew, that he was small and the mare's 15th foal."
Now, Williams looks like a genius. But he says he doesn't deserve all the credit. The horse has flourished under the care of Kelvin Harrison and Williams said that the trainer has made a huge difference. White Birch had never before given a horse to Harrison, but the trainer just happened to be in the right place at the right time.
"When Kelvin came to (White Birch's training center) he came with five horses," Williams said. "Kelvin is an old friend of mine; I've known him forever. Michael said who should we give him to give him and I recommended Kelvin. He was down on horses a little bit, but we know he can train a horse. I was trying to help Kelvin, trying to help an old friend, so I told Michael he should get the horse, to give him to Kelvin. Now he's up to 17 horses in his stable because of what he's done with this horse."
It was at the very same sale that Tom Fanning thought he had discovered a nice prospect in the Bettor's Delight colt Betting Exchange. He paid $22,000 for the yearling on behalf of an undisclosed owner. Then the owner got cold feet and said he didn't want the horse after all. Fanning believes one of the reasons may have been that the dam was also old. Betting Exchange is the 12th foal from Cheeky Hanover.
Fanning was liable to get stuck with the horse and all the training expenses, but convinced owner Howard Taylor to buy half and his accountant Stan Kajfasz to buy 25 percent. He kept 25 percent for himself. The early signs were that the two new owners had wasted their money.
"Training down as a 2 year old he was horrible," Fanning said. "He trained like a slug."
"Every time he told me the horse wasn't doing well I told him you'll work it out, that's what you do," Kajfasz said. "I have all the faith in world in Tom as a trainer."
As the year went on, Betting Exchange, who will race with In The Arsenal as part of an entry, started to show some life. He won three of seven starts at two and made $83,188. He lost his first two races this year, one when his equipment broke in a sire stakes races at Tioga, but turned in a powerful performance when second by a neck behind Sonofa Sizzle in his Rooney elim.
"He finished the year great and this year he's looking to beat horses," Fanning said. "Usually, it doesn't turn out that way."
Despite Betting Exchange's strong showing, In the Arsenal is very much the one to beat. He has the class, the talent, the right driver in Brian Sears and drew post two.
"You do not want to underestimate the other horses or be overly confident, but, yes I am confident in the horse, in Kelvin and the way he came back this year and the way he is coming into the race," Sears said. "I feel pretty good about it. I think he's going to be the type of horse who will show up in those races like the Meadowlands Pace and North America Cup and be heard from. He might not win every one, but he'll get his share.
"I'm really happy to see the way he came back mentally. He seems a lot more mature. He had a few issues where he would get a little rambunctious in the hole, but he has been a total gentleman since I qualified him at the start of the year. That was my main concern. As far as gait goes, he's always been slick gaited. The main thing is how he grew up mentally."
Sears chose In the Arsenal over the other elimination winner, Sonofa Sizzle, a decision that looks all that much smarter now that that horse drew the eight post.