CHESTER, Pa–Jimmy Takter said it again yesterday, about 45 minutes before the Maxie Lee at Chester. Father Patrick was unequivocally the best horse has ever trained, a huge statement considering the plethora of superstars that have been under his care since he came from his native Sweden. But he knew that it was time for Father Patrick, who was very good, but not exactly perfect, last year, to back up those words on the racetrack. There could not be any excuses, not when a person of Takter's stature had said what he has said.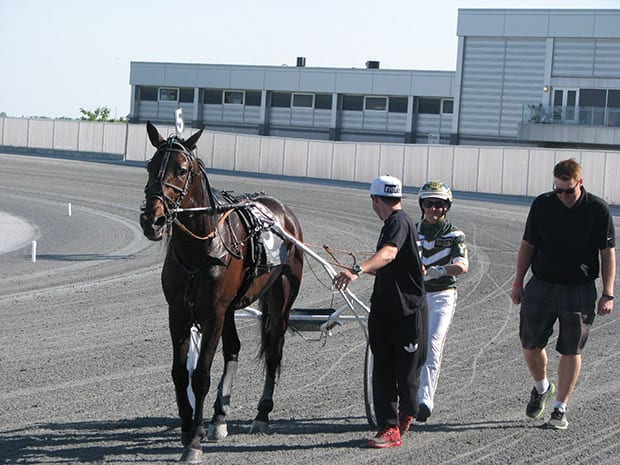 The Maxie Lee would be the perfect opportunity for the hyped horse to live up to the hype. Not only was it his first start of the year, not only would it come while he was also busy breeding, but the field included the toughest opponent in the sport in the rejuvenated Bee A Magician. This was a big test. And Father Patrick got an A plus.
(To watch the Maxie Lee click here)
Driven by Yannick Gingras, Father Patrick could not have looked better. He beat Bee A Magician handily, winning by two lengths in 1:52.1. At 7-5, he was the second choice in the wagering. Bee A Magician was 4-5.
"He's one of a kind," Takter said. "I had been saying all through his three-year-old season that this is best horse I ever trained, and that includes Moni Maker. I've been fortunate to be around a lot of great horses but there's something about this horse. He's just perfect. If everything stays perfect I think he is going to be very dominant this year."
On paper, Bee A Magician was obviously the horse to beat. After a somewhat disappointing 4-year-old campaign the 2013 Horse of the Year had come roaring back this year. She came into the race yesterday at 3 for 3 on the year, with all her wins coming against males, including a victory in the Cutler at the Meadowlands.
Having drawn the three post, inside of Father Patrick (No. 5), Brian Sears tried to get first jump on his a male rival. After tussling briefly with Lindy's Tru Grit, Bee A Magician had the lead on the first turn, but Gingras wasn't content to let her stay there. He moved quickly and assumed the lead and control as the field crossed the wire the first time.
"When that happened I figured we were racing for second," Bee A Magician's trainer Nifty Norman said. "The front end holds up here so good."
As the field turned into the stretch for the final time, Bee A Magician had her chance as Sears got her to the outside and took aim on Father Patrick. She simply couldn't make up any ground in a second-best effort. Lindy's Tru Grit was third.
"He did it so easy too," Gingras said. "The earplugs are still in; I never really called on him. I let him trot the last eighth (of a mile). Bee A Magician got the right trip, but with those kinds of fractions maybe I got a little bit of a jump on her. But she's a great horse and I was definitely worried around the turn when Brian pulled because I knew she would give me a run. But he just showed what kind of horse he is."
For the Father Patrick Stable, the group that owns the son of Cantab Hall, the victory was more rewarding than just any normal win. The group had taken a big chance when deciding to breed Father Patrick and also keep him in training with his 4-year-old racing season in mind. They were setting themselves up for criticism and, potentially, a financial setback, if Father Patrick underperformed this year.
"Yes, I was anxious before the start of the race," said co-owner Adam Bowden. "I'm nervous by nature. Everybody was confident all along that he could do it but until he actually does it on the track you're nervous. This set our minds at ease a little bit."
"He is just amazing," Takter said. "He was bred three times this week. I was a little worried because it was three times and I tried to get Adam to go down to two, but he had quite a few mares to cover this week. He doesn't seem to mind it. It's the individual. I know horses that wouldn't do it at all. You start breeding them and they lose all interest in racing. In his case it hasn't been a negative at all. It was something I thought of and I told Adam about it and he thought it was a great idea. All the partners agreed upon it. So far so good."
In defeat, Bee A Magician did nothing to diminish her reputation. She just ran into a male horse who is obviously very good.
"It was just way the race went," Norman said. "He had no choice but to let him go. Everybody wants to be on the front here and only one horse could be on front. Honestly, I am just happy to get out of here with her safe. This track is horrendous. I'm just glad to get out of here in one piece."
Father Patrick's next start will be in the June 6 Graduate at the Meadowlands.
Dan Patch Award winner Classic Martine lost contact with the field and finished last. Trainer Chris Oakes reported that his mare suffered from an atrial fibrillation during the race.
Takter picked up another win on the card in the Jerry Taylor Invitational with Great Vintage. Driven by Dave Miller, the 7-year-old son of American Ideal closed from fifth to win by three-quarters of a length over Dancin Yankee in 1:50.2
Takter explained afterward that the horse had been retired and sent to stud but when he had trouble attracting a decent sized book of mares the decision was made to bring him back to the races. Like Father Patrick, he bred mares earlier in the week.
"He didn't have a lot of mares booked so I said screw it, let's bring him back," Takter said. "He had a long break because he got hurt in fall last year. I thought he was done, but he came back stronger and better."
Great Vintage is now 2 for 2 on the year.
"This horse, he was a really good 2 year old," Takter said. "We turned him out and he got hurt in the paddock. He didn't come back good as a 3 year old. Had a bad knee injury and had so so season. But he raced good after that. He is a good horse. He's a brother to Vintage Master so he has a license to be good."
The Betsy Ross for older female pacers went to the Indiana-bred Radar Contact, who led every step of the way to win by a neck over Anndrovette. John Campbell was the winning driver for trainer Noel Daley.