Still perfect in his young career, Wiggle It Jiggleit was as sharp as could be in last night's $47,124 Simpson Memorial at the Meadowlands after a seven-week layoff. Never pressed or tested, he cruised around the track on the front end on his way to a 3 1/4-length win in 1:50. He is 7 for 7 in his career.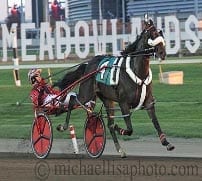 "With a seven-week layoff you hope they are prepared enough because the other horses have been racing," winning owner George Teague Jr. said. "I thought he would still be a safe bet. He qualified awesome and he's been training good. He looked as good as he always has. It still doesn't pay to go in over confident."
Wiggle It paid $2.10 across the board, much to the delight of the bridgejumpers. There was $130,000 in the show pool, $122,000 of it on the favorite.
Teague said the gelding's next stop will be Hoosier Park for a May 23 Indiana sire stakes race. He'll remain there for another sire stakes event the following week.
As impressive as Wiggle It has been he still must prove himself against the best of his division, which will likely happen in the Pepsi North America Cup at Mohawk. Teague is confident his horse will be up to the challenge.
"All we want to do is let him win and feel confident," he said. "Ideally, he's more advanced right now than the others. His main competition, they're out there qualifying in between 52 and 54 and he's wrapped up winning in 50. They're going to have to play catch up with him. If I can keep him fresh and sound, and so far he seems perfect, I think I'll be in a little better shape than most of them coming back. They have to come up to his level. They'll be chasing him. I don't
mean to be cocky, but when I said he's the best I've ever trained I knew that well before I started him racing him in January."
In last night's co-feature at the Meadowlands, the Jeff Bamond stable finished one-two as Ideal Cowboy nosed out Bettorever to win the $54,200 Whata Baron. Rediscovery, the 7-10 favorite for Burke-Gingras, was fourth.