It's been a tough week for trainer Lou Pena, who, on Monday was hit with a proverbial sledgehammer by the New York Gaming Commission. In a case that goes all the way back to 2012 and has gone back and forth in the courts, the Gaming Commission finally issued a ruling against Pena for 1,717 alleged equine drug violations. (The
violations were the result not of positive tests but of findings that came from Pena's vet records). Pena was suspended for three years and fined $343,000.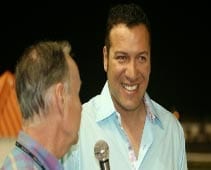 How this all unfolds is far from certain. These are some of the questions that still remain concerning Pena and what his future on the racetrack might be.
Q: Good lawyers find ways to delay, if not overturn, suspensions and penalties. Is Pena already shut down?
A: Yes and no. Anticipating that his client would get hammered by the Gaming Commission, attorney Andrew Turro, a partner in the firm of Meyer, Suozzi, English & Klein, set the wheels in motion for appeals in the court system before the ruling was issued. Having done that, Turro got the Gaming Commission to agree to put Pena's suspension on hold until more is heard from the courts. It could take at least a month or more before the suspension actually goes into effect.
But during that time there remains the question of where Pena can race his horses. Already barred at the Meadowlands and Yonkers, his main base of operation this year has been Pocono Downs. Upon the Gaming Commission ruling, Pocono stopped accepting entries from Pena. So has Harrah's Philadelphia.
Pena has a horse entered at Philly today, but that entry would have been made prior to the Gaming Commission ruling. If no one will allow Pena to race, it really doesn't matter what the status of his license is.
Q: So, is he finished…or at least out of the game for three years?
A: Not necessarily. Turro still has a couple of avenues where he can fight the Gaming Commission's ruling and says he will do everything within his power to get Pena vindicated. There's always been the question out there as to whether or not the Gaming Commission's long delay in issuing a ruling on the Pena matter violated the trainer's due process rights. One court said yes. An appellate court said no. Turro will appeal the latter ruling and hope that the next court will throw out the Gaming Commission's ruling based on the argument that Pena's rights were indeed violated. In a separate action, Turro will attempt to go before the courts and argue that the penalties against his client were based on, well, bogus evidence. None of the horses involved ever failed a drug test. Why? That remains the primary question the Gaming Commission has never really satisfactorily answered.
Q: Supposing Pena's legal team doesn't prevail. Can he simply serve his three years and return?
A: Again, not necessarily. First off, all he can do after the three-year period is reapply for a license. The Gaming Commission does not have to accept the application, though maybe some other state would give him a license. Another problem for Pena is the size of the fine. That's a lot of money. Can he come up with it or would it even be worth it to him to fork over that much money rather than simply find a new line of work? After all, he'd have to earn $6.8 million in purse money upon his return simply to get back to even. The fine, which would have to be paid before he can be re-licensed, appears to be a far bigger problem for Pena than the suspension and could be what keeps him off the racetrack forever.
Q: That's a lot of money. Why was the Gaming Commission so heavy handed when it came to the fine?
A: It based the fine on the number of violations. Do the math, $200 per violation x 1717 violations = $343,000. Actually, it could have been worse. The Gaming Commission's standard fine for a positive test is $500. That means they could have fined him $858,000. Limiting the fine to "just" $200 per violation may be a legal strategy. A person's due process rights may be violated if a ruling "shocks the conscious," a legal term that basically means the punishment is way out of line with the crime. By fining Pena less than $500 per violation they may have taken away a possible argument from his lawyer that the penalty was so far out of line that it violated the trainer's rights.