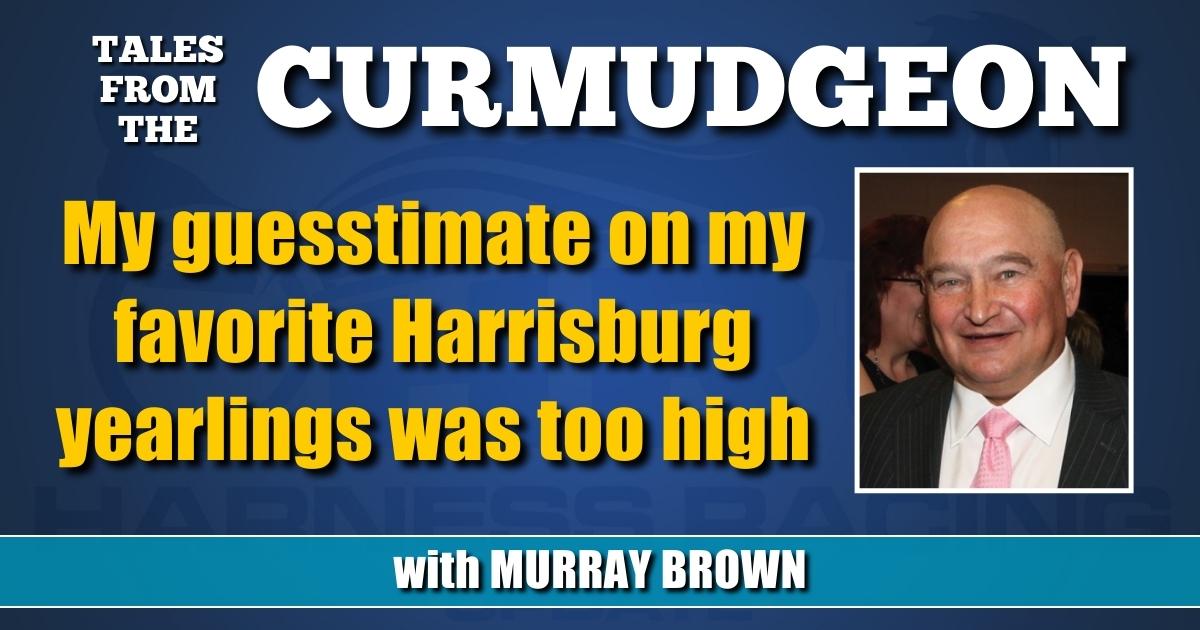 My guesstimate on my favorite Harrisburg yearlings was too high
by Murray Brown
For as long as I can remember, I have gone through both the Lexington and Harrisburg catalogs and pre-priced all the yearlings in them based almost solely on their pedigrees and the appeal of those pedigrees to me. There are times when I am higher or lower than the price actually realized. There are the odd times when I am right on the money and hit the price exactly at or quite close to where the yearling actually sold.
Readers of this column will recall that previous to last week's Harrisburg sale I wrote three articles where I identified the horses selling in the three days of the yearling sale who's pedigrees most appealed to me.
In the Day 1 session, I picked 13 pacing colts whose pages jumped out at me. Now that the sale is over, I'll revisit these colts together with my pre-sale guesstimates and what they actually brought, who bought them and how much they paid. I'll follow these colts through the 2024 racing season and assess my prognostications around this time next year. I have never been as far off or near as far off as I was this year.
My guesstimates were high, sometimes way high on 12 of the 13, which leads me to believe that my stable will go into the 2024 racing season as a tremendous bargain group.
In all the years I have been doing this, and they have been considerable, I have never been so far from reality.
My conclusions are several: the sale, more specifically Day 1, and much more specifically, the Hanover Shoe Farms consignment for Day 1, was off significantly. Despite being the leading consignor on Day 1 ($7.5 million) and the leading yearling consignor overall ($9.3 million) — both by a wide margin — Hanover's yearlings for the opening session were off 45 per cent in gross and in the area of $3.5 million compared to 2022. Was there a reason or reasons for a decline that was higher than the overall sale decline? Undoubtedly, there were several. My guess for the No. 1 factor was the loss of Dr. Bridgette Jablonsky running the show. Through the years, she accomplished a great deal for Hanover and built up a large following of customers who had great faith in her and the Hanover product. Not only was she gone, but three of her most loyal associates, Tim Hayes, Dr. Megan Moschgat and Dan Atkins, followed her out the door. Such people are not easily replaced.
Long-time loyal Hanover clients such as Determination, Dave McDuffee, Ronnie Burke, Tony Alagna, George Segal, Myron Bell and others were conspicuous by either their absence or by the diminished number of purchases by them.
World events and economics also had to be a factor.
Another reason, in this guy's opinion, was the choice of yearlings for the opening session.
There is no such thing as a perfect yearling but those chosen for the first day at Lexington or Harrisburg need to be as close to perfection as possible. Those that meet those standards are rewarded and fetch the highest prices. Those that do not are penalized significantly. When speaking of perfect yearlings, I always think of the words of Arthur "Bull" Hancock, the late patriarch of thoroughbred racing's Claiborne Farms. "I don't want a perfect yearling. A yearling isn't meant to be perfect. It is only a sample of the horse that it will become. If it is perfect as a yearling, there is only one direction in which it can go. That direction is not up."
I found it particularly shocking that two of Hanover's Day 1 offerings each brought $10,000; a price well below even the Day 3 average. My guess is that these two and several others would have fared better if they were sold on Day 2 or Day 3. Hall of Famer Jack Darling volunteered on Facebook that he had looked at both the $10,000 Hanover yearlings in question and that each toed in rather significantly. These types of yearlings often turn out to be good racehorses, but they rarely sell well, especially in a select session.
Bottom line, in all the years that I have been doing this, I have never been so far off in my guesstimates.
Here are the 13, with my guesstimate price, the price at which they sold and the person who signed the sales slip:
Hip #5 Warrawee Memories — My number $200,000. Sold for $25,000 to Nancy Takter.
Tall Dark Stranger—Great Memories—Apaches Fame
Hip #13 Twin B Courageous — My Number $125,000. Sold for $95,000 to Ecurie CSL.
Papi Rob Hanover—In The Pink—Dragon Again
Hip #58 Rider Hanover — My number $125,000. Sold for $90,000 to Robert Cleary.
Captaintreacherous—Rockaroundthetrack—Rocknroll Hanover
Hip #67 Stinglikab Hanover — My number $200,000. Sold for $34,000 to William Hartt.
Always B Miki—Shebestingin—Bettor's Delight
Hip #70 Steal Away Hanover — My number $250,000. Sold for $200,000 to Dr. John Hennessey agent for Tony Infilise.
Always B Miki—Shyaway—Artiscape
Hip #73 Summit Seelster — My number $250,000. Sold for $100,000 to Andrew Harris.
Sweet Lou—Soiree Seelster—Big Jim
Hip #89 Touchback — My number $150,000. Sold for $65,000 to Maurice Chodash.
Bettor's Delight—Tall Dark Beauty—American Ideal
Hip #91 Touchandgo Hanover — My number $150,000. Sold for $105,000 to Jack Darling.
Captaintreacherous—Touchamatic—American Ideal
Hip #105 A-rod Hanover — My number $100,000. Sold for $27,000 to Edward Mendez.
Tall Dark Stranger—All Tucked Up—Western Ideal
Hip #117 Bell Hanover — My number $200,000. Sold for $85,000 to Steve Head (Alagna Stable).
Tall Dark Stranger—Bedroomconfessions—American Ideal
Hip #137 Dreamboat Hanover — My number $100,000. Sold for $10,000 to Todd Schadel.
Papi Rob Hanover—Dagnabit Hanover—Allamerican Native
Hip #148 Enrique Hanover — My number $200,000. Sold for $35,000 to Eddie Davis.
Tall Dark Stranger—Eloquent Grace—Well Said
Hip #155 Twin B Euchre — My number $250,000. Sold for $500,000 to Andrew Harris.
Bettor's Delight—Fresh Breeze—Captaintreacherous
My total for the 13 yearlings is $2,300,000. The actual prices realized were $1,371,000. I look at it as though I've already saved nearly a million dollars. I'm hoping they all do well for their new owners. I'm thinking though that if I hit just one top colt, I've likely paid for all of them, of course that's exclusive of training and staking expenses.